At this point in history, we've all seen what thermal optics can do. Whether you've used them yourself or seen video footage of them in action or "used" them in a video game, you know that thermal optics can pick out a heat source in the pitch-black night and make it shine like a diamond. You likely also know that thermal optics aren't exactly something you can pick up at Walmart—they are not cheap, even the "cheap" ones. So, yeah, if you don't have a few grand lying around, you probably aren't in the market for a thermal optic. But, and this is significant, it may be worth saving up for one.
I've used thermal scopes on hog hunts, night shoots and CQB training, so I have been aware of their utility for a while. That said, I've never actually owned a thermal optic—I've only borrowed them. It never seemed like a necessary investment of quite a bit of cash for my small, sub-half-acre lot in suburbia. We don't have marauding feral pigs, nor am I particularly concerned about ninjas. But the recent civil unrest around the country got me thinking, which got me calling Trijicon to see if I could borrow one of the company's thermal optics to see if it could augment my home security in any way.
I received a loaner IR-Patrol IRMO-300 optic a few weeks later. The unit I have was clearly a well-used media sample, which, while not ideal for photos, did prove the durability of the unit. I came to learn it had been used on multiple hog hunts in Texas prior to coming to me, and while it was cosmetically obviously not fresh off the assembly line, it worked perfectly. More on that later.


The IR-Patrol is perhaps the most versatile thermal I've used. It is both a monocular and a riflescope, which means it can take the place of two optics. As a monocular, it can be used as a handheld observation device or it can be attached to a helmet.
Quick aside: If you thought thermal optics were expensive, I invite you to price a tactical helmet to which they can be attached, the mount for said helmet and the bracket needed to mate everything together. At least thermal optics are technological wizardry that help you see in the dark. The mounting hardware is just a bunch of metal and plastic, and the helmets—which offer the protection of a bicycle helmet at the low end and ballistic protection at the high end—aren't exactly the next coming of a Cray supercomputer either. Yet somehow they make thermal optics look like a positive bargain.
As you might imagine based on that rant, I did not mount the IR-Patrol to a helmet. You could, and based on my testing of the unit, I'm sure it would perform in outstanding fashion, but I can't bring myself to spend that much on a friggin' metal elbow joint.
When used as a handheld unit, the IR-Patrol is quite a formidable tool. It has more options than one could ever use, and its software can outline a target of interest (enemy or beast, or enemy beast if you have beef with an animal, I suppose) using its Edge Detect mode. This can be handy when picking out heat sources through brush.
As a riflescope, the IR-Patrol attaches to any Picatinny rail and offers an adaptive reticle that allows use in daylight or at night. On my Citizen Arms Hoplite, it functioned flawlessly with repeatable windage and elevation adjustments (controlled by the side-mounted thumbstick). Based on its used condition when I received it, I'll take that as a sign that the IR-Patrol can take a fair amount of abuse and still work without failure. That, and my experience with Trijicon products—which is extensive—has demonstrated the company's penchant for quality, durability and reliability.
The optic is powered by a single CR123 battery, which is no longer exotic and quite easy to find at any big-box retailer or online. Battery life is listed as approximately 2 hours of continuous use, which I found to be about right in my testing. It has all sorts of image- and video-capture/output capabilities for those looking for footage or memories of a hunt or potential evidence of an intruder, be it four-legged or two.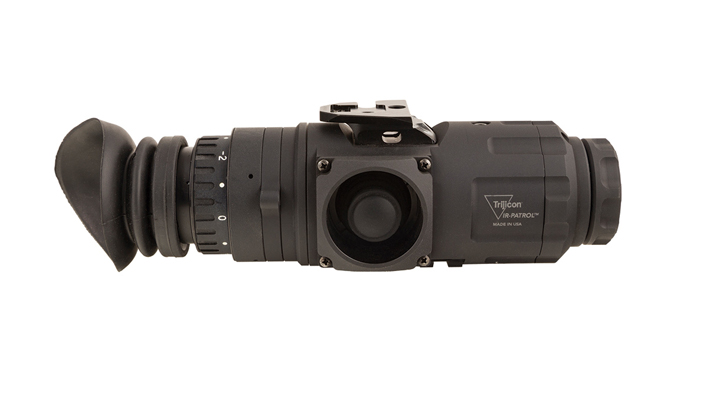 So, we've established that the IR-Patrol is feature-laden, durable and generally awesome, but does that make it worth your while, particularly when factoring in the $5,699 starting MSRP (the model I tested was $6,999, and with the rifle mount it runs at $7,499)? That's obviously a question each of us need to consider based on our budgets, but I did find it to be a remarkable tool for any home.
Late one autumn night, we heard shrieking coming from the direction of our backyard. We back up to a local park where people seldom trek, but seldom isn't never, and the fact is it is public land, so people could be back there. This didn't sound much like people, but it did sound like something was close and in distress. I couldn't see anything, nor could my teenage son, so I grabbed the IR-Patrol and went outside for a look (thermals can't see through glass—their one weakness). I put the monocular up to my eye, and immediately saw a fox at the edge of the woods. When I handed it over to my son for a look, I could see nothing but pitch-black darkness.
That immediate, clear and obvious image of what was there convinced me that thermal optics have a real role to play in home defense. Hiding from thermal isn't easy, and if a wild animal that relies on its ability to hide to stay safe can't hide from it, then I'd imagine any common criminal can't, either. Had the shrieking been coming from a person, we would have seen them immediately and been able to render aid, direct first responders to their location or ward off a threat long before we could have without the benefit of the IR Patrol's capabilities.
Thermal sights may not be cheap, but they are absolutely useful. A versatile, durable unit like the IR-Patrol is a solid investment for those looking to buy one thermal optic and have it last a lifetime.