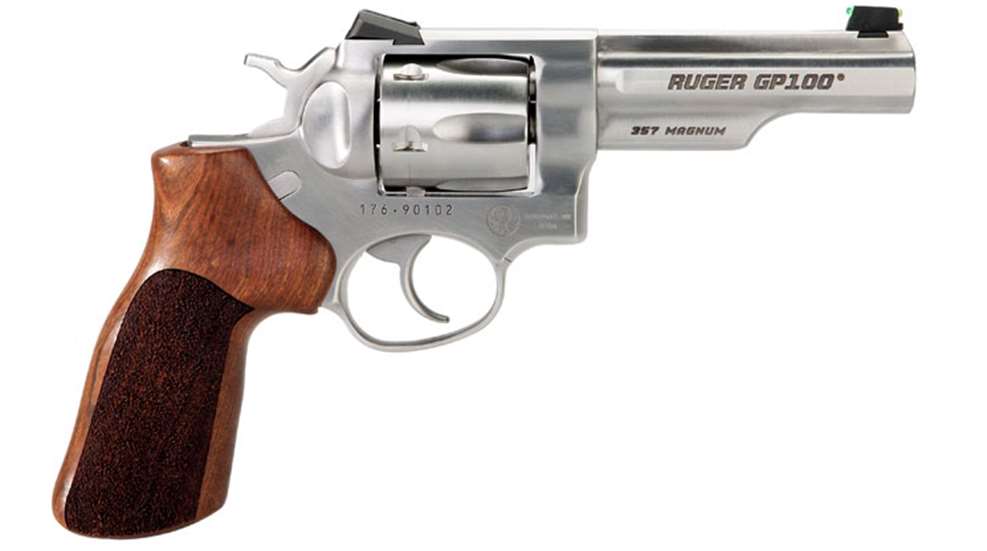 In the realm of competitive shooting, Smith & Wesson revolvers have enjoyed a long reign at the top of the podium. While the
Ruger GP100
family of revolvers has received minor self-defense-oriented refinements in recent years, the newest offering in the company's wheelgun lineup, the Ruger GP100 Match Champion, serves not only as a departure from the norm, but also a welcome economic alternative to its more established competitors.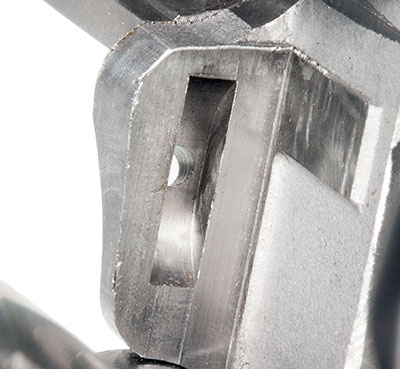 "Our concept was to create a custom revolver out of our production line,"
Ruger
Product Manager Kurt Hindle explained. "This was the first custom-type revolver we have attempted, and we geared it toward the
IDPA
competitor." The key word here is "custom," because if you had a gunsmith perform the work to convert a stock GP100 into a wheelgun similar to the
Ruger GP100 Match Champion
, you'd undoubtedly pay twice the cost of Ruger's new revolver.
During my initial inspection, the first thing I noticed was how svelte the Match Champion was when compared with a stock GP100. In contrast to its 4.2-inch barrel and weight of 38 ounces, the pistol is extremely well balanced. At first, I attributed this to the pistol's slab-sided barrel, but Hindle elucidated through further conversation that Ruger engineers removed weight from the Match Champion's topstrap, frame and barrel. Similarly, opting for a partial underlug shed more ounces. The end result affects the wheelgun's center of gravity by bringing it closer to the shooter's hand.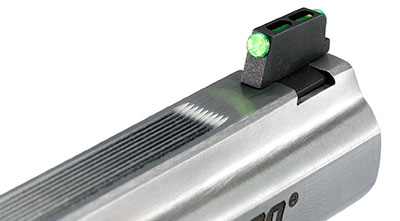 Ounce-shaving attributes aside, the
Ruger GP100 Match Champion
retains its time-proven, robust design and features that fostered its reputation for staunch reliability, like its solid frame, crane lock, safety-inspired, transfer-bar system and its modular trigger-action assembly. However, in keeping with its purpose-built design, some internals have been modified for competitive shooting. The hammer and trigger are shimmed to keep them centered, thereby reducing friction for a smoother trigger pull. According to Hindle, the springs, hammer, hammer strut and trigger have been polished to give it the feel of a custom trigger.
Naturally, possessing the Ruger rollmark, the Match Champion is built to withstand large volumes of full-house .357 Mag. or .38 Spl. +P ammunition, and as such it's capable of functioning reliably under extreme conditions. Edges of the cylinder face, frame, trigger guard and barrel have been slightly beveled, which lessens wear on carry gear. That is but one example of how this revolver is not only capable of achieving victory in competition, but also serving as a home-defense pistol or a trail gun for the avid outdoor enthusiast.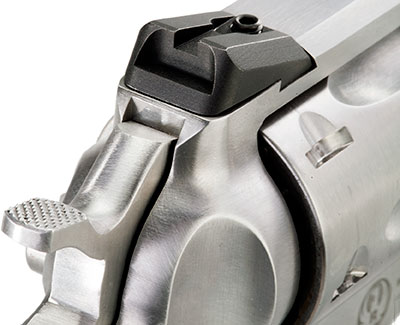 The
Ruger GP100 Match Champion's
 4.2-inch barrel is topped with
Novak
sights—arguably one of the most popular brands found on handguns today. The ultrahearty LoMount rear assembly is dovetail mounted into the topstrap of the frame and anchored by a setscrew, while the corresponding dovetail closest to the barrel's business end contains a green fiber-optic front post. (The pistol ships with a spare front sight marked .38 Special.) Granted, such a combination adds to the revolver's aesthetics and provides an excellent sight picture that's easy to acquire, but for me, the fiber-optic pipe is a weak link in an otherwise rock-solid design. I believe a brass bead would offer comparable visibility without sacrificing durability or adding expense.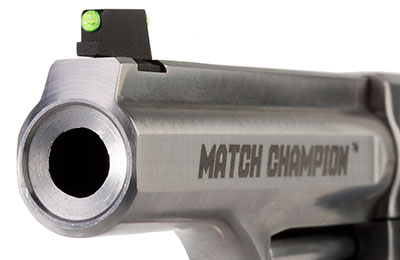 Other seemingly cosmetic but tremendously practical features of the
Ruger GP100 Match Champion
include a pair of wooden
Hogue
grips that are a complete departure from the monolithic rubber grip adorned with goncalo alves inserts found on previous GP variants. This latest offering boasts partial stippling on the sides, a speedloader cutout and a semi-rounded, slightly flared butt. Such a design provides the welcome purchase-enhancing characteristics of rubber while successfully avoiding all the common drawbacks, such as its tendency to stick to clothing when drawing from concealment. Best of all, the Match Champion's tapered grips will easily accommodate a wide array of hand sizes.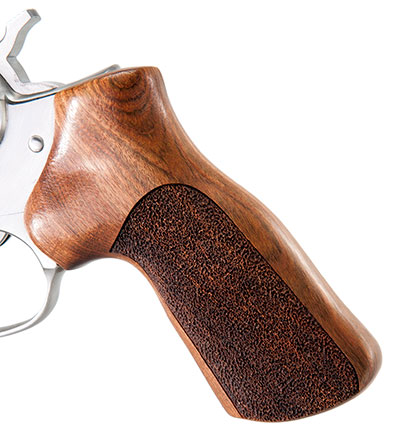 The muzzle sports a recessed target crown that effectively protects the end of the barrel from the accuracy-robbing nicks and dings pistols often encounter during the mobility-intensive stages of an
IDPA
match. Although my range time with the Ruger Match Champion was more stationary than "run and gun," shooting the new GP100 was quite enjoyable.
Heavier than I would prefer, the revolver's double-action pull was consistent—albeit with noticeable stacking toward the end—so I limited the accuracy portion of my testing to single action. In typical Ruger fashion, the wheelgun functioned flawlessly and the session was malfunction free. Of the three loads tested, the 130-grain American Eagle .38 Spl. produced the smallest groups, with 150-grain PMC Starfire .357 Mag. close behind.
The
Ruger GP100 Match Champion
 provides a good example of how subtle modifications can make a dependable and rugged wheelgun even better.