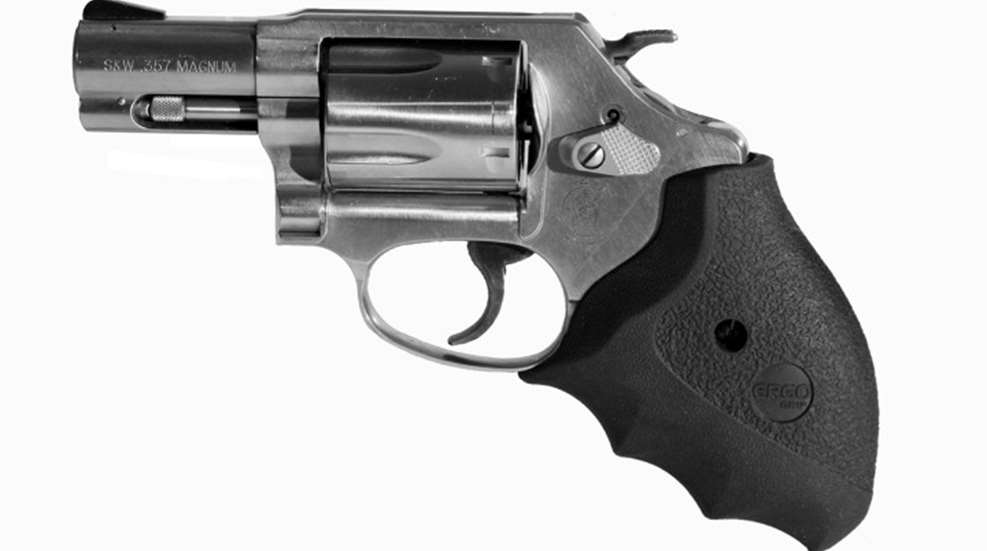 Unlike conventional revolver grips that sport a more vertical design, Ergo Grips' Delta Grip is engineered to promote a natural point-of-aim and mechanics of the human hand, wrist and arm. Similar in design to the birds-head grip popular on shotshell-firing firearms like the Mossberg Shockwave, the theory is that the more downward angle of the wrist that this type grip fosters allows great control over recoil, leading to faster follow-up shots.
But, this product offers more than just a more natural point-of-aim. In addition to filling the hand, its large grip helps to disperse recoil across a wider area to effectively tame the negative effects of recoil. On the range, this is borne out - recoil is still evident, especially with +P variant .38 Special or .357 Magnum rounds out of a Smith & Wesson 360PD, but lessened somewhat compared to a standard, conventional grip.
Similarly, the exterior is comprised of a textured overmolded rubber that promotes comfort and purchase. In my opinion, their rubber construction is a double-edge sword, because the material has a tendency to stick to clothing when drawing from concealment. For that reason, I hope the future will include a Delta Grip version 2.0 featuring either plastic or wood construction which, I believe, would make a great product even better. The Delta Grip is available for the Smith & Wesson J-frame and the Ruger LCR X-frame.
If you're considering new grips for your snubnose revolver, the Delta Grip is worth closer examination if recoil-mitigation is one of your primary concerns. MSRP on the Delta Grip is $26.75, and more information can be found at Ergo Grips.