We've all heard the grumblings. "Optics will fail." "Batteries die." "Scopes get knocked out of alignment." Some shooters have all kinds of reasons why they don't trust powered optics, or sighting systems that require zeroing, or anything beyond iron sights. And hey, that's fine. What's so great about this business is that there's something for everyone. For those of us who don't have a beef against scopes or red dots, though, it's generally a good idea to recognize the kernel of truth in the trope and prepare for the unlikely event of failure. Backup systems may be redundant, but there's certainly no harm in them.
Now, when you're adding iron (plastic) sights to a carbine equipped with a red-dot sight, generally it's pretty easy. With the dot mounted toward the muzzle end on the upper receiver, there's still plenty of real estate to add in iron sights. What happens, though, if you've got a low-power, variable-optic scope that overhangs the rear of the upper receiver? You might be able to mount a backup rear sight, but to use it, you'll need to take off the optic. Even with a quick-release mount that's not a quick process - flip levers, undo fasteners, whatever you have, then muscle the scope off the receiver. But, you still want that backup option, right?
That's where offset sights come in real handy, like the Midwest Industries Combat Rifle Offset Sight set. These sights take up a miniscule amount of top-rail real estate - seriously, it's a single slot on the upper rail (well, two, considering front and rear sight). They're fully ambidextrous, with the post and mount separate in the package and assembly determining which side attaches. While there's no specific instructions on how to assemble, take a look at the sights and the construction. If it doesn't come to you pretty quick, there are three parts: The sight itself, the mount and a screw. How they fit together is pretty obvious.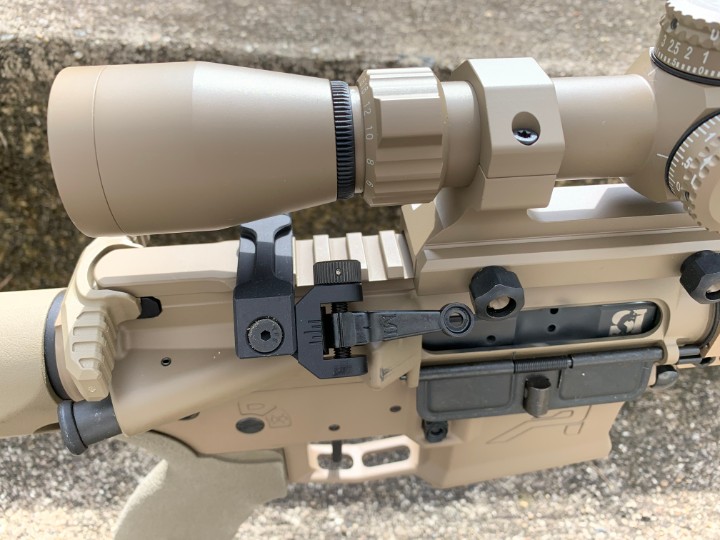 When mounted, the sights are practically invisible - I put these black sights on an FDE rifle specifically to show how unobtrusive they are, even deployed. When not needed, they lie flat against the receiver, out of the way and ready for use. Weight is a whopping 3.4 ounces for both sights - this is not a substantial source of weight. They are flipped up for use into a crisp, locked position and return to flat the same manner. The front post is a standard A2 sight (and comes with an adjustment tool), while the rear is an intermediate aperture intended as a general-purpose sight for close- to -intermediate range.
MSRP on the sight set is $169.95, and a current promotion from Midwest offers free shipping on orders over $150. This price is easily in line with other, actual iron sights and really isn't much more than polymer backup sights that don't offer the offset utility. If you're looking for the peace of mind that comes with redundant systems, this is a lightweight, affordable option. And, heck, since ordering these sights gets you free shipping, might as well look around for some more parts, right?