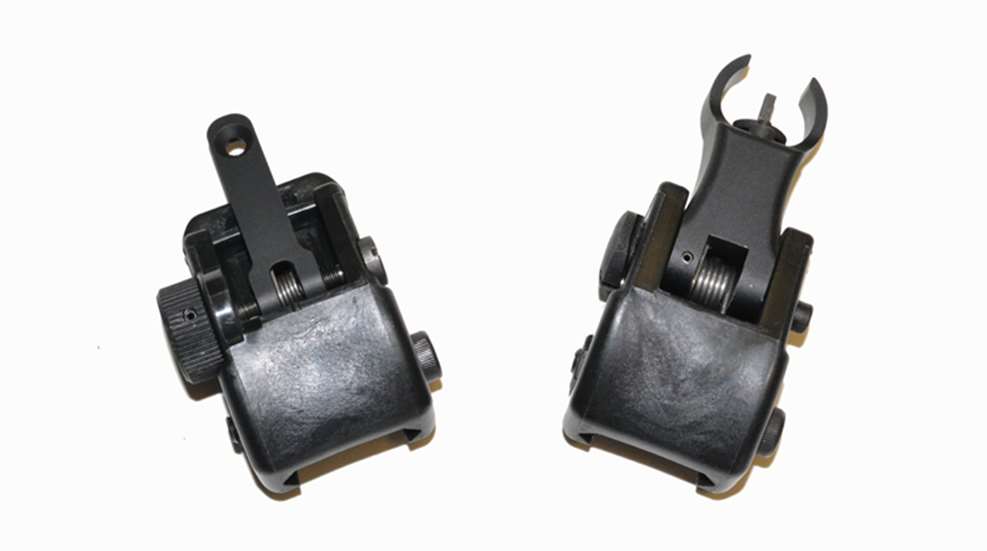 With few exceptions, any carbine (or rifle) with an optic installed should have a fallback option. Some, like the IWI Tavor, have iron sights ingeniously designed into the top rail. Most, though, will need some sort of aftermarket sights installed.
Blackhawk offers both front and rear backup iron sights (even though the bases are polymer, for weight savings, the sight itself is metal) for use on any rifle with a standard Picatinny top rail. Both sights have a polymer base, single hex nut attachment and are spring-loaded for deployment and stowing.
The rear sight is compatible with MilSpec AR-15-style front sights and features a single aperture. It deploys via a plastic ledge that is pressed in to release the sight, and requires even pressure to close for stowing.
The front sight is compatible with MilSpec rear sights (like carry handle sights) and uses standard MilSpec posts and adjustments. The spring-loaded button to deploy takes quite a bit of pressure to engage, but does allow the sight to lay flat when not in use. 
MSRP: $61.45 (front or rear, sold separately). Available in black, Flat Dark Earth and OD green.