I think by now we've established that I have a problem. Back when I put together the all-FDE AR a few months ago, I had plans for it to be a dual-upper concept: have one all-FDE lower and two separate FDE uppers for different purposes. Naturally, it didn't work out that way; as soon as the first FDE AR was done I knew I was on the hook for a second. I'm sure this surprises no one.

The discerning eye will see a number of similarities between this build and the previous FDE AR as well as the dependable AR from the end of last year. Upper and lower receivers are from Aero Precision; specifically the company's excellent M4E1 series of lower receivers. These lowers have proven to be excellent fits for a variety of parts kits, and have a nice touch that really helps: the bolt catch is captured not by a roll pin but by a dedicated bolt, which eliminates the three-hand-dance of the roll-pin punch and masking tape needed to avoid scratching the receiver.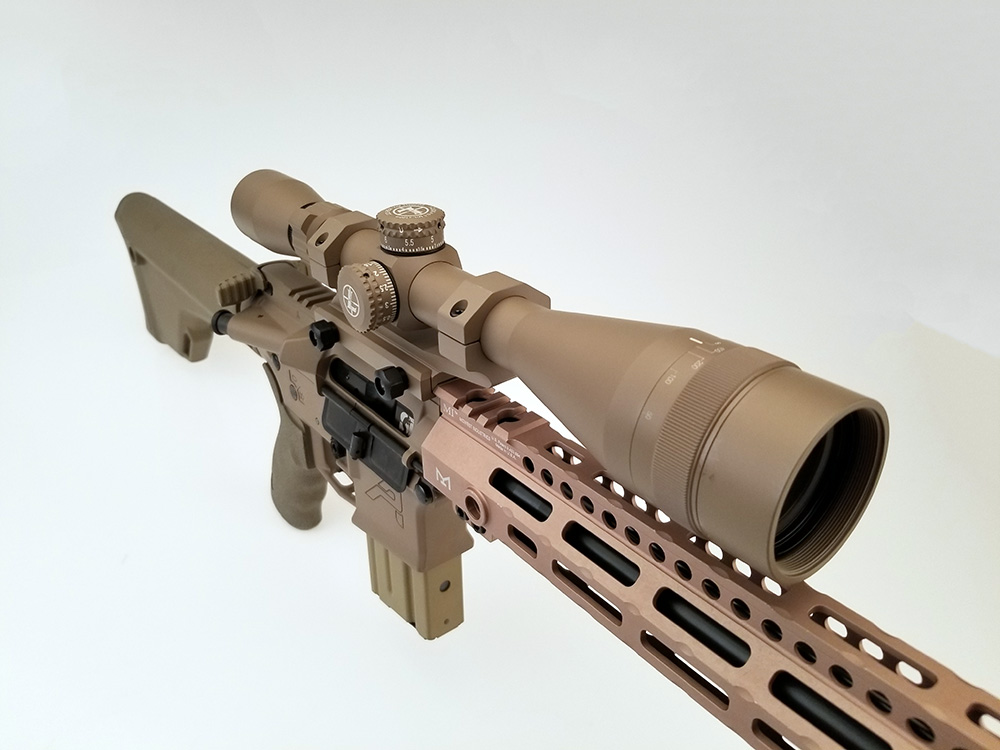 Also the same as previous builds is the Midwest industries handguard; this particular model is the G3M15, which is an anodized aluminum handguard in FDE. The company has switched over to Cerakote for handguards, as the anodizing process is difficult to maintain a consistent color from batch to batch and nearly impossible to match with the wide variety of FDE offerings from other manufacturers (See the FN SCAR 20S…) Midwest Industries' handguards are easy to install, offer plentiful mounting options and are sturdy additions to any AR-15 build. I've used them in three different builds and each time marvel at how easily they come together.

Two new FDE components on this build help differentiate it from the first. The first is Magpul's Golden Bullseye-winning Bipod, which offers multiple planes of adjustment (leg height, tilt and pan are all adjustable) with dirt-simple M-Lok attachment, all at an MSRP of $109.95. For not a lot more than a bipod that only allows you to change leg height, you can color-match your bipod and your furniture (okay, maybe that's only a thing for me, but it's still pretty cool…) Making adjustments is easy –pull the legs into position, loosen the knurled knob to change tilt or pan, etc—all in a lightweight bipod that mounts directly to an M-Lok slot, of which there are several on the Midwest Industries handguard. Also, the Bipod is available in (we may have mentioned) FDE as well as standard black.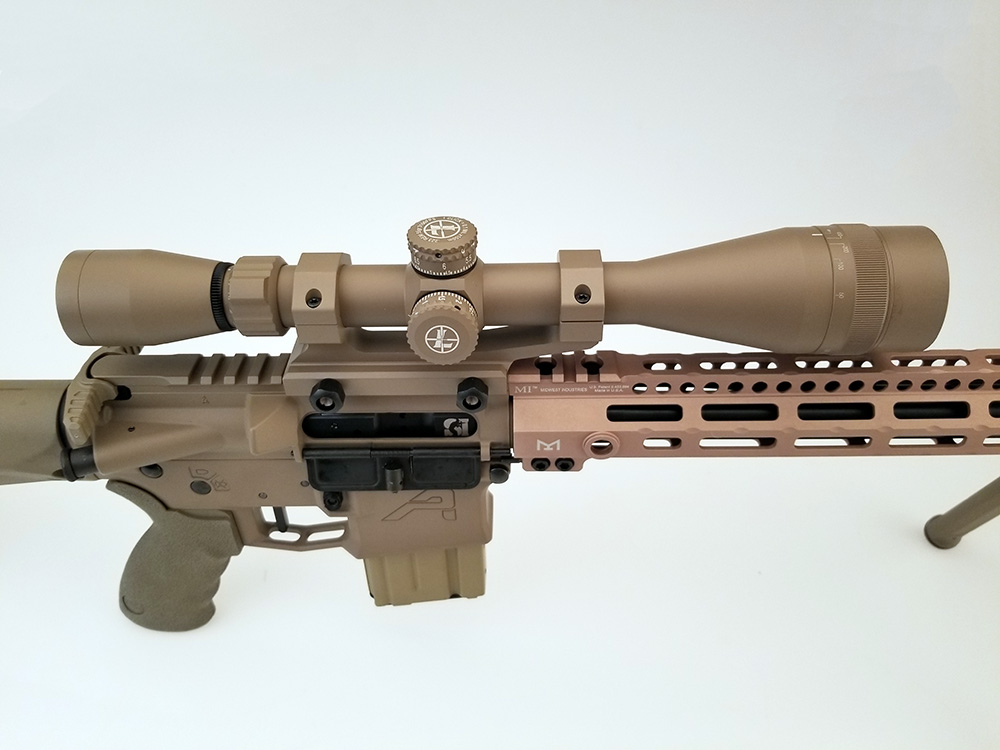 The other component, well, it didn't begin life as an FDE piece. It's a Leupold Mark AR Mod I 6-18x40 mm riflescope, which has been Cerakoted in FDE. Leupold's Custom Shop has a dizzying array of options available, and we've covered the company's wizardry in changing a reticle in a previous article. In this case, though, the Custom Shop provided a well-matched FDE-covered Mark AR Mod I scope (with matching IRMS mount) that complements the rifle and, to borrow and paraphrase from a cult classic, "really ties the rifle together." I don't need to extoll the virtues of the Leupold scope line – a Leupold scope took home the 2019 Golden Bullseye award for optics – but I do feel the need to mention that the Mark AR series is one of the better values out there. This 6-18x variant has an MSRP of $719 (the custom shop work adds more, of course) and is more than enough scope for all but the longest of long range shooting.

However, I do want to give props to the Custom Shop for the work on the scope. The attention to detail is quite astonishing; there's literally no distinguishing this Mark AR scope from an off-the-shelf model in standard black as far as markings or evenness of color. The Custom Shop configurator will walk you through the myriad possibilities, and a Custom Shop representative will walk you through the process to make sure the scope you receive is the scope you envisioned when starting the process.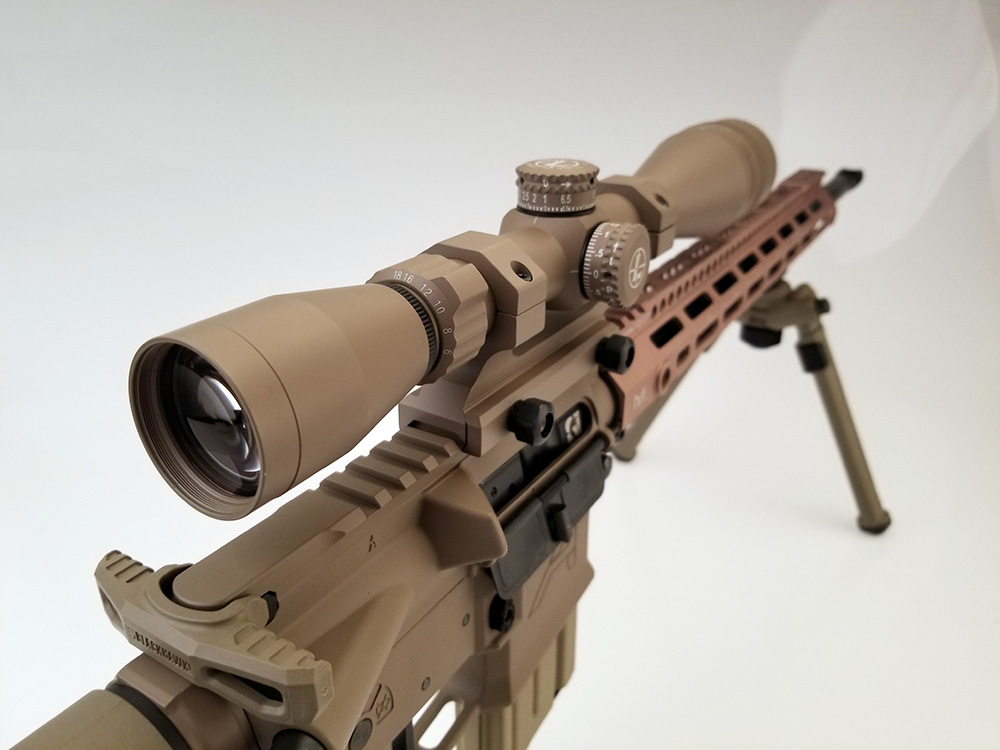 In the end, it's all about personalization. One of the big draws of the AR-15 platform is the ability to make it as close a fit to the shooter as possible—not just physically, but aesthetically. Even if you have no interest in FDE components, the ability to change out furniture, add a scope with the reticle of your choosing or simply attaching a bipod easily are all great reasons to opt for a modern sporting rifle. Making it exactly what you want with components you can get off-the-shelf is a huge plus.