"Hey Jay, do you need a handguard?" One of my compatriots at American Hunter asked. Now, I'm never one to look a gift handguard in the mouth, so I eagerly accepted. There was one hitch: it was Flat Dark Earth (FDE). Now, I happen to be a fan of FDE, but this could only mean one thing:

I had to build an entirely FDE AR…

I mean, it's a moral imperative, isn't it? I can't just put an FDE handguard on a plain ol' black AR-15, can I? That'd just be weird.

So, I grabbed an Aero Precision FDE upper and lower to go with the Midwest Industries handguard. Great! Hmmm. The FDE furniture from Magpul matches the FDE on the Aero upper and lower well, so I picked up a Gen 2 UBR to go with the MOE grip I had in the big box 'o' grips (95 percent of which are mil-spec grips, natch). Rounding out the FDE gear is one of the Blackhawk ambidextrous charging handles, which happens to work superbly well with the Aero upper…

When it came to putting together the lower, rather than try to piece together different FDE parts, all were left black. Seekins Precision's ambidextrous safety and enhanced bolt catch joined Xtreme Precision's extended takedown pins. I've used these pins in other builds, and they make taking the upper and lower apart significantly easier. Mission First Tactical's enhanced magazine release rounded out the lower parts (and matched the new Mission First Tactical Flash Hider at the end of the muzzle), and a Rise Armament RA-434 single-stage trigger completed the lower. We've had some time with the RA-140, and the RA-434 offers an even crisper single-stage pull than that of the RA-140.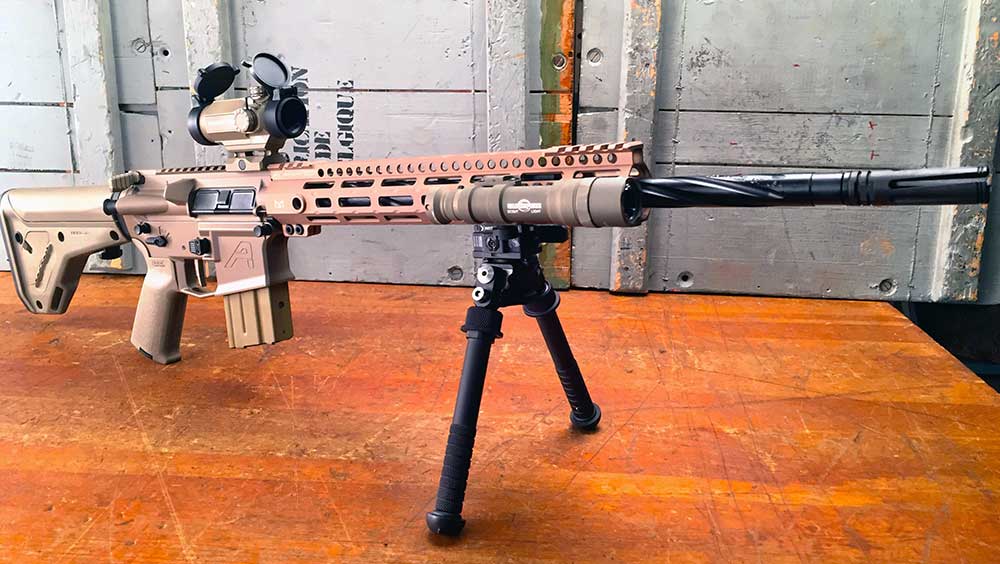 Two more FDE items round out this build: SureFire's new 1,500-lumen Scout light and the Primary Arms 1X Compact Prism Scope. Kevin Creighton's review of the prism piqued our interest in a closer look -- and it's available in FDE. Ditto the SureFire Scout light - after writing it up last month, the impressive specs pretty much guaranteed it would wind up on a build. A set of Magpul BUIS (in FDE, of course) will most likely round out the top rail, but one of the neat things about the Primary Arms Compact Prism is the etched reticle--even if the battery goes dead, there's still a clear aiming point.

Maybe FDE's not your thing--and if so, no worries, all the gear above comes in basic black, too. All of the components are solid, reliable items that should provide many years of trouble-free operation. And, while I might be just a little biased, I think it looks pretty darn cool as it is.