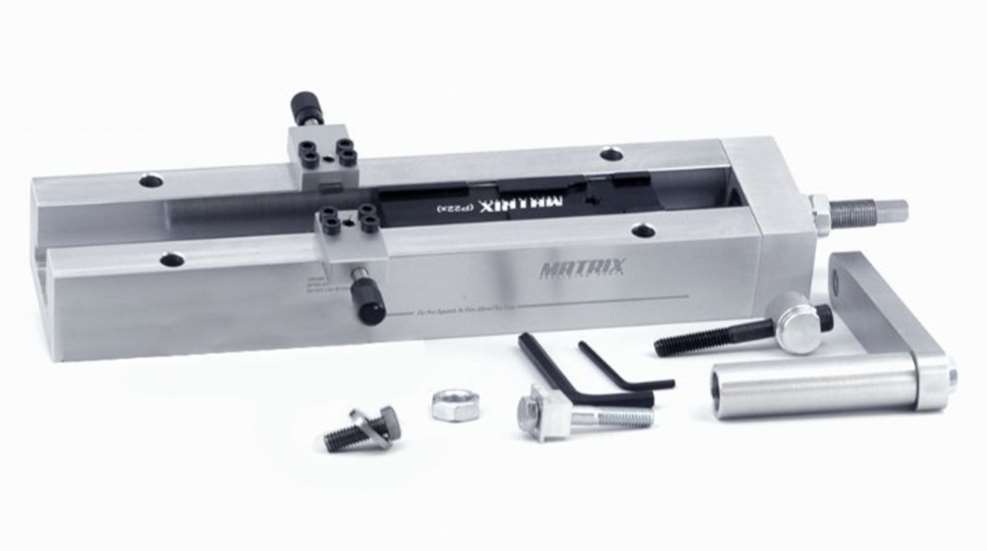 Pick up any custom-built 1911 and chances are one of the first things you will notice as you lock the slide rearward is a perfect fit between the slide and the frame. Such a minimum-clearance fit is designed to allow the least amount of clearance between the slide and frame—while still allowing the pistol to cycle reliably. Most of today's aftermarket frames are machined with rails that are oversize for a custom fit. While many professional pistolsmiths employ technology such as CNC and milling machines combined with hand fitting to control the degree of separation of parts for strict tolerances, it is not really necessary. You can accomplish the same thing with select hand tools, a tad of patience and a whole lot of elbow grease. (The good news is the following product will help conserve your elbow grease while keeping money in your wallet.)
The Matrix Precision Rail Cutter For 1911 brings the same degree of precision-machining capability to the fingertips of amateur pistolsmiths and tinkerers, at a fraction of the cost of commercial-grade machinery. So, what is it about this tool that makes it so convenient over more-traditional, low-tech fitting techniques? The aluminum fixture easily fits in the jaws of most common bench vises and features a milled channel, inside which resides a movable car where the 1911's frame is securely anchored. A pair of carbide cutters, located on each side of the fixture's channel, flank the frame and cut each rail simultaneously with a simple turn of the handle—as opposed to more traditional methods that require frequent alternating between each rail as you file, sand and stone the rails to the desired width.
According to manufacturer's instructions, cutting depth is controlled by turning a pair finely threaded adjustment screws clockwise, a half-turn for every pass of the cutters—then retract them a quarter turn counter-clockwise before returning the car to begin the next cutting pass—failing to remember the quarter counter-clockwise turn prior to returning the car will chip the carbide cutters. Each rotation of the adjustment knobs will cut to a depth of .0125 inch respectively and, depending upon your slide's inner dimensions, the cutters will need to be advanced approximately five complete knob rotations, which will result in a cutting depth of .0625 per side.
With the ability to control the removal of frame material in increments that small, it is easy to see how this fixture will quickly become a vital addition to your toolbox. MSRP: $199; matrixprecisionparts.com.