Despite ballistically superior rimfires hitting the market each year, the .22 WMR cartridge not only hangs on, but continues to thrive as every year manufacturers introduce new firearms chambered in this magnum rimfire. For instance, Henry Repeating Arms' Magnum Express, which I was able to put through its paces not too long ago. The gun was accurate, reliable and surprisingly powerful which lends itself to a variety of uses from target work to self-defense. Before I continue, let me be the first to admit that lever guns are not the most popular choice for personal protection and rimfire cartridges usually take a backseat in this theater as well. I'm not going to try to sell this firearm as something it is not, however, the 2A community has been known to break clays with 18.5" barreled shotguns and hunt with AR pistols. So, there is no denying that crossover potential is present in nearly any firearm and this one isn't any different.
Before we talk about the rifle itself, let's talk a bit more about the cartridge that it's chambered in. Although it seems anemic, the .22 WMR (or .22 Magnum) packs quite the punch. When you do the math, its 40-grain bullet traveling at 1,875 fps puts it on par with a typical 9 mm's energy when fired from a mid-sized pistol. This is substantially greater than cartridges like .32 ACP or .380 ACP which people typically opt for over .22LR. The magnum rimfire also produces significantly less recoil and flies further and straighter than nearly any handgun fodder. Furthermore, in a normal market bulk packs of .22 Mag can be had for inexpensive (well, less expensive at least...) target practice that is easy on the shoulder and a ton of fun to send downrange. The instructor in me always likes to point this out because nothing matters more in a gunfight than proficiency.
Back to the rifle, Henry was clever in its design of the Magnum Express, with its ultimate goal being ease of optic installation and use. The raised comb of the Monte Carlo stock puts the shooter's eye directly in line with whatever piece of glass you decide to install and the iron sights are purposely omitted to provide an unobstructed field of view. This rifle comes with a 3/8-inch dovetail machined into the receiver and the manufacturer provides a dovetail-to-Picatinny adapter to accommodate the more common mounting style. For this article, every bone in my body wanted to clip a holographic sight onto that glorious rail but I just couldn't bring myself to commit such a crime against nature. If I wanted to use the gun solely for home defense, I certainly would consider this route, but I had other work in store as well. Alas, an aesthetic eye prevailed and I mounted a sweet little 2.5-10x Bushnell Elite 4500 to best serve the multiple roles that this rifle was destined for. On the low end, 2.5x is going to be great for multiple target engagements while the 10x setting is going to be the fairest way to conduct my 50-yard accuracy testing.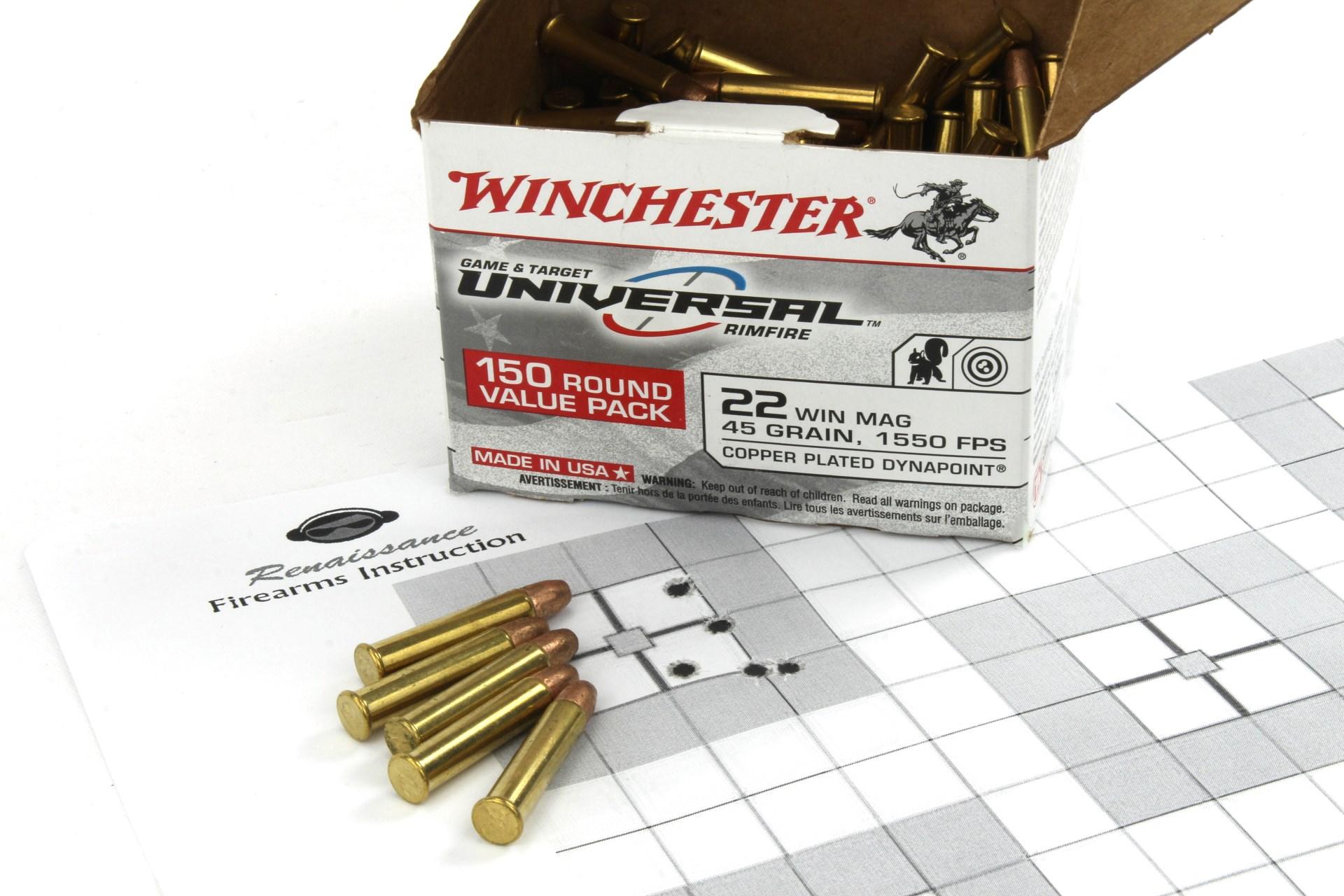 I brought the freshly scoped rifle to the range alongside two bulk packs of .22 WMR ammo. My samples consisted of Winchester's Universal Field and Target rounds, featuring a heavy 45-grain bullet, and CCI's classic 40-grain Maxi-Mag which is now packed in a handy little milk container (don't drink it, kids). Both rounds fed, fired, and ejected without trouble and due to their OAL, I was able to get 12 rounds into the tube as opposed to the advertised 11. The accuracy from both rounds was great, considering the older lever-action design. Winchester's load edged out CCI's with a best group of 1.02 inch but the Maxi-Mags weren't too far behind, producing groups as small as 1.12 inch. The synopsis here is to buy whichever you can get your hand on first and stack it deep.
Taking the party over to the club's plate rack, I was able to knock 'em down as fast as I could work the lever. One of the aspects that I enjoyed about the Magnum Express's lever stroke is that it "felt" closer to that of the pistol-caliber lever guns that I more frequently shoot, when compared to the .22LR versions of this design. Truth be told, I didn't measure and compare the two strokes so this very likely can just be all in my head, or perhaps the added friction of the additional case length gave me that perception. Call it whatever you wish but I just call it "right" and I enjoyed gobbling up the rest of that ammunition as the afternoon sun found its way directly overhead.
The Henry Magnum Express is an excellent gun for somebody looking to do more with a rimfire than merely punch paper. With the right optic, this gun can be used for action target work as well as small game hunting with devastating effects on fox or raccoon-sized critters. I also like this gun for its training potential, as it bridges the gap between .22lr and centerfire by adding the noise of such rounds without introducing the associated recoil just yet. Above all, it's just another quality American build that is guaranteed to serve a plethora of roles for generations of shooters. 
Specifications
Manufacturer: Henry Repeating Arms; (866) 200-2354, henryusa.com
Action Type: Lever-action
Caliber: .22 Magnum
Capacity: 11 rounds
Barrel Length: 19.25 inches
Sights: None; 3/8-inch rimfire dovetail and Picatinny adaptor and rail for optics
Stock: American Walnut, Monte Carlo style
Length: 37.5 inches
Weight: 5 pounds, 8 ounces
Accessories: Picatinny rail and adaptor, manual
MSRP: $653