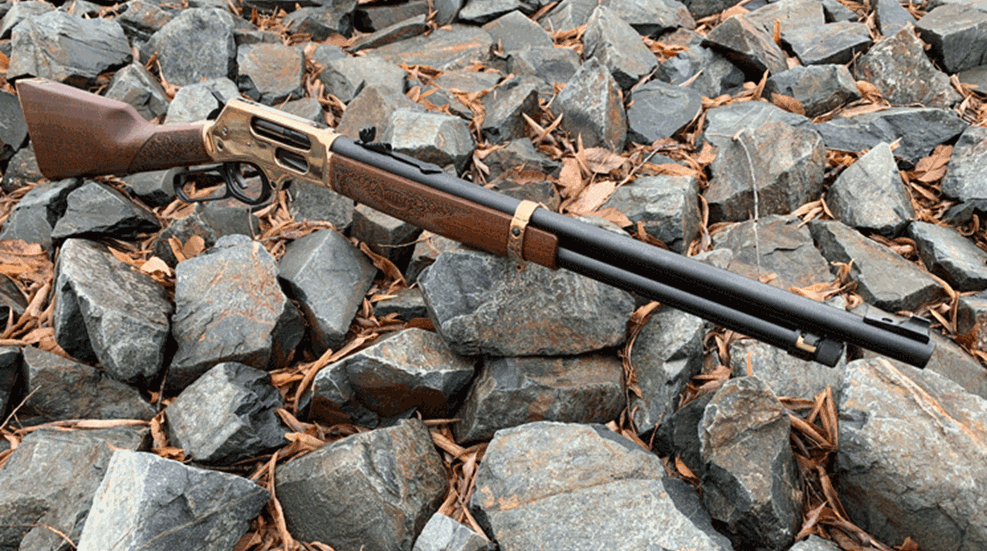 As a child I bet you came home one day with a puppy or kitten and said, "Can I keep it?" Something like this happened recently when I showed the Domestic Goddess the new Henry Repeating Arms .45-70 rifle. She took one look, said, "Can we keep it?", and pointing to a spot on the wall, declared she was "going to hang it right there." And, why not? It's a beautiful rifle with its polished brass receiver and buttplate and a nicely rendered stock and foe-rend. Any rifleman I know would be proud to display this rifle on their wall.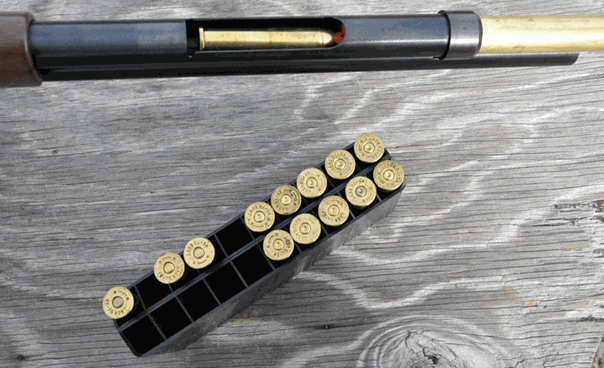 The Henry Repeating Arms Company was founded in 1996, first offering a .22 caliber lever-action rifle that has now sold over a million units. The company lineup has steadily expanded to include shotguns and single-shot rifles and a .22 caliber survival rifle, the AR-7, but lever-action rifles are the company's core product. In 2018 the company came out with a side-gate lever-action rifle, something customers had been asking for to supplement the magazine tube loading system Henry has relied upon since the beginning. The subject of this test, the brass-framed, side-gate .45-70 (MSRP: $1,017) now joins three other side-gate rifles in .38-55, .30-30 and .35 Rem. calibers. 
My test rifle had a 19.8-inch barrel, weighed a touch over 7 pounds empty and had a length-of-pull of 14 inches. The trigger broke crisply at just under 4 pounds and there is no manual safety, nor can the hammer be set at half-cock. Instead, the rifle uses a transfer-bar safety. When the hammer is at rest it contacts the frame and can't touch the firing pin. When the trigger is pressed the transfer bar rises and transmits the energy from the falling hammer to the firing pin. To safely lower the hammer, hold it to the rear, press the trigger to release the hammer, take your finger off the trigger (thus lowering the transfer bar) and lower the hammer to rest on the frame. This is a very reliable, almost automatic, safety system.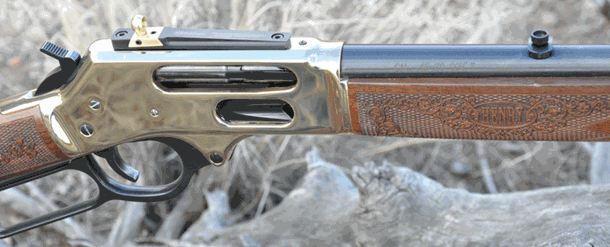 While the rifle comes with an adjustable, buckhorn-style rear sight and "ivory" bead front sight I decided to equip it with the excellent aperture sights made by Skinner Sights. The receiver is drilled and tapped, so after removing the rearmost three filler screws the Skinner rear sight can be attached. I also installed a gold-bead front sight from Skinner and a dovetail filler block that fills in the gap left by the buckhorn sight and is drilled and tapped to carry a rear peep sight screw-in insert. This is a neat system; with the peep unscrewed and stored the rear sight becomes a big Ghost Ring suitable for close range, moving and charging targets, but if a precision or long-range shot is required the peep can be screwed into the rear sight.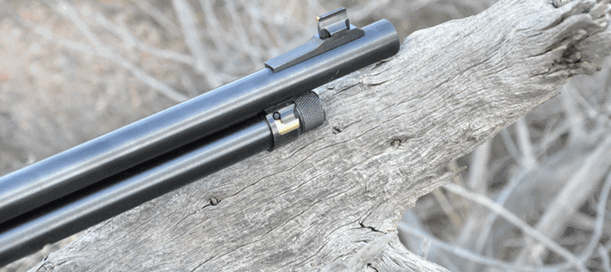 My local leather company, Simply Rugged Holsters, is making slings and butt-cuffs for Henry so I stopped by and requested a nice six-round cuff and an Alaskan sling to finish accessorizing the rifle. With the Skinner Sights and Simply Rugged leather the Henry is a beautiful and very functional rifle.
Thinking about how to run this rifle I concluded loading or unloading the rifle via the magazine tube should be considered an administrative load, accomplished when getting the rifle ready or safely unloading it without having to run the action. The side gate is a much faster loading system than loading via the magazine tube so it should be used for topping off. For example, at Gunsite we preach, "load what you shoot", and this requires topping off the rifle after firing one, two or more shots. This is where the side gate shines.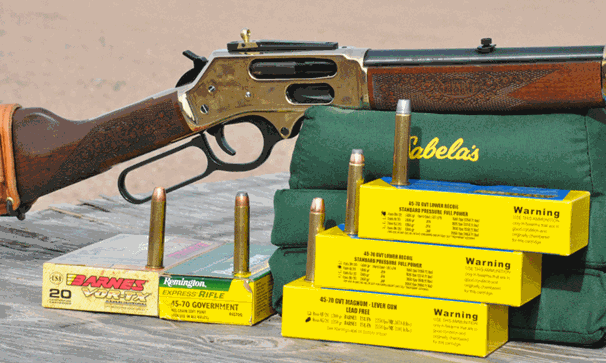 Opting not to bruise my shoulder, I determined not to fire an extended period of benchrest groups. With ammunition on hand from Barnes, Remington and Buffalo Bore, ranging from full power to maximum loads I realized surviving such an ordeal was unlikely and settled for sighting in and shooting a few three-shot groups with each load off the bench at 50 yards. Here are my results: 
Remington Express 405-grain Soft point, 1,590 fps, 2.5-inch  avg. group
Barnes Vortex 300-grain Solid copper hollowpoint, 1,925 fps, .75-inch  avg. group
Buffalo Bore 405-grain Jacketed flat point, 1,825 fps, 1.25-inch avg. group
Buffalo Bore 430-grain Hard cast flat point, 1,550 fps, 2.5-inch avg. group
Buffalo Bore 350-grain Barnes solid copper hollowpoint, 2,150 fps, 1.0-inch avg. group 
All of these loads are very powerful but, with the exception of the Buffalo Bore 350-grain load, all are "standard" velocity. Buffalo Bore lists the 350-grain Load as "Magnum – Lever Gun" and it is the most powerful load of the ones I fired. The other two Buffalo Bore loads are described as "Lower Recoil, Standard Pressure, Full Power" and that would be a fair description of the Remington and Barnes ammunition as well.
Equipped with the Simply Rugged leather and Skinner sights this Henry lever action is good to go. It's fun to shoot when standing, punishing when fired off the bench and with the right ammunition will handle anything you might encounter. If the T-Rex makes a comeback I think I'll be ready. And it's going to look great on the wall.