Support NRA Shooting Illustrated
DONATE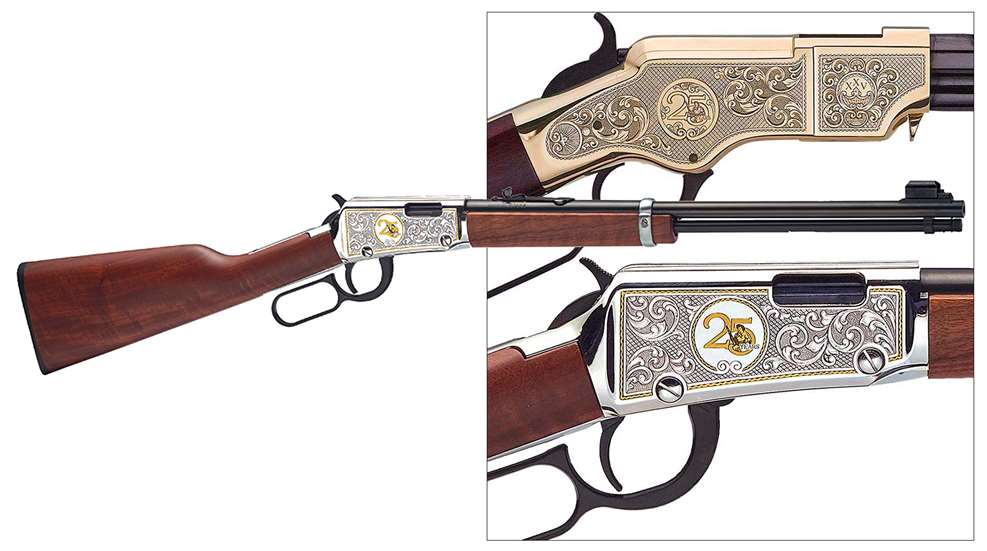 Henry Repeating Arms has released two limited-edition models to celebrate the company's 25th anniversary. The rifles pay tribute to the beginnings of Henry Repeating Arms as a company and the origins of the lever-action rifle's enduring legacy in America.
"In the gun-making business, 25 years makes us a new kid on the block, but I am endlessly proud of how far we have come," said Anthony Imperato, CEO and founder of Henry Repeating Arms. "These new rifles are not only a toast to what we do best, which is building guns, but it's a toast to every single one of our employees and customers [who] have made Henry Repeating Arms a part of their lives and keeps us striving for our very best day in and day out."
The first commemorative rifle is based on the firm's first gun—the H001 Classic Lever Action .22. The 25th Anniversary edition features genuine American walnut furniture and an engraved, nickel-plated receiver cover with 24-karat-gold-plated highlights. 
The other is a tribute to the Benjamin Tyler Henry 1860 patented breakthrough design for a reliable and practical lever-action repeating rifle. The New Original Henry Deluxe Engraved 25th Anniversary Edition is a faithful recreation of the original patent, except for more robust materials and the concessions needed to accommodate the more modern .44-40 WCF cartridge. Other features include a folding ladder rear sight, a brass-blade front sight, a hardened brass crescent buttplate, and near-full-coverage engraving on the receiver.