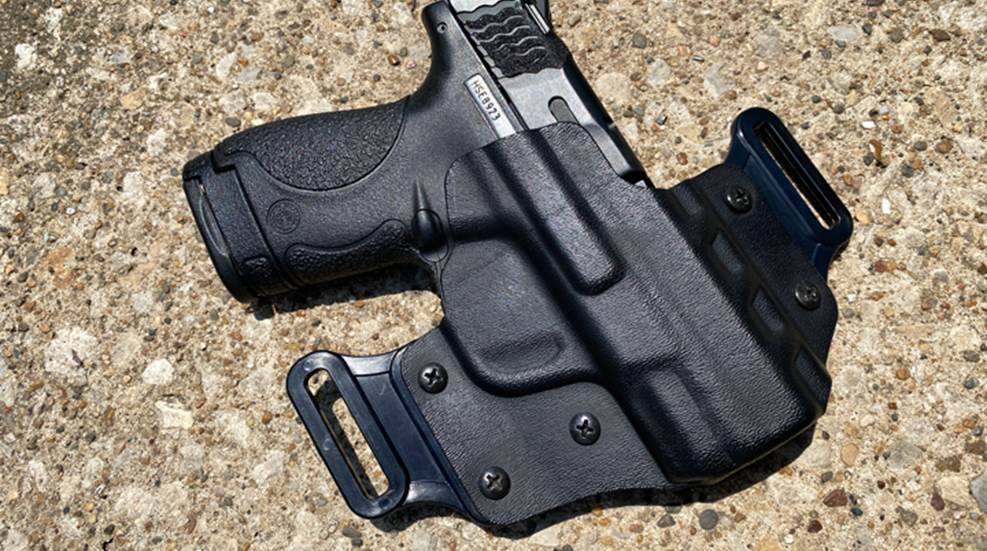 When it comes to concealed carry, some people don't consider an outside the waistband (OWB) holster a viable option. After all, isn't the point of concealed carry exactly that: concealed? OWBs aren't as concealable as IWBs because they live on the outside of the waistband, making them harder to hide. But, what if an OWB holster were so easy to conceal that it almost did an IWBs job?
That is the case with the DeSantis Veiled Partner, a Kydex OWB that hugs so tightly to the body that it can be worn under many of the same cover garments as you'd wear for an IWB and still minimize the odds of printing.
The Veiled Partner starts with a molded two-piece Kydex shell that is currently only available in black, but that's probably okay because it's designed to be concealed, so who cares what color it is, right? The shell is sturdy and solid, with only a modicum of give and flex, perfect for holding its shape and allowing for easy one-handed reholstering.
The shell is optic cut as standard, so no need to worry about clicking an extra box when ordering if you carry a red dot onboard your pistol. If you carry sans red dot, don't worry, the holster still works great.
Retention is adjustable, thanks to a single screw below the trigger guard that easily tightens and loosens. As usual, I tried my flip test with my unloaded Smith & Wesson Shield 9 mm and the holster held it perfectly, no need to adjust. But if you like it looser or tighter, all you need is a simple screwdriver.
Adjustable slide belt loops hold the holster close to your waist. In fact, this is where the Veiled Partner shines. A lot of other OWBs claim ultimate concealability, but few deliver. DeSantis' design, however, is a stroke of genius.

Taking their cues from the IWB world, they flared the back of the shell and belt loop out a few degrees to bring the gun closer to the body, similar to the way a wing or claw works on an IWB. The result clamps the grip tighter in, thus concealing its presence better. Despite this reduced gap, it's still easy to grip for drawing.
Want to adjust the cant? Unscrew the belt loops, flip them over, and reattach. Done in under a minute.
The DeSantis Veiled Partner sells for $59.99 on DeSantis' website for both righties and lefties. Because this is a fairly new model, it is currently only available for Glock, Springfield, SIG, Taurus, and Smith & Wesson. Let's hope they add more manufacturers soon because this is an OWB that should become very popular.