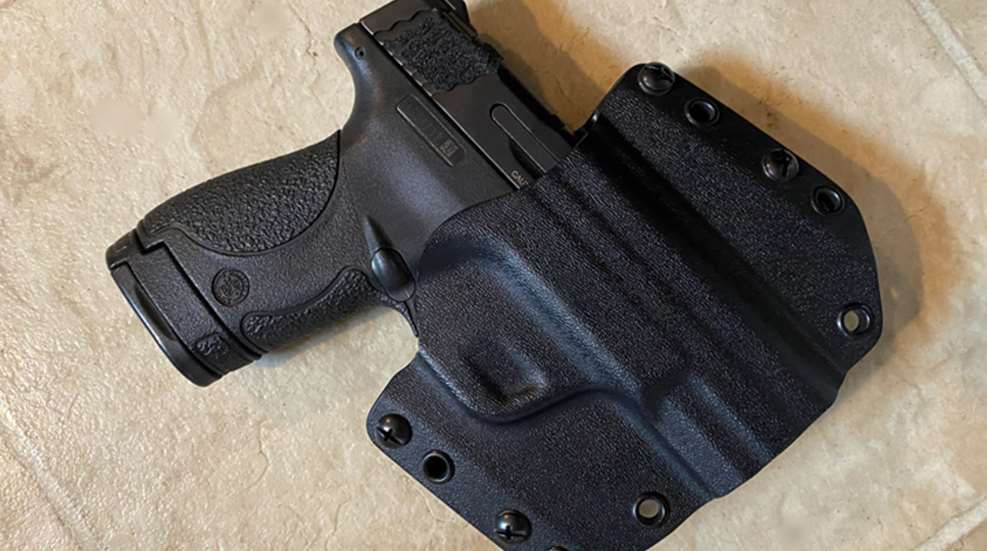 Mission First Tactical is known for a lot of things, including a wide variety of firearms accessories and related products. They have a full offering. So it makes sense that they would add a holster line to their proverbial arsenal. Such is the case with their outside the waistband line simply called the MFT OWB. The name may not be creative or catchy, but like the holster itself, it does the trick.
The MFT OWB starts with a basic two-paneled pancake design held securely together by 10 hollow rivets and four screws, which double as the belt clip binders. The belt clips themselves are by default 1.75 inches, with no 1.5-inch option available. At first I was put off by this since I only wear 1.5-inch belts, but the clips are so slimline that by the time I slid the holster onto my belt and tightened everything down, the holster didn't move. Even while drawing, the holster didn't lift the extra quarter inch. So don't worry about ordering the 1.75-inch version if you wear the smaller size belt. It won't be a problem.
Speaking of the slimline clips, one of the biggest challenges trying to conceal carry with an OWB holster is how far most of them stick out, thus defeating the purpose. Typically this is due to what I call "fat clips." The MFT OWB's clips are super slim, hugging the holster against the body. The one they sent me was for my EDC Smith & Wesson Shield, which is a slim gun on its own. When I wore it in the MFT OWB, it disappeared under a light jacket, thanks to being so snug against my side.
MFT sent me two of the same holster, the second one for a Glock 17, so I could try it with two different size guns. To get a second opinion on the holster, I gave the Glock version to coworker and fellow gun guy Joe DeMaro, the armorer at the range where I work, to wear around for a while and give me his thoughts. One of his first comments after wearing it for a few days was how easy it was to conceal even a full-size gun under a hoodie with the MFT OWB. When he walked down the hall toward me, I had no idea he had the gun on.
Drawing and reholstering with the MFT OWB was easy and secure. One unique feature is the square retention bump in the trigger guard. Typically, this is just a small round divot, but MFT squared it off, apparently for aesthetic purposes, because it didn't seem to affect the holster's performance at all.
At $59.99 from MissionFirstTactical.com, the MFT OWB is middle of the road price-wise and priced competitively against similar designs.