by
Shooting Illustrated Staff
posted on February 25, 2021
Support NRA Shooting Illustrated
DONATE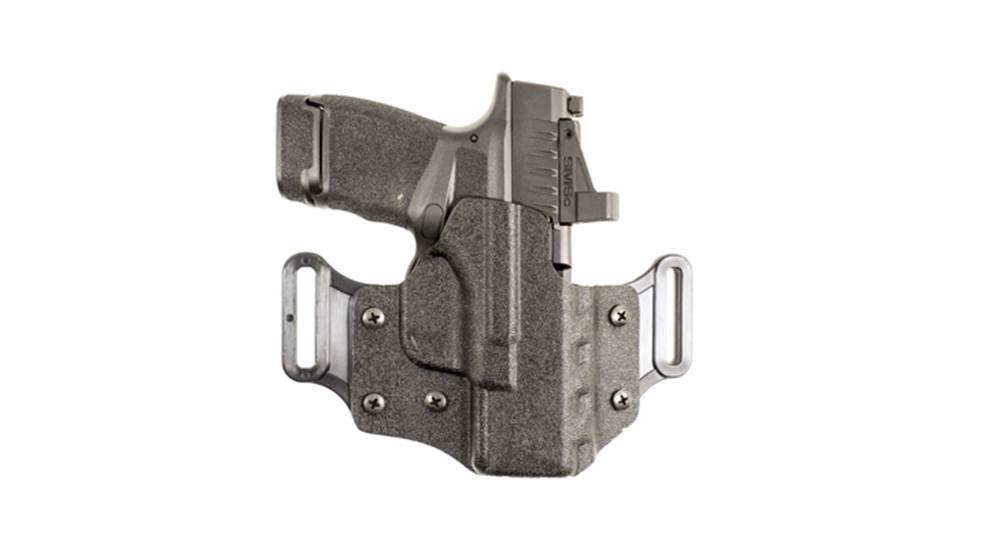 Finding the right holster for your concealed carry pistol can be a challenge. Inside the Waistband (IWB) holsters tend to hide the gun well, but because your gun is inside of the waist of your pants, they require you to make adjustments to your wardrobe. Outside the Waistband (OWB) holsters have the advantage of not requiring you to buy new pants. However, when carrying OWB, your gun doesn't conform as closely to your body as it does when carrying in an IWB Holster. This means that the outline of your gun might be showing through your clothes, and your concealed carry pistol isn't all that concealed.
To help solve this problem, DeSantis Holsters has introduced the new Veiled Partner holster. The Veiled Partner is an OWB precision-molded Kydex holster and is initially available to fit a variety of pistols. The curvature of the holster allows for maximum concealment and a very comfortable fit. The Veiled partner can be configured easily for both height and cant using 1½-  or 1¾-inch loop openings. The holster has adjustable tension and is compatible with pistols using a red-dot optic. It is available in both right and left-hand variants for many popular semi-autos from different manufacturers such as SIG Sauer, Glock, Smith & Wesson and Taurus.
Even if you prefer to carry using an Inside the Waistband holster or some other carry method, many shooting schools require the use of an Outside the Waistband holster in their classes. A well-rounded defensive pistol owner will have a variety of holsters they can use to meet their specific needs, and the Veiled Partner holster is an excellent choice for situations that require an OWB holster.
MSRP for the Veiled Partner holster is $59.99. For more information on this product or other gear from DeSantis, please visit desantisholster.com.