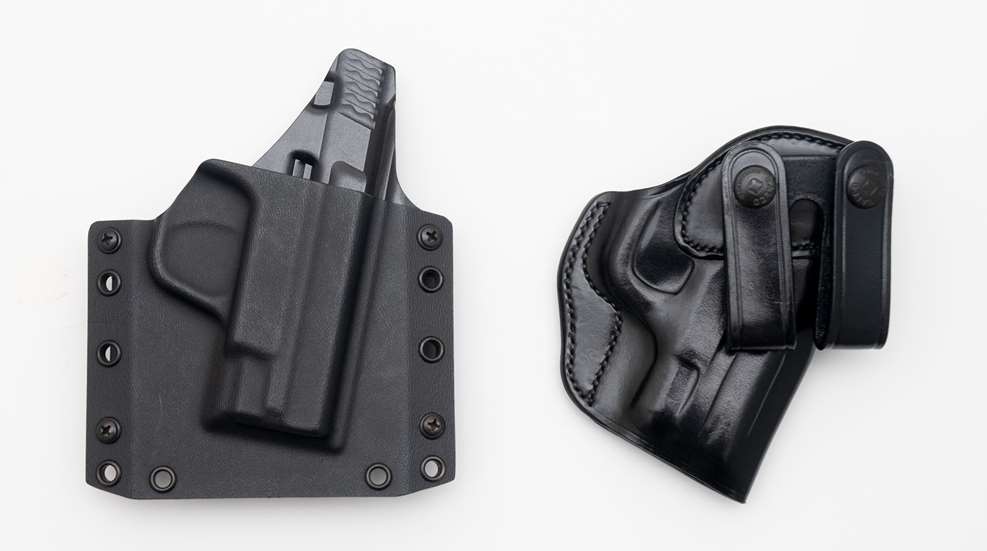 One hotly debated yet somewhat confusing topic in the gun world is which style of holster is the best. Some folks insist that you can only carry concealed with an inside-the-waistband (IWB) holster, while others insist that outside-the-waistband (OWB) holsters are safer. Other folks in different camps tout their favorite reasons for choosing one over the other. However, just like there is no perfect gun for every person and every application (that's for a whole different article), there is no one perfect way to carry a gun that is superior to all the rest. Let's look at the differences between IWB vs OWB holsters and how each can be a great carry option depending on your situation.
Before we get too far into the weeds here, let's establish that not every holster will work for every shooter in every circumstance. These are general guidelines. As they say in the investment world, individual results may vary.
To keep things fair and not favor one style of carry over another, let's look at these two options in alphabetical order, starting with…
IWB Holsters
This method is by far the most popular when it comes to concealed carry. As the name implies, IWB tucks the gun into a holster that sits inside your waistband. Typical IWB holsters are hard-shell Kydex, all-leather or a Kydex and leather hybrid.
One advantage of IWB is easy concealability. All you need to hide the gun is a light cover garment such as an untucked polo or button-down shirt. So long as the shirt covers the gun, you're good. If the shirt drapes over the gun and naturally blouses enough to avoid printing (where the outline of the gun shows through), the gun should stay hidden. Winter concealment is even easier, as hoodies and jackets make excellent cover garments. You can even step up your game and conceal a bigger gun with more capacity and better shootability.
One disadvantage of IWB is the difficulty of the draw and reholster. To draw, you must clear your cover garment before accessing the gun. This can be mastered, however, through good instruction and practice, but it takes time and repetition to get good at it. Reholstering the gun can be tricky because the mouth of the holster is between your waistband and your skin, making slow, deliberate reholstering vital to your safety. Going too fast can result in unexpected loud noises and holes where there shouldn't be holes.
OWB
While less common in the concealed carry world, OWB can be a good carry method with the right setup. Again, as the name says, the holster carries the gun outside the waistband, typically strapped to the belt on the strongside hip. OWB holsters are also generally all-Kydex, all-leather or that hybrid leather-Kydex mix.
OWB is more popular in open carry environments such as at a range or in areas where open carry is not frowned upon. Also, remember it's not legal in all states. In my home state of Missouri, for example, open carry is only legal with a concealed carry permit, which seems strange, but that's how the law reads.
Not all OWB carriers open carry, however. With the right cover garment, such as a coat, sweater, or hoodie, an OWB holster can be concealed.
The advantages of concealed carry with an OWB are many. First is comfort. With an OWB holster, nothing is rubbing against your body because the holster is far enough away that it barely touches you, if at all. Your pants fit normally. Second is the draw. Even though you still have to clear your cover garment, extracting the gun from the holster is easier. Third, putting the gun back is easier because the holster is wide open and easy to see. Bump your hip out a little when you put the gun in the holster and reduce the chances of an accidental discharge.
Holster Up
Whichever you choose – IWB or OWB – be sure it's what you need and will work for you. As a product reviewer, here are three criteria I insist every holster have:
It must hold the gun securely.
It must cover the trigger and trigger guard completely.
You must be able to reholster the gun one-handed.
After that, it comes down to fit, comfort, durability, and overall design. Just as picking a gun is a personal decision, so is choosing the holster to hold it. Try out a few. Practice with them. Find the one or ones that work for you.