Support NRA Shooting Illustrated
DONATE
If you've read my reviews before, you know I'm not a big fan of leather holsters as a category, especially for concealed carry inside the waistband. My biggest complaint: leather is usually too soft to keep the holster's mouth open for one-handed reholstering. Don't get me wrong, leather holsters for outside-the-waistband carry can be fine. They look cool, smell great, and fill that nostalgic role in the gun world where we tend to stick to traditions, which is a good thing. But, when it comes to practical IWB carry, for me, leather typically falls short. 
But, DeSantis has created a holster that doesn't perform like many other leather IWBs. In fact -- this holster is changing my mind on the subject -- I might add this one to my EDC rotation. 
The DeSantis Transit is a suede-based holster that adds some layers of reinforcement that help keep the mouth open under the pressure of a belted waistband that typically defeats other leather rigs.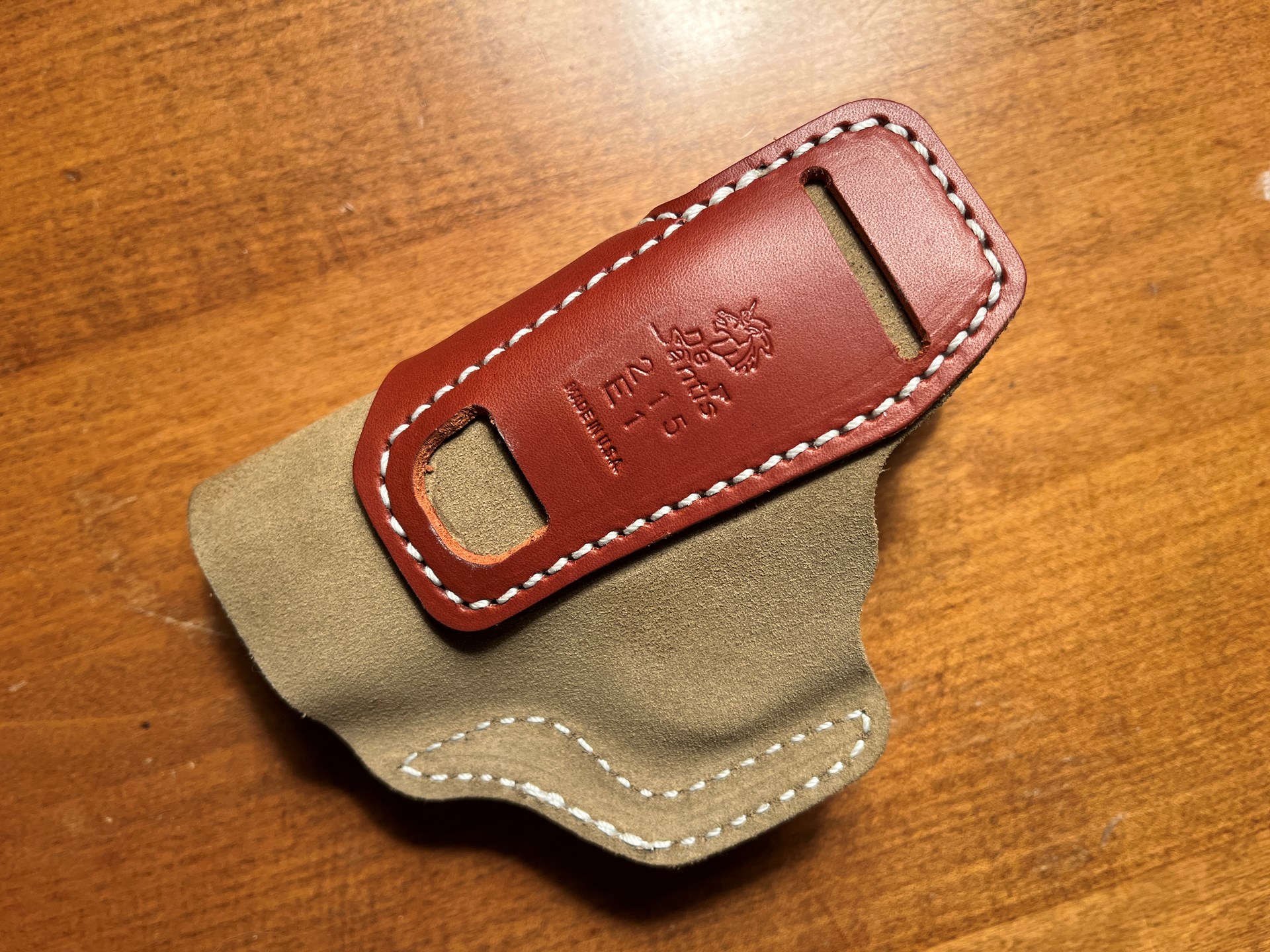 The secret is that while it looks like a pure-leather setup, it holds a little surprise not found in many of its competitors: a hidden layer of Kydex sewn between hard leather layers near the top that help the mouth keep its shape. A second layer of stiffer leather also helps it retain its shape. The combination of stiffness layers helps prevent the mouth from closing and blocking a one-handed reholster, one of my basic qualifications when rating a holster. The other two are that it must hold the gun securely and that it must cover and protect the trigger and trigger guard completely, both of which the Transit does.
Already suspicious of leather IWB holsters, I threw it on when it arrived, added my Smith & Wesson Shield (my EDC), and headed out for the day. To be safe, I brought my regular holster along, just in case. As it turned out, I didn't need to swap them.
Immediate observations:
The wide, steel belt clip was just the right flex to be easy to put on and take off yet help the holster securely to the belt with zero movement.
The leather was ridiculously comfortable. Not that I expected it to be uncomfortable -- it is leather, after all.
I could easily reholster with one hand, with the mouth still open enough to easily slide the gun inside.
It will be interesting to see how this holds up long-term, since this is often where leather holsters fail because leather is a natural material that changes over time and with use. My guess is it won't last as long as a pure Kydex rig but longer than an all-leather holster. At $49.99 on the DeSantis' website, this is a great way to add a quality leather holster to your carry options.