by
posted on January 30, 2021
Support NRA Shooting Illustrated
DONATE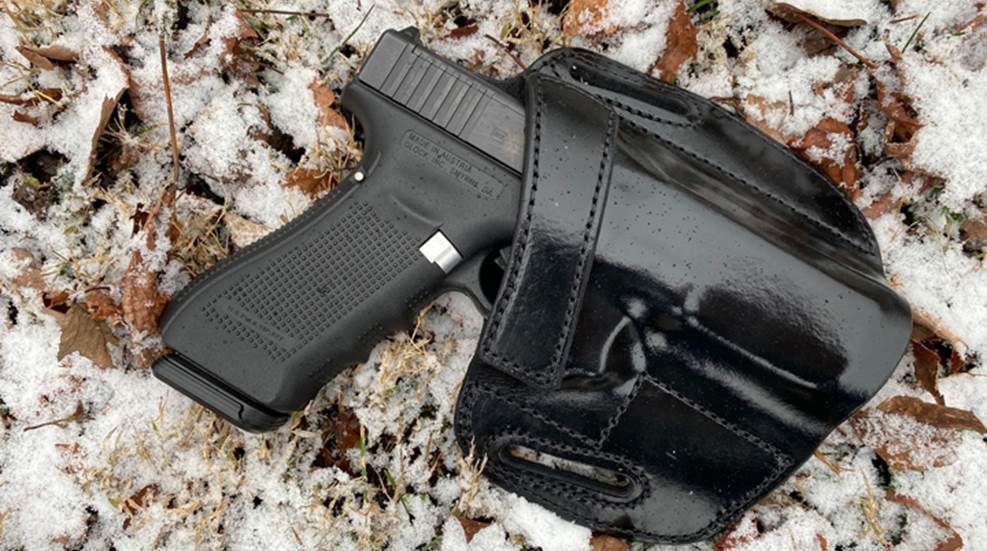 Sometimes you just can't beat a good all-leather OWB, especially when it's from a company with a history of outstanding leather work such as CrossBreed.
Those of you who read my weekly holster reviews might know I'm not normally a fan of leather holsters. One reason is there is often more emphasis on style and look than functionality, and while I definitely think holsters should look good, I'm far more concerned about how well they hold the gun. Leather holsters are notorious for wearing out with constant use just because leather is a natural pliable material that wears over time. This is the biggest reason I'm especially not a big fan of leather for IWB.
But the Open Top Pancake from CrossBreed is an OWB that offers a couple of great features not often found on a lot of all leather holsters. Let's start with the basics.
This holster looks classy from the get-go. The drum-dyed black cowhide is smooth with a deep shine that exudes high class. Beautiful stitching all around holds the front and back panels together tightly along not only the outside edges but also includes reinforced stitching under the trigger guard for added retention.
The one feature that really stood out the most about the Open Top Pancake is the reinforcement at the opening, something more holster makers are adding but not everyone has caught up with yet. My biggest criticism of leather holsters from a functionality perspective is that the outside flap of the opening can wear out over time and begin to curl over, presenting a danger to reholstering because the flap could trip the trigger on the way in. To avoid this, CrossBreed added a second, double thick leather layer at the mouth of the opening to prevent the lip from curling over. Problem solved.
One other feature that is often not found on other leather holsters but is on the Open Top Pancake is a tall sweat guard. It's really more of a comfort guard, since leather and sweat don't mix well, but whatever it's called it serves the purpose of protecting both the gun and your body from each other.
At $74.95 from CrossBreed, the Open Top Pancake is priced less like an expensive leather holster and more like a middle of the road Kydex or hybrid, making it a great value. It is available in brown or black, lefty or righty, for a variety of handguns. There are even a few offered with a limited number of light and laser options.