by
Shooting Illustrated Staff
posted on October 29, 2020
Support NRA Shooting Illustrated
DONATE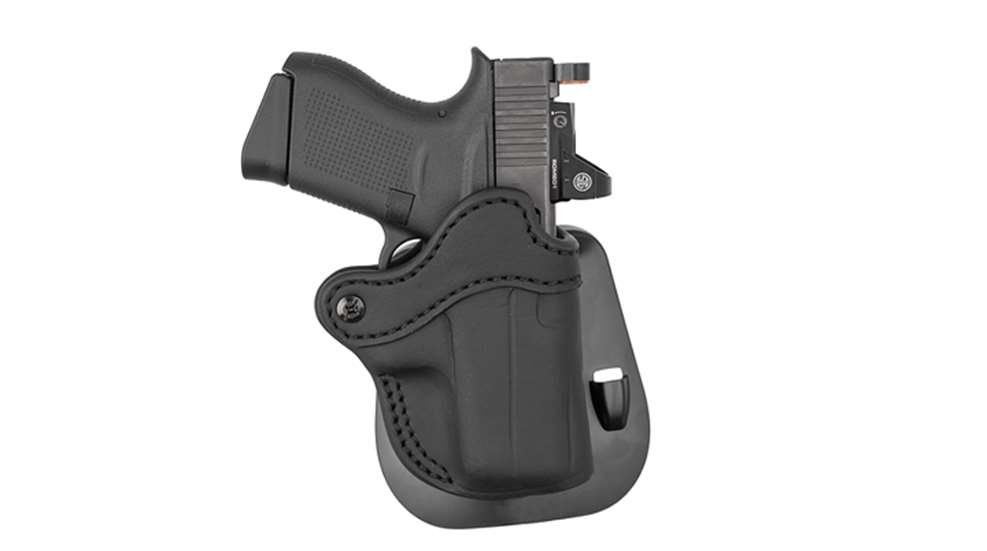 Red dots mounted on pistols are not a new concept. From Open class competitive shooters to today's most elite combat units, to the everyday armed citizen, they are fast becoming a fixture on the American firearms scene. Today, manufacturers continue to expand their models with red dots, bringing out several new firearms with built-in optics as well as guns in the "optics-ready" category. However, it's not always easy to find an optics-ready handgun holster. 1791 Gunleather identified this shortage, and now has over 20 holsters that fit over 100 models of optic-ready firearms. Now they have two more optic-ready holsters for the popular Glock G43X and G48. 
Glock first introduced the slimline G43X and G48 in July of 2019. Since then, these slimline frame and 10-round capacity firearms have become very popular with American gun owners. Glock has introduced a new feature to these two popular models, a Modular Optic System (MOS) configuration, and 1791 Gunleather now has holsters ready for these new Glock pistols
"We will continue to create new designs and modify existing models to meet the needs of armed America," said Alex Toussieh, COO of 1791 Gunleather. "Leather is a very obliging material and our leather working artisans are the best in the world."
The new designs are a great compliment to these two already popular firearm models. The MOS-style pistols from Glock are ideally suited for self-defense and other close-quarters shooting scenarios. The red-dot sight offers quick target acquisition and improved shooter accuracy, benefits that shooters of all skill sets can enjoy. With 1791 Gunleather, users of these new models have premium quality holster options offering the perfect blend of comfort and functionality.
For more information on holsters for the new optic-ready G43X and G48, or other products from 1791 Gunleather, please visit 1791gunleather.com.