From the earliest attempts to improve rifle accuracy to almost the end of the 20th century, long-range precision rifles have remained largely in conventional "issue" stocks, whether made of wood or synthetic, especially when it came to bolt-action rifles. Bolt-action rifle stocks, however, began to change with the advent of custom "thumbhole" stocks, and more recently with full pistol-grip stocks, likely influenced by the popularity of AR-15-type firearms. This trend has accelerated with aftermarket stocks made of aircraft-grade aluminum alloys for bolt guns.
During the past decade, a number of alloy pistol-grip-stocked, factory precision rifles have appeared, along with aftermarket custom-grade "drop-in" chassis to convert popular bolt-action rifles into platforms better suited to shots at great distances. Foremost among these rifles is the Remington Model 700, especially its short-action incarnation, which is offered in .308 Win., .223 Rem., 7 mm-08 Rem. as well as several other chamberings.
Having long been one of the most accurate out-of-the-box factory rifles in the world, Remington's Model 700 is built on a simplified dual-lug, Mauser-type action with a smooth bolt throw and an adjustable trigger. With an exterior that is totally sleek, the Model 700, as issued, leaves little room for improvement in a bolt-action hunting rifle.
For other uses, however, one might want to include a bolt knob with better purchase, a full pistol grip, a muzzle brake/flash hider, an adjustable stock, the ability to quickly mount accessories and, above all, a detachable-box magazine (DBM). Such improvements are especially valued for military and law enforcement applications, as well as competitive shooters. These are exactly the markets the custom stock makers have gone after, and in addition to their utility and fine "Swiss watch" quality, there is one other element they often share—obscene cost.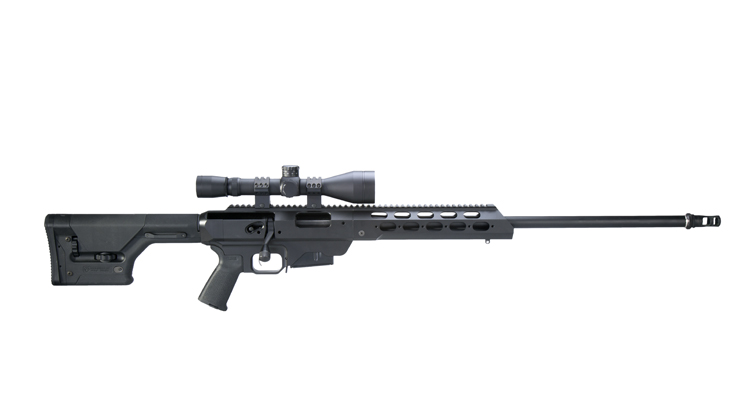 The cost of dropping a Remington Model 700 barreled action into an aftermarket, custom alloy stock with all of the above features can be several times that of the price of just the rifle, especially if the receiver has to be modified to accept the DBM used. Taking note of this trend, Remington Arms Company had a better idea.
Called the Model 700 Tactical Chassis, Remington's rifle is built on a standard Model 700 heavy barrel in .308 Win., .300 Win. Mag. and .338 Lapua Mag., but that's where the familiar appearance to the Model 700 ends. The Model 700 barreled action is installed in the excellent TAC21 precision alloy chassis made by MDT Engineering.
The rifle I received is a short-action version in chambered .308 Win. with a 24-inch, stainless steel, heavy barrel finished in black TriNyte. Standard with the package is a threaded muzzle (5⁄8x24) with an AAC 51T muzzle brake/suppressor mount that will accept the AAC 762-SDN-6 7.62 mm suppressor.
Just 14.25 inches from the muzzle begins a robust 11-inch freefloat fore-end. At the three- and nine-o'clock positions on the handguard are five vent holes with four smaller ones at six-o'clock. Spaced between are threaded holes for Magpul L3 and L5 rails, and at the front of the bottom is a sling mount that can also serve to mount a Harris Bipod. On top of the handguard is a 10-inch section of MIL-STD 1913 rail parallel to the bore. At the rear, this rail meets an 8.5-inch section of rail, which is integral with what could be described as the rifle's upper receiver, but this section of rail begins an upward angle to provide a declination of 20 MOA. The handguard mates perfectly with the upper section and is locked rigidly in place by three hex-head bolts.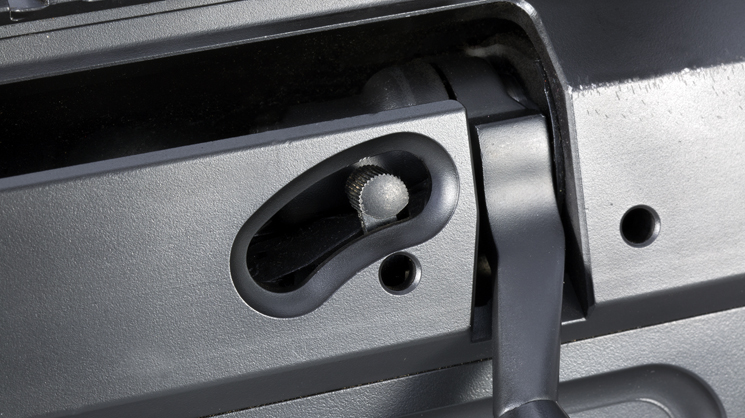 This upper section houses the actual Model 700 receiver, taking the place of the upper portion of a conventional stock, and provides a monolithic bedding block. Along with the receiver, which can barely be seen from the outside, the upper section also houses the bolt and standard manual safety. The bolt has Remington's Target Tactical Bolt Handle, which is conical and knurled. A hole on the right front matches the receiver's gas vent.
Reminding one of the lower receiver on an AR-15, the lower section of the MDT TAC21 is attached to the upper section by the typical two massive bolts, but these are longer than standard and sport hex heads. In assembly, these bolts pull the receiver and both alloy sections rigidly together. The lower section exposes the bolt release and the Remington X-Mark Pro trigger, which is set for a crisp 3.5-pound let-off (the rifle we received for testing had its trigger replaced after Remington recalled the X-Mark Pro in 2014, and displayed no problems on the range).
The lower section houses the trigger guard and magazine well, where a single-column/single-position five-shot Accuracy International magazine is retained by an ambidextrous catch similar to that used on the M14. The lower rear of the section has been designed to mount a standard AR-15-style pistol grip. On the left side of the lower section are the Remington logo and the model of the rifle, along with a cutout through which to view the serial number on the receiver. Above the trigger guard are four holes, two of which are threaded, and these are used to mount the 700 action in the stock. At the rear is a hardened-steel piece with retaining notches for the locking lever on the buttstock group.
The rear of the upper section is machined into what could be called an eccentric octagon to mount a standard AR-15 type buffer-spring tube. On the left side of this piece is the rotating locking lever, which locks the stock to the rifle. Furnished with the Model 700 Tactical Chassis is the excellent Magpul Precision Rifle Stock (PRS), which is fully adjustable for elevation and length-of-pull. It comes with two sling mounts and a removable toe to allow a rear monopod to be mounted.
The Model 700 Tactical Chassis comes without sights and a rifle like this cries for good optics, so I chose a Leupold Mark 4 2.5-8x36 mm MR/T. This illuminated reticle scope is based on the Leupold TS-30 scope series designed for SOCOM. The MR/T was mounted in an A.R.M.S. No. 72 LII mount with adjustable throw levers. This mount also houses a harmonic spring to dampen vibrations, especially when using a muzzle brake. An A.R.M.S. No. 22 Tactical Ring Cap was installed on the front scope ring, on which to mount a LaserMax Micro or UniMax Laser. This setup is useful in pinpointing targets for observers and others in law enforcement critical-incident scenarios.
Since the rifle did not come with any rail accessories, I mounted a Harris Bipod. In wide use in all forms of precision shooting, the Harris is a great piece of gear at a great price.
Shooting the Remington Model 700 Tactical Chassis at 100 yards brought no surprises, as all five-shot groups landed into 1-inch or better groups with and without the suppressor. Although the point-of-impact change with the AAC 762-SDN-6 can attached was only a fraction of an inch, I would sight the rifle in with the suppressor on and leave it at that unless shooting where a suppressor was not allowed. With a 3.5-pound let-off, the adjustable trigger was found to be satisfactory.
One thing I added to the AAC suppressor was the MANTA Suppressor Cover from Manta Rail. Made from a space-age material combined with tank tread, this patented cover is all but indestructible. It does not transfer heat and drastically reduces thermal signature at night. The cover comes in black, OD green, flat dark earth and camouflage. It is a must-have accessory for suppressors.
Loading the single-position, five-shot magazine proved challenging for some of the people I shot with, but it's really quite simple. To load, hold the back of the top round down with one hand while pushing down on the front with a fresh cartridge, and then slide it back. Otherwise, the rear of the round being loaded may protrude out of the magazine. As with any firearm, having multiple preloaded magazines on hand would be a good idea.
In total, Remington's Model 700 Tactical Chassis is an excellent precision rifle, particularly since it is ready to go out right of the box with the addition of an optic. By mounting its most popular rifle in the TAC21 stock, Remington has done a service to those who would otherwise spend hundreds of dollars on a similar, aftermarket product. The rifle has tremendous potential for competitive shooters and law enforcement.

Manufacturer: Remington; (800) 243-9700, remington.com
Action Type: Bolt-action
Caliber: .308 Win.
Capacity: 5 rounds
Finish: Matte-black hard anodized
Barrel Length: 24 inches
Rifling: 6 grooves; 1:10-inch RH twist
Sights: None; full-length MIL-STD 1913 rail with 20-degree cant for mounting optics
Trigger Pull Weight: 3 pounds, 8 ounces
Stock: Magpul PRS
Length: 46.25 inches
Weight: 11.75 pounds
Accessories: Accuracy International magazine, hard case, manual
MSRP: $2,900

Velocity measured in inches 15 feet from the muzzle for 10 consecutive shots with a ProChrono Digital. Temperature: 67 degrees Fahrenheit. Accuracy measured in inches for five consecutive, five-shot groups at 100 yards from a benchrest.