The POF USA Revolution gives shooters a .308 Win. rifle in a package the same size as a traditional AR-15.

With more than 200 American firearm manufacturers offering multiples of AR platforms, how in the world can anyone in the market for such a rifle decide what to buy?  Well, the first selection is the chambering, and in rifle cartridges alone we can include the popular 5.56 NATO, .300 BLK, 7.62 NATO, 6.8 Rem. SPC, 6.5 Creedmoor, 7.62x39 mm, .300 Win. Mag. and many more I would put in the "exotic" category. For the obvious reason of military compatibility, 5.56 NATO, 7.62x39 mm and 7.62 NATO are favorites.
After caliber come price and reputation, not necessarily in that order. I go for reputation first, as I want to know my AR won't let me down and will last through many thousands of rounds. Others may simply want a home-defense rifle that they shoot occasionally when it's not secured.
The old adage "you get what you pay for," can also be misleading. Some companies offer quality ARs at entry-level prices while others may add "pinstriping" and sell similar rifles for 50-percent more. For those who want "Swiss-watch" quality, it's wise to look to companies with the best reputations. These exist in the double digits with names that have become household words in the firearm industry, and one such company is Patriot Ordnance Factory (POF USA), of Mesa, AZ.
A pioneer in high-grade AR platforms, POF has, from the start, used its own short-stroke, gas-piston system. Offering eight elegant AR models, POF seems to have a liking for stand-up, patriotic names, such as "Renegade," "Revolt" and now the "Revolution." However, rather than a reference to violence, this POF USA Revolution centers on the advancement in firearms design—in a nutshell, the Revolution is an AR-15-size rifle in .308 Win. Though this rifle's special features could fill a small book, let's take a closer look.
Beginning at the muzzle of the POF USA Revolution's 16.25-inch fluted, 1:10-inch twist, black-nitride, match-grade barrel, we find POF's triple-chamber muzzle brake. Behind the brake is a five-position, adjustable-gas plug, gas cylinder and short-stroke piston, most of which is covered by POF's rigid, freefloat monolithic handguard with plentiful M-Lok mounting slots and ambi quick-release sling mounts. At the handguard's front end are also top and bottom short rails for a front sight and bipod. The barrel nut doubles as a heat sink.


Differing from some piston systems, the POF USA Revolution uses a .875-inch barrel-shaped short-stroke piston. When the Revolution is fired, this piston travels approximates .96-inch to drive the 13.75-inch operating rod and bolt carrier 1.25 inches back. Kinetic-energy transfer then drives the bolt group all the way to the rear to extract and eject the fired cartridge case. No separate return spring is used with the operating rod, which is returned forward by the bolt carrier.
Called the Gen 3 two-piece upper receiver, this AR-15-size component differs from its namesake in several ways. The ejection port measures about 3.15 inches long by .50-inch wide to handle .308-caliber cartridges and its bottom is widened to accept the feed lips of a Magpul Gen3 .308 Win. magazine. A letter "e" on the left side denoted POF's E2 chamber in which the neck is fluted to assist with extraction.


The top rail is an integral part of the POF monolithic handguard held to the upper receiver by three hex bolts. In every way feasible, machine cuts have been in the upper receiver to reduce weight, even in the shell deflector and forward assist. When open the dust cover reads "God Bless America" next to our flag and the receiver also houses POF's ambidextrous Tomahawk charging handle.
Called the Gen 4 Lower Receiver, this component is also of Swiss-watch quality with every exterior component having an ambidextrous counterpart. The integral trigger guard is extra large and undercut, and the .308-size magazine well has a large flare with an index-finger rest on both sides. A Mission First Tactical Engage pistol grip is standard, as is POF's 4.5-pound single-stage match trigger. Lastly, there's a tiny nylon spacer-bolt that can be adjusted to eliminate movement of the receivers when locked together.
Being the same size as an AR-15 bolt carrier, the BCG in the POF USA Revolution is unique to the rifle with a large .308 Win. head size, seven-lug bolt, massive extractor and roller- cam pin, all of which are finished in super slippery NP3 for the utmost in smooth operation. At the rear of the lower is POF's ambidextrous QD Sling-Swivel End Plate and an anti-tilt, six-position recoil spring/buffer tube. A Mission First Tactical Minimalist lightweight adjustable buttstock finishes out the package.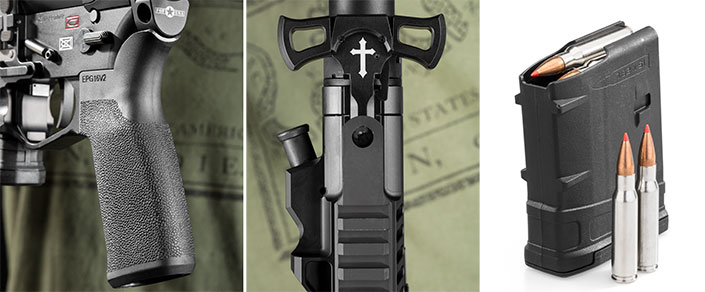 When you first pick up the Revolution it will likely be your mouth that will drop, but certainly not the rifle. At an advertised weight of 7.3 pounds, it is the lightest in its .308 Win. class, especially with all of its special ambidextrous components. Could it be lightened even more?  Yes, but you'd have to find another place for the serial number first.
Pulling back the Tomahawk charging handle lets you know you're not in "AR-15 land" anymore, as the robust recoil spring was designed to handle bigger medicine. Pull it a couple more times and you'll feel the smoothness and sureness of a serious piece of gear. After making sure the Revolution is empty, pressing the 4.5-pound, single-stage trigger will likely induce you to utter "aah," and hearing the sharp click when sliding in a Magpul Gen 3 PMag magazine may also evoke a smile. By the way, POF's Frank DeSomma told me that this POF-issue magazine is highly recommended for optimum reliability in the POF USA Revolution rifle.
While all of the ambidextrous controls are most impressive, if you've got lots of AR-15/AR-10 or Gunsite years under your belt, you may opt not to use all of them, but that's OK, as they won't get in the way. With no less than 20 M-Lok mounting slots on the handguard, accessory mounting will accommodate most all things one could desire. Just remember: grams make ounces and ounces make pounds.


Purpose
It's clear that the POF USA Revolution was conceived for ease of carry. Whether for home defense, hunting or law enforcement/military use out to 1,000 yards, it would shine in all of these roles. For LE/Mil it is also available in selective fire, but no matter which purpose, it won't take long to start thinking about accessories.
For me, open sights are a must, but the only ones I'd accept would be Magpul's polymer MBUS, as they are almost indestructible and near-weightless. I'd also keep my optics as light as possible. Where no magnification is needed, any of the tiny, high-quality red-dot sights should work, as would an Aimpoint Comp. With these or any optics a quick-release mount would be desirable in case they went down at the wrong time. OK, but what about reliability and accuracy?
To get a good feel for the Revolution I shot my sample over three days with plenty of 7.62 NATO G.I. ball, as well as Federal Premium 168-grain Match and Black Hills 175-grain Match .308 Win., both offhand and from the bench using open sights and two scopes. I'd been shooting a fair amount of .338 Lapua Mag. and .300 Norma Mag., and while I'm not recoil sensitive, I still figured the Revolution would feel like a .308 Win. in spite of what I'd heard, but I was wrong.
Because of the POF USA Revolution's Triple Port muzzle brake, the rifle's felt recoil was difficult to compare. It was similar to a 7.62x39 mm from an AK, or halfway between a .22-250 Rem. and a .243 Win. After I was finished I never felt like I'd even fired a rifle. There were no malfunctions of any kind.
However, in all honesty, no matter how I tried I could not duplicate the .58-inch, five-shot group on the test target fired by my rifle before it left POF. I shot plenty of groups with three or four hits measuring an inch or less, but always with a flier or two opening them up to 2 inches or larger, especially with the 147-grain G.I. ball, which was no surprise. For better control and placement on sandbags I would opt for a different stock and one that locks tightly in position. For normal offhand use, however, the issue stock works fine and weighs next to nothing.
From both a utilitarian and a technical standpoint, Patriot Ordnance Factory has hit a home run with the development of the new POF USA Revolution .308 AR. It is, in all respects, revolutionary.