by
Shooting Illustrated Staff
posted on January 16, 2023
Support NRA Shooting Illustrated
DONATE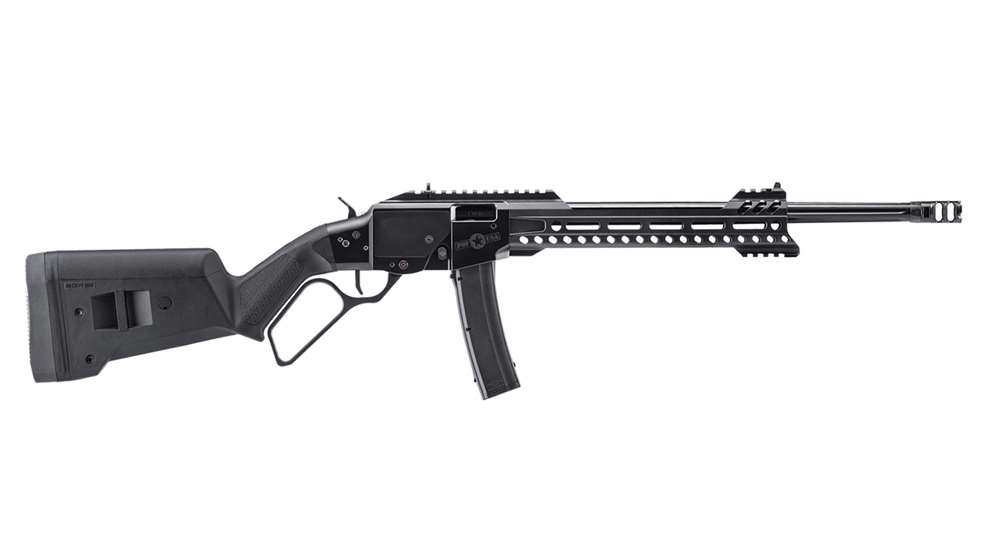 Patriot Ordnance Factory, Inc. (POF), based in Phoenix, AZ, is releasing its first-ever tactical lever-action carbine, the Tombstone, chambered in 9mm. While the POF Tombstone lever-action PCC operates like the lever action carbines of the old west, it's built with modern materials such as polymer, modern steels and aluminum. The carbine also integrates modern features like M-Lok handguard and box magazines instead of the traditional tubular magazine that has been found on lever action carbines since the days of the Civil War-era Henry rifle.
One of the more notable aspects about the Tombstone lever action carbine is that it is designed to mesh with Magpul's successful SGA 870 stock, which has become the go-to stock for Remington 870 and Mossberg 590 pump-action shotguns. Besides the ability to take a sling or the ability of the stock to be easily shouldered in a squared-off tactical stance, the Magpul SGA also takes spacers to increase or decrease the length of pull.
"The Tombstone has been in the works for quite a while now and it is truly representative of what POF-USA is all about: revolutionizing the original lever action design with enhancements," stated Jeremy Selting, Vice President of Sales and Marketing, POF-USA. "The feedback from writers who have reviewed the Tombstone has been extremely positive with the common theme being that the rifle is extremely enjoyable and fun to shoot," added Selting.
POF-USA Tombstone 9mm Lever-Action PCC Specifications:
Caliber: 9mm
Action: Lever action
Barrel Length: 16.5 inches
Collapsed Length: 36 inches
Weight: 5.75 pounds
Rail Length: 10.5 inches
Stock: Magpul SGA 870
Magazine Capacity: 20 rounds (10-round magazines also available)
Sights: Built in Picatinny rail on top of receiver for optics; includes XS Ghost ring sights
The MSRP for the POF-USA Tombstone lever action carbine starts at $1,962. For more information on this firearm or other products from Patriot Ordinance Factory, please visit pof-usa.com.