Recently I had the chance to visit the American Built Arms (A*B Arms) company in Pennsylvania and try out its MOD*X Modular Rifle System designed for the Remington Model 700 Short Action. 
According to A*B Arms, "The MOD*X Modular Rifle System is designed and engineered for military, law enforcement and hunting enthusiasts. The A*B Arms MOD*X Modular Rifle System is a lightweight, ergonomic, drop-in platform for the Remington 700 Short Action. It serves as a modular foundation on which tactical accessories can be added according to the operator's needs." Trust me when I say these guys aren't kidding. 
I spent my first morning in the beautiful Pennsylvanian Amish countryside where I met with Jason Combs, founder and president of A*B Arms, as well as his staff. Combs is an Army Veteran who has a great passion for all types of firearms. This was extremely evident when he broke down his pride and joy―the MOD*X Modular Rifle System―for me at the A*B Arms factory.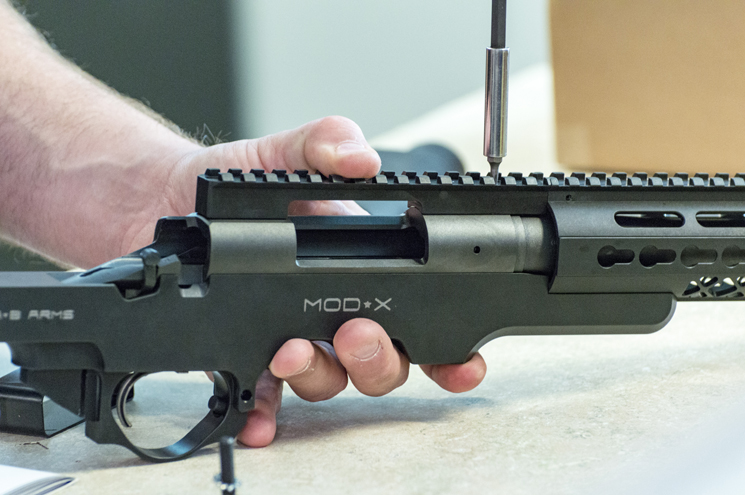 The MOD*X is manufactured of mostly aluminum, hardcoat-anodized to Mil-Spec Type III. The 13.5-inch free-floating modular forearm will accommodate any barrel as thick as the action. MDT and AICS-style magazines in .308 Win. and .223 Rem. can be used in the MOD*X. 
With a total weight of 3 pounds, 10 ounces, the MOD*X is extremely light. The drop-in design is described as "goof-proof for assembly" by Combs, so if you are the type who is afraid to take apart your rifle there is no need for worry. The A*B Arms website has tutorial videos available for all of their products. 
The KeyMod system is featured on three sides of the forearm for mounting equipment. Conventional mounting slots are on two sides as well. The package comes standard with a LUTH-AR MBA buttstock, A*B Arms SBR P*Grip and an MDT-10 round polymer magazine. The MOD*X is designed to accept any AR-15 rifle buttstock and/or pistol grip for those seeking additional customization.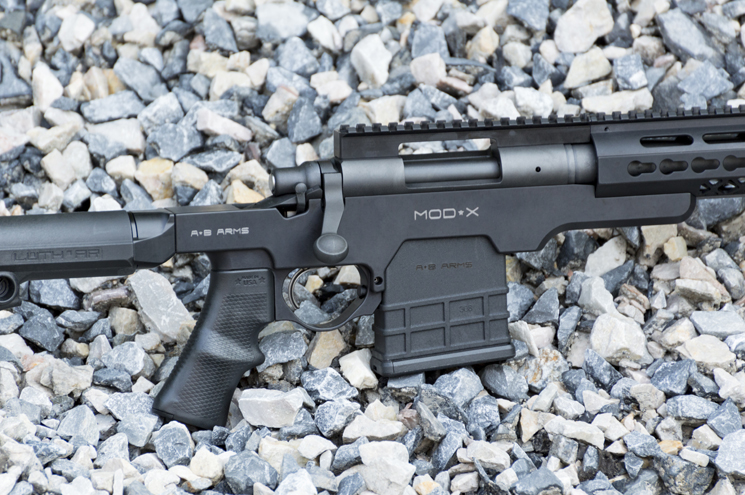 After going over the MOD*X assembly and manufacture at the A*B Arms factory, we headed north to the New Holland Rifle and Pistol Club to do some serious shooting.  
We spent the day firing at 350 and 600 yards on the Oakwood Controls H-Bar LOMAH electronic target system. The 20 MOA adjustment built into the MOD*X rifle system's Mil-Spec 1913 rail was the perfect choice for these ranges. 
The MOD*X system, simply described, is a joy to shoot. The lightweight chassis is extremely durable, and the thought of turning an old Remington Model 700 short action into a tactical workhorse is very appealing. The bolt action is light and airy, but satisfies the tactile feeling your hands crave during operation. Instead of a buttstock digging into your chest with every round, the MOD*X leaves a feeling like a minor puff. This was surprising, given the light weight of the chassis. The ability to mix and match your AR-15 accessories with the MOD*X platform is the icing on this rifle's cake.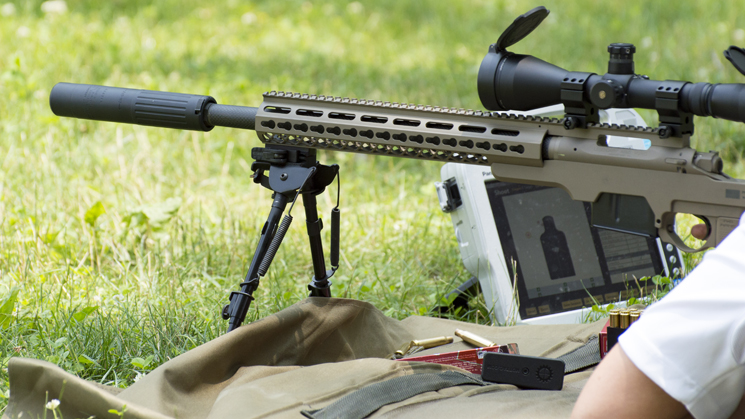 We shot Hornady .308 Win.—nothing match grade at all―but after dialing in the two MOD*X rifles, the only excuse for missing shots was user error. The electronic target shot feedback is instantaneous. Like a golf swing, I had to be diligent when using the electronic targets, making sure I followed through after pulling the trigger and not immediately look up at the monitor to see where it landed. Oh, no spotting scopes are necessary with electronic targets, nor any dreaded pit duty. 
The MOD*X modular rifle system has an MSRP of $799 and is available in black and flat dark earth. It is designed for Remington Model 700 Short Action-Right Hand models only.