by
posted on August 5, 2018
Support NRA Shooting Illustrated
DONATE
In 2018, SIG Sauer introduced a new line of 9 mm pistol ammo designed for use in concealed-carry guns. The SIG 365 Elite Performance Ammunition is designed for optimal performance in short-barreled pistols, such as the company's P365 micro-compact. The P365 has a 3.1-inch barrel, and as readers know, shorter barrels often produce less velocity, and less velocity sometimes means that hollow-point bullets won't expand as well as they do at higher velocities generally acquired in longer-barreled guns.

The SIG Sauer 365 ammunition comes in two flavors: a 115-grain V-Crown JHP (made by Sierra Bullets) for defense, and a 115-grain FMJ for practice. Both rounds use the same clean-burning powder that is totally consumed before the bullet leaves the barrel for optimal performance. Both loads are rated at 1,050 fps from the P365's 3.1-inch barrel, producing 282 ft-lbs. of muzzle energy. These loads are slower than typical 9 mm ammunition, and this was the intention to help reduce recoil in small, lightweight concealed-carry guns.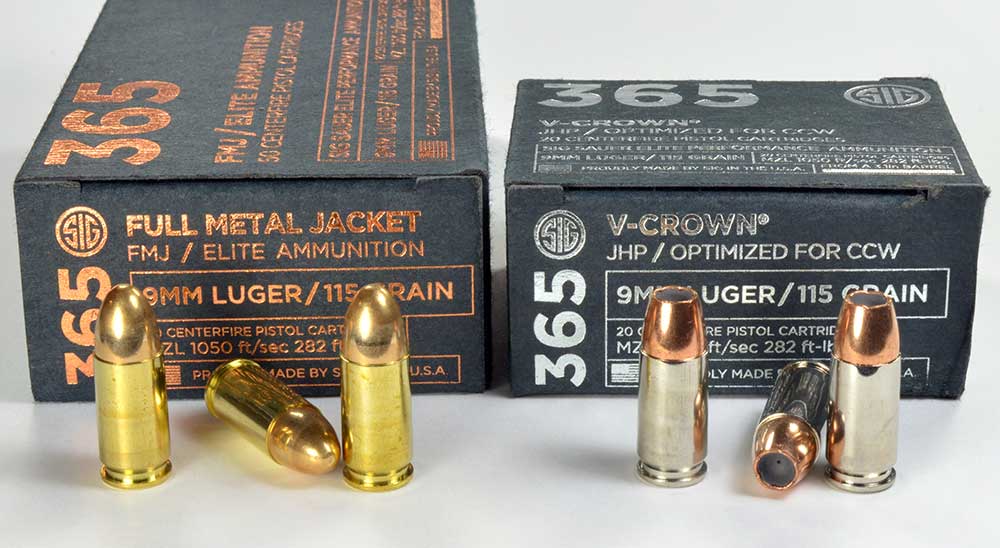 SIG's approach is to engineer its FMJ ammunition to shoot like the company's corresponding V-Crown JHP ammunition, so the two 365 loads have the same recoil, velocity and point of impact. This enables shooters to train with ammunition that shoots like their defensive ammunition.

The new SIG 365 Elite Performance ammunition was test-fired in a Smith & Wesson M&P9 M2.0 with a 3.6-inch barrel for velocity, accuracy and expansion. In addition, SIG's regular (non-365) Elite Performance V-Crown ammunition was fired along side the 365 load for comparison.

The 365 FMJ and V-Crown rounds produced 1,124 and 1,111 fps, respectively, from the 3.6-inch S&W barrel, a bit more that they reportedly produce from a 3.1-inch SIG barrel. With only a 13 fps difference in speed, I'd say SIG Sauer did a very good job at matching their velocity. A 10-shot group at 25 yards was 7.6 inches with the FMJ and 7.0 inches with the V-Crown hollow point. 


The 365 V-Crown load is slower than SIG's regular V-Crown ammunition. SIG rates its regular V-Crown at 1,185 fps. They don't indicate a barrel length for the company's standard ammunition, but it is probably from a 4-inch barrel since that is standard for 9 mm Luger tests. The 10-shot average velocity of the standard V-Crown round was 1,163 fps in my 3.6-inch S&W barrel, and it produced a 10-shot group of 6.4 inches.

Expansion of 365 V-Crown bullets was measured after two rounds were fired at 6-inch wide plastic water jugs. They penetrated three jugs and bounced off the fourth. Their velocity was 1,089 and 1,119 fps. Expansion was 0.625 inch and 0.633 inch. For comparison, a round of SIG's standard 115-grain V-Crown bullet clocked at 1,193 fps and expanded to 0.642 inch. It stopped in the third water jug, but made a deep dent with crack marks in the rear wall, indicating it was very close to exiting the jug. Weight-retention for all bullets was 100 percent. Thus the 365 V-Crown offered the same penetration and expansion as the Standard V-Crown, in spite of the 365 load going nearly 100 fps slower in the water-jug comparison test.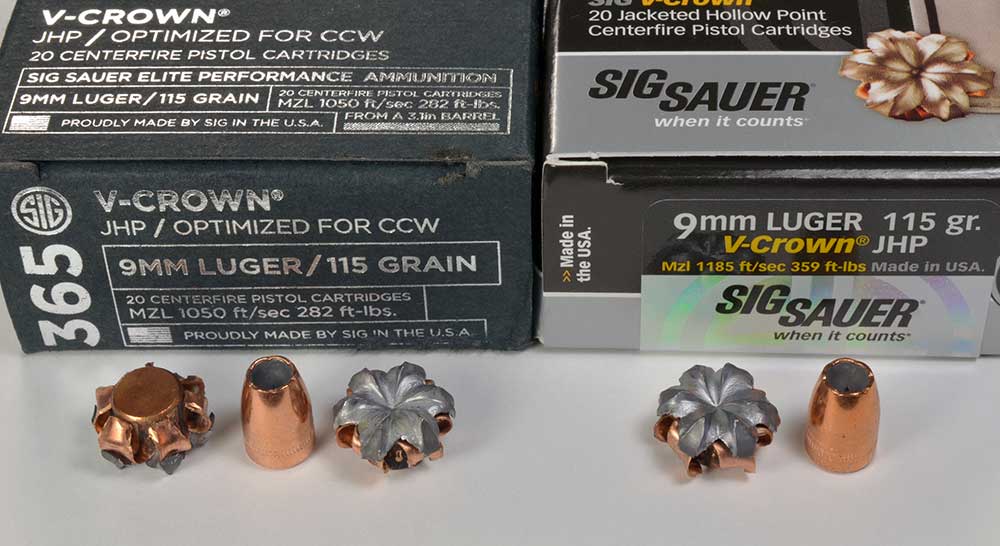 Recoil was compared between the 365 V-Crown and standard V-Crown by loading both ammo in the same magazine. As one might expect, the 365 V-Crown did have slightly less perceived recoil. Less recoil can mean faster follow-up shots, which could be important in a defensive situation.

According to SIG Sauer, V-Crown ammunition meets the FBI protocol test requirements, and this new load offers another choice for shooters with short-barrel guns. The 365 V-Crown penetration and expansion in water jugs was on par with the company's standard V-Crown load from my 3.6-inch barrel, in spite of the 365 round being slower.

The 365 Elite Performance ammunition is worth looking at if you have a short-barreled pistol and want to use ammunition designed to maximize performance in your gun. It offers the terminal performance of SIG's regular V-Crown ammunition but with less recoil.