by
posted on March 8, 2016
Support NRA Shooting Illustrated
DONATE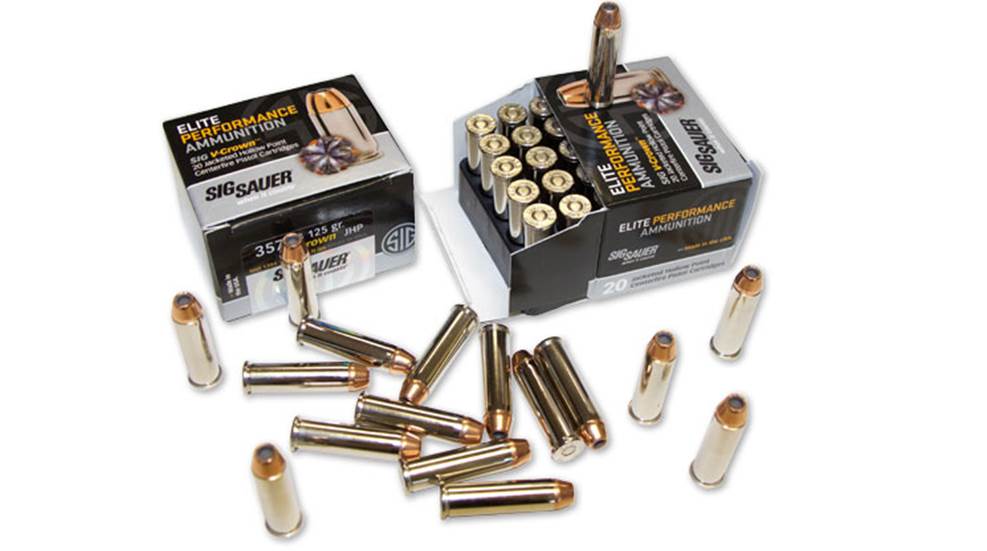 If you favor a revolver for self-defense, you have accepted the slower loading and lower capacity as part of the equation, but balanced out by greater power and more-varied ammunition options. Your J-frame might only carry 5 rounds to the 7+1 of a similarly sized 9 mm semi-auto, but you don't have to worry about the tiny grip resulting in failures.
You can also stoke your wheelgun with potent ammunition like SIG Ammo's .357 Mag. 125-Grain V-Crown JHP. With 1,450 fps velocity at the muzzle, that's an impressive muzzle energy of 584 ft.-lbs - more than most .45 ACP. Granted, that power comes at a cost (namely sore wrists and tender mitts), but should the rubber hit the road you'll have little to worry about in the power department.
Constructed to the same demanding specifications as the rest of the SIG Ammo line, the 125-grain V-Crown has a stacked hollowpoint cavity designed for maximum expansion and weight retention. An FMJ option with the same bullet weight is available for less-expensive training options.
MSRP: $23.95 for box of 20 rounds.