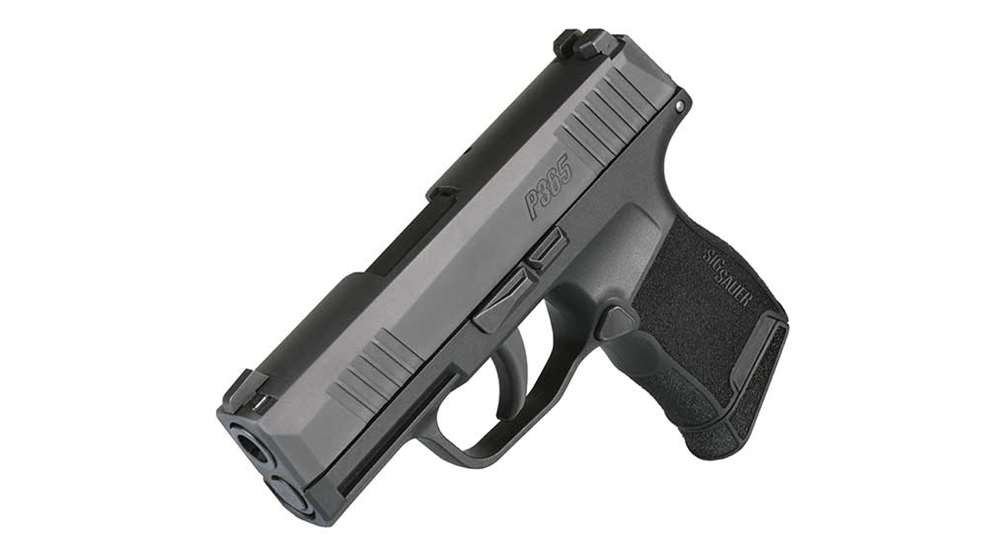 Ten-plus-one round capacity in a pistol roughly the size of a Smith & Wesson Shield, Glock G43 or Springfield XD-S? The SIG Sauer P365 certainly has my attention.
When SIG Sauer first introduced the P365 a few weeks ago, they called it a "high-capacity, micro-compact pistol." Putting 10 rounds in a frame that traditionally has only held six or seven seemed to be a feat bordering on alchemy—if it could be done, one would think that it would have been done years ago. SIG has managed to blend the tiny size of a pocket pistol with the capacity of a mid-size firearm, and done so in a package that really does combine the best of both worlds.
We had a chance to talk to the engineers at SIG earlier today at SIG's pre-SHOT Show 2018 Range Day, and they explained how the SIG Sauer P365 gets its extra capacity without breaking the laws of physics. Basically, the smart folks at SIG started with the magazine and worked from there. There's a patent-pending process (and no, they didn't explain) that allows a majorly thinner magazine. Add to that a slimmed magazine well, and the result is a pistol that's as thin as most single-stacks, but with double-stack capacity.
Seriously. Pick up the SIG Sauer P365. In size, it's somewhere between the teeny-tiny Kahr PM9 and the Shield/43/XD-S. You can get a good support-hand grip on the pistol without worrying about your hand running ahead of the muzzle (unless you have ginormous mitts), and with the floorplate extension you can get all three fingers of the shooting hand on the grip. It's not quite "back-pocket size," but with most ordinary pants of non-skin-tight dimensions it should be easy to pocket-carry the P365.
Shooting the SIG Sauer P365, it feels pretty much like other micro-pistols. It's light (less than 18 ounces), and unless you have the extended floorplate magazine you really can't get all three fingers on the grip, but it was still well-mannered on the range. SIG has done the requisite research on shooting ergonomics and designed the P365 to have a high grip-to-bore axis, undercut trigger guard and high grip to allow for better control.
Other factors contributing to the SIG Sauer P365's range success are the standard night sights, familiar trigger and striker-fired operation. If you've put any time in with the P320 series of pistols, the feel of the trigger is similar and there shouldn't be much of a learning curve there. While the size and weight are less—and, as such, felt-recoil may be increased—it feels a good deal like its larger sibling.
SIG Sauer has managed to put a big-gun feel in a little gun, and that's no small accomplishment. It wouldn't be the least bit surprising to see this trend catch on—no longer is there a need to choose between a large pistol that's hard to conceal because you prefer greater capacity and a small pistol easy to conceal, but with significantly fewer rounds on board. Best of both worlds? Maybe not "best," but certainly well-above average with the new SIG Sauer P365.