Before talking about the CZ Bren 2Ms, the subject of this review, a brief history lesson is in order. CZ, best known in this country as a manufacturer of pistols such as the CZ-75, refers to Ceska Zbrojovka Uhersky Brod, or CZUB, meaning the Czech arms factory located in Uhersky Brod, Czech Republic. Part of a large industrial conglomerate, CZ has evolved through a number of names and purposes since its founding in 1916 as a subsidiary of the Vienna Arsenal. From the beginning, CZ has been a producer of military arms as well as sporting firearms, all with a reputation for precision and quality.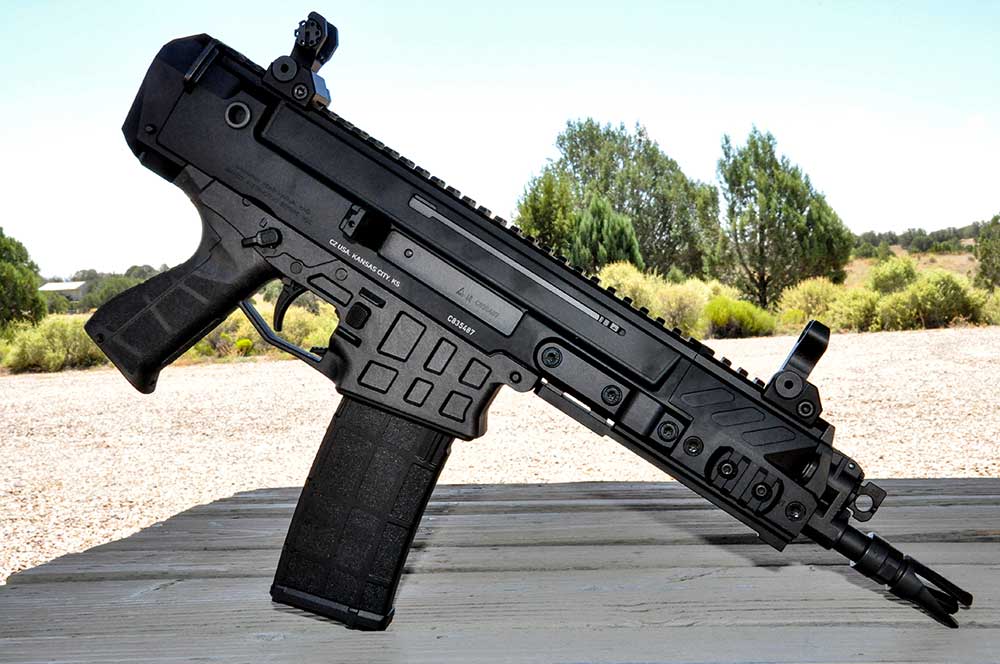 The Bren 2Ms I have at hand is a new design available in two calibers: 5.56 NATO and 7.62x39mm, and several barrel lengths ranging from 8 to 14 inches. My test sample is chambered in 5.56 NATO and has the short, 8.26-inch barrel. The pistol has a lightweight carbon fiber-reinforced polymer frame and the receiver is aluminum but gives the appearance and feel of steel. Various parts and rails mounted to the receiver are steel, or are made of a combination of aluminum and steel. Using these lightweight materials keeps the weight down to 5.4 pounds, but any way you look at it, this is a robust firearm.

The operating system is a gas-piston design with an easily adjustable gas block I found no reason to mess with, as the pistol ran without malfunctioning during my testing. The barrel is cold hammer-forged, resulting in a smooth, polished bore that is both accurate and easy to clean. A large, pronged flash hider is screwed onto the threaded barrel and, as I didn't fire the pistol at night, I cannot attest to its effectiveness. I rather imagine torching this little beastie off at night, indoors, would be highly unpleasant without proper ear protection.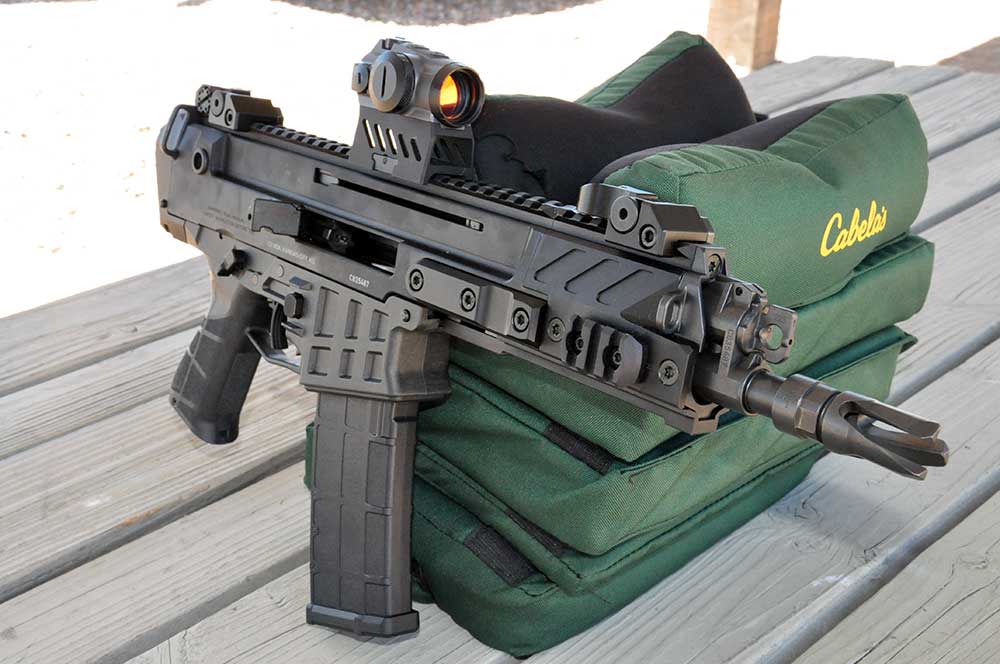 The receiver has a built-in Picatinny rail running almost 15 inches in length for the mounting of sights and other accessories. The pistol ships with an excellent set of adjustable, fold-down sights clamped to the front and rear of the rail. There are multiple sling mounts on both sides of the receiver that should handle just about any sling you might wish to use. The safety/selector switch is ambidextrous, as are most of the controls.

There is an AR-style bolt catch on the left side of the receiver and another bolt catch/release inside the front of the trigger guard. The trigger is polymer and breaks at about 4 pounds. There is quite a bit of slack before take-up, the trigger breaks cleanly, then this is followed by a bit of overtravel. It's a very useable trigger and lacks the grit and crunchiness one so often finds in military-style carbines. The pistol ships with two 30-round, AR-style magazines, an instruction manual in several languages and a complete tool kit/cleaning kit in a military-style canvas pouch.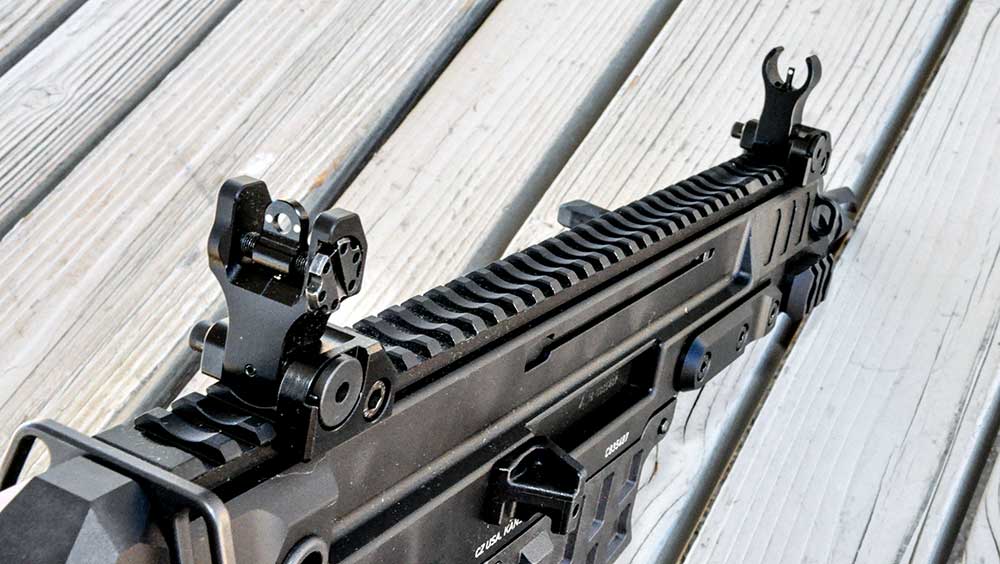 For range testing, I decided to mount my go-to red-dot sight, a SIG Sauer Romeo 4, and shoot the pistol off bags at 25 yards for accuracy testing. I used Black Hills 55-grain FMJ, Hornady 75-grain BTHP Match and Super Vel 62-grain SCHP ammunition to fire 5-shot groups and found I was able to consistently shoot groups in the 1–1.5-inch range.

Shooting 5.56 NATO/.223 Rem. ammunition in a short barrel provides plenty of bark, and the pistol recoiled up off the bags with each shot; I would compare it to shooting a .357 Mag. revolver. Shooting offhand with both hands on the pistol was easy, and I went through several boxes of ammunition plinking at weeds and sticks on the backstop.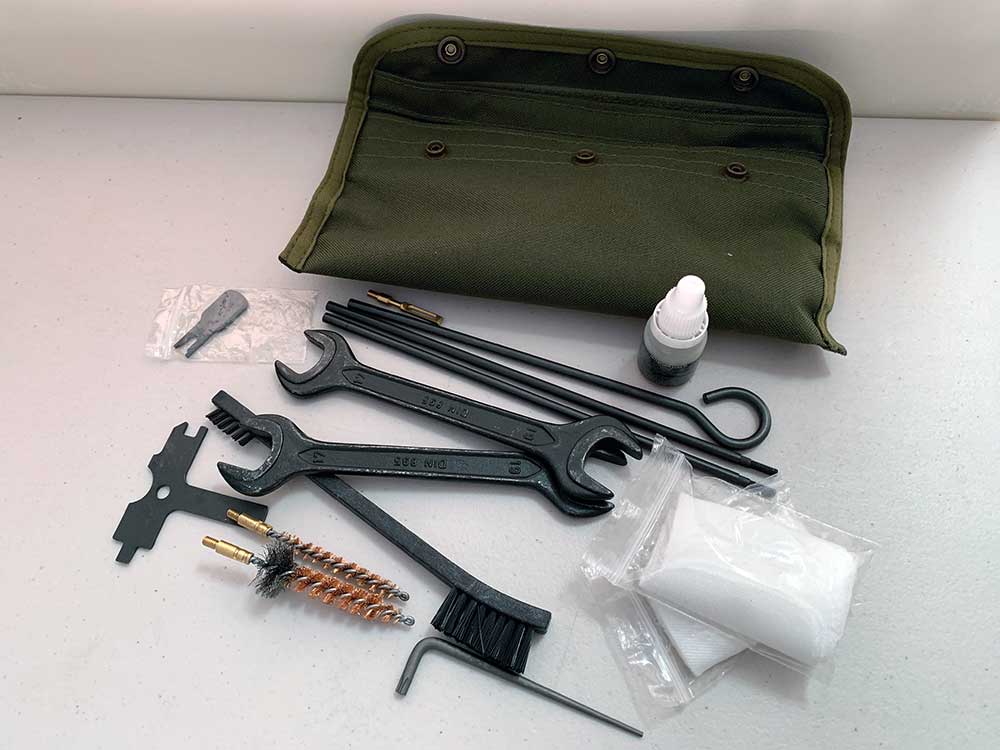 The Bren 2Ms begs the question: what is it for? It has obvious potential as a car gun or home-defense weapon in situations where a compact, powerful gun might be desirable. It's made to accept a folding stock, should you wish to conform with the BATFE requirements for a short-barreled rifle, and it is capable of accepting an AR-style stock tube, should you wish to install an arm brace. It will accept any number of lights, sights and lasers, so the possible configurations are endless and left to your imagination. In the end, it is a robust, powerful and reliable pistol with a retail price of $1,799.