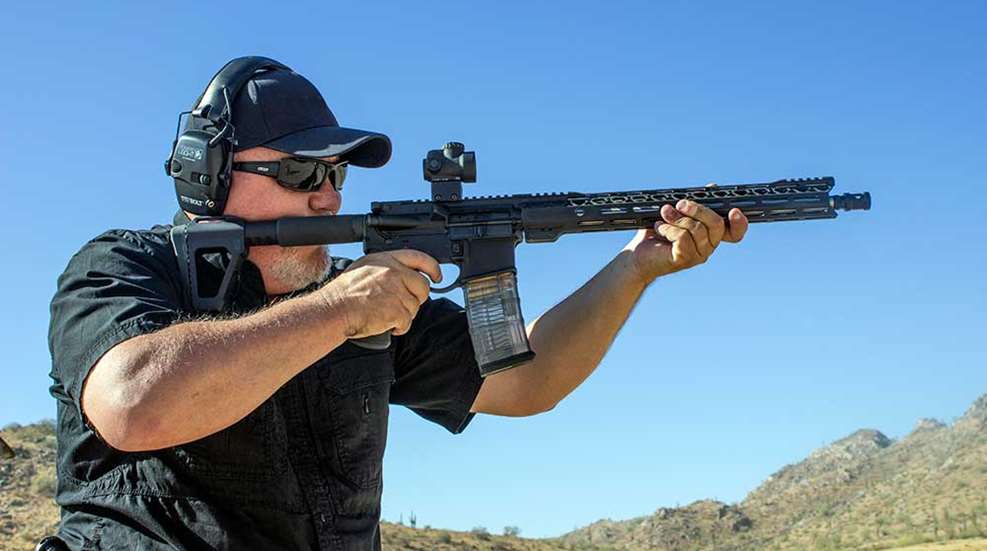 When it comes time to start shopping for your next, or possibly first rifle, there is a juggling act that takes place. While we want a high-end, ultimate tier-one rifle, our checkbook may beg to differ. The bean-counter side of your psyche may work to get a bargain basement blaster with the idea that you can upgrade later. The fact is you can have the best of both worlds. There are manufacturers that work hard to produce rifles that have top-level performance and features, all without having to move into your van in order to pay for it. One of the best examples of that is the ZERO Carbine from DoubleStar.

The ZERO Carbine is a feature-rich rifle with solid performance that won't break the bank. The rifle begins with an upper and lower receiver made from forged aircraft 7075-T6 aluminum. Strong and lightweight, this is the perfect base from which to work. The bolt carrier in the rifle is made from a hearty 8620 steel and the bolt inside is from super strong Carpenter-158 steel. It has an enhanced extractor system designed to work well under heavy use.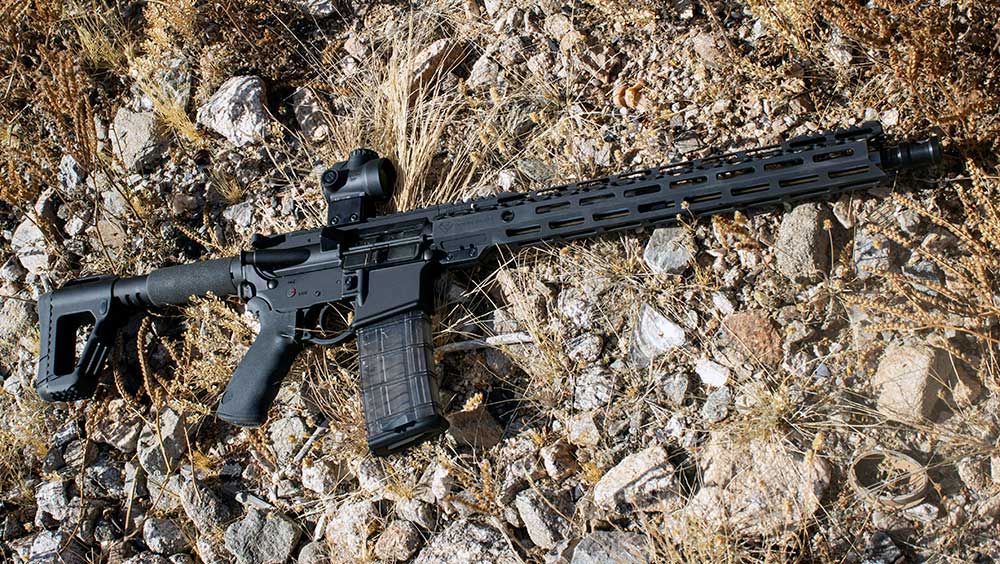 The Picatinny rail on the upper includes "T" marks that are helpful for quick indexing in the event you need to pull optics or other items off then get them back on in the same location. What I consider to be an upgraded feature is the inclusion of a DoubleStar billet backbone charging handle. It has an enlarged back-gas deflector, which is perfect for those shooting with suppressors. It is paired with the Strike Industries Tac Latch and machined from billet 6061-T6 aircraft aluminum. It is much nicer than the old school "mil-spec" handles we usually find.

The lower receiver is built out with non-glamorous but reliable Mil-Spec parts. This provides a cost savings and is something many shooters can upgrade later, should they choose. Like the upper, the lower has an unexpected bonus feature. They include an enlarged trigger guard for use with gloved hands and an Ergo Ambi Sure Grip. These make for a comfortable shooting experience as they eliminate the small gap we usually find at the back of the trigger guard. While it may seem like a minor point, you will appreciate what DoubleStar has done here if you carry a rifle with a gap for a long period of time. It will find a way to rub the skin off your knuckle, making for less than an optimal day of shooting.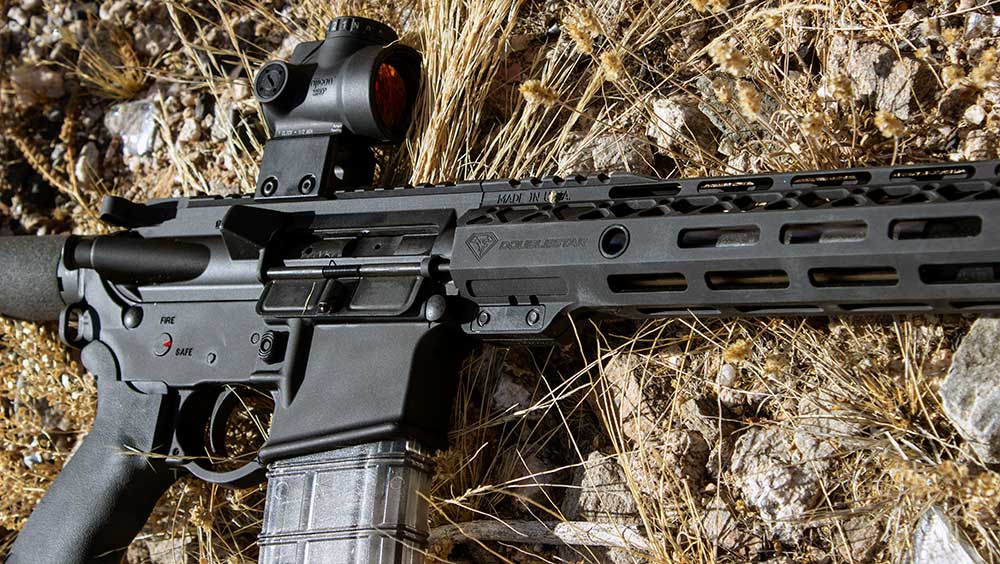 Moving down the gun, we find that they have included a Wilson air-gauged heavy barrel. Wilson has been making barrels for more than 50 years and makes some great products. This version is a 416R stainless model that has been machined to match-grade standards. They come standard with a hand-polished bore and feed ramps. Closer inspection shows that DoubleStar goes a little further and finishes the barrel with a precision crown. Topping off the barrel is the DoubleStar Alpha compensator. It is a compact muzzle device which allows the shooter to maintain a steady sight picture and take accurate follow-up shots during rapid fire by keeping the muzzle down. It is small but very effective, to say the least.

The barrel is covered by the company's Cloak M-Lok Handguard. This 15.5-inch handguard works well in this application. The slim, lightweight profile makes it comfortable for any shooter. The Cloak features two QD swivel pockets and M-Lok slots on six sides, making it as versatile as you need. At the back end of the DoubleStar ZERO Carbine, you will find an ACE SOCOM stock. This unique-looking stock features an integral buffer tube, which allows adjustable length of pull in five 0.5-inch increments and is approximately six times stronger than the original AR-15 collapsible stock/buffer tube design. It has a  comfortable, closed-cell foam stock overtube cover and was a pleasure to use.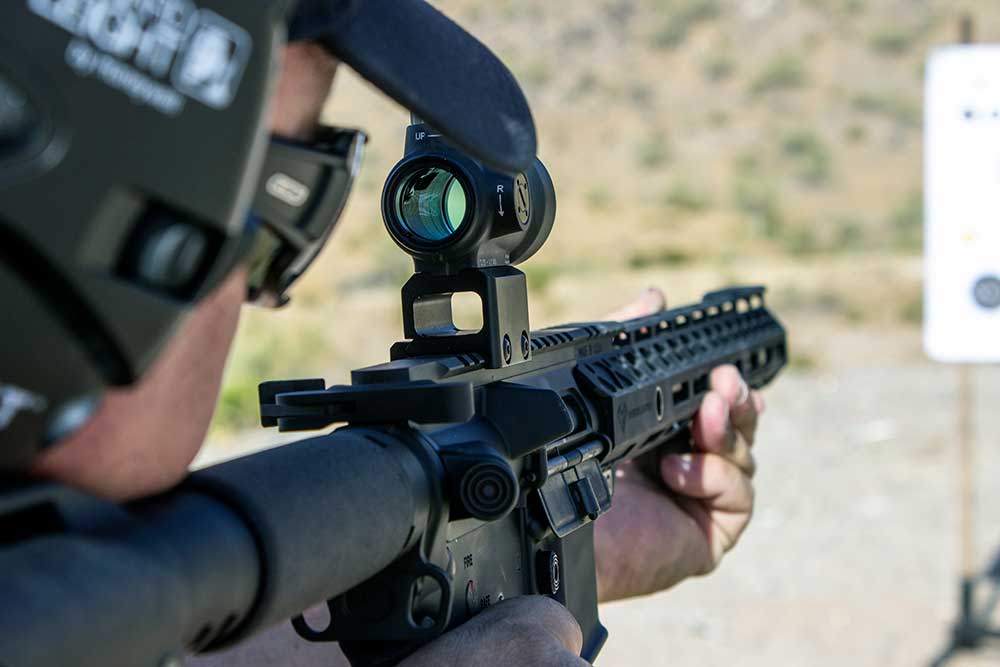 While everything looked good on paper, a trip to the range is always a good idea.  The rifle I received had a very solid fit and finish. There was very little play in any part of the gun, and it had a "well-made" feel. Performance wise, it kept up the same impression. While the mil-spec trigger did not exactly lend itself to hyper precision shooting, it ultimately provided sub-MOA performance. Remember that this gun is a balance of all things we want. Having a high-end, drop-in precision trigger would defeat the purpose.

The gun still shot well with a variety of ammo. I found the stock to be the most comfortable "minimalist-style" stock I have run. I attribute that to the foam placed on the buffer tube. The only modification I made was the inclusion of a Trijicon MRO optic. At the end of the range day, I was impressed with the performance of the rifle, especially considering the price range it sits in. It definitely outperformed several other guns that sit in a higher-tax bracket, if you will.

The search for your AR-15 can be overwhelming, as it seems everybody and their cousin are making one. From mild to wild, the choices are many. However, if you are looking for a rifle that essentially has the best of many worlds, it's worth taking a closer look at the DoubleStar ZERO Carbine.


DoubleStar ZERO Carbine Specifications

Caliber: 5.56 NATO
Barrel Length: 16 inches
Action: Direct Gas Impingement
Barrel Type: Wilson Air Gauged
Twist Rate: 1:8-inch
Barrel Material: Stainless Steel
Sight/Gas Block: Low Profile Gas Block
Muzzle Device: Alpha AR Compensator
Handguard: Cloak M-Lok Handguard; 15.5 inches
Charging Handle: Billet Backbone Charging Handle
Fire Control Group: mil-spec
Capacity: 30+1
Buttstock: ACE Socom Stock
Pistol Grip: Ergo Ambi Sure Grip
MSRP: $1,479.99