When Crimson Trace first announced it was getting into the optics game last year, we knew we had to investigate this line further. We've already had a chance to take a look at the reflex sight, and the company's laser sights are long-standing examples of technology done right, so it stood to reason the new Crimson Trace riflescopes would not disappoint. Having one in hand, it is clear our intuition was correct.

Obviously, the first step is to select a rifle upon which to mount the CTA-2104. That choice was pretty easy: the carbine we built a few years back has proven itself to be reliable and accurate, so the SIG Sauer Romeo5 red dot originally chosen was removed and the CTA-2104 installed. We opted for a Warne Quick Detach X-Skel mount (to be reviewed separately), as this carbine frequently serves as a test bed for optics and the ability to remove and reinstall optics is key. Ever since we put out our Handbook on mounting scopes, adding an optic to a rifle has followed the instructions and proven invaluable.

Here's where one of the first neat features of the CTA-2104 comes in handy, and it's one of those things that's so remarkably simple that it's surprising no one has thought of it before. On the side of the scope are two pairs of laser-etched lines intended as leveling guides. Now, these lines work best with horizontally split rings rather than vertical, and installation should utilize levels as described in the Handbook above, but it's a simple, quick starting point.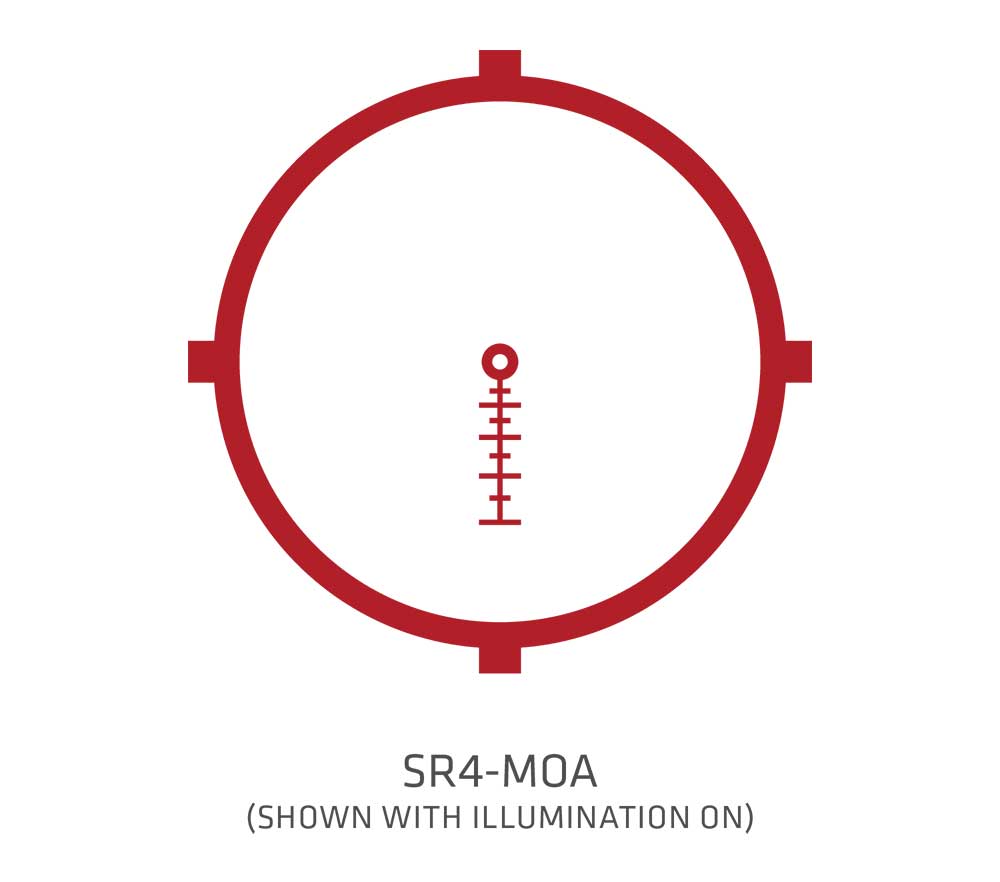 Before taking the newly mounted optic and carbine to the range, though, it's worth a quick chat on the reticle. For starters, it's a first-focal-plane reticle, which means the image grows as magnification increases. Crimson Trace has designed the SR4-MOA reticle to look like a circle-dot-style reticle on 1X power, but when magnification is increased to 4X, hash marks out to 15.4 MOA (650 yards) are visible, with 2- and 4-MOA widths for wind correction. It's a handy reference for longer-range shooting if needed, and the scope comes with a handy reference guide so you don't have to memorize all the holdovers… While it is illuminated, with 11 power settings, it's also etched, so even if the battery dies, you still have an aiming point.

On the range, the scope performed exactly as expected. We're fans of the overkill method of zeroing: three-shot groups to reduce the chance of fliers, calculating clicks, etc. until the scope is dialed in, but certainly boresighting a rough zero cuts down on the actual number of rounds fired. We like to shoot, so we don't mind a few extra rounds. With a 50-yard zero (that's our range limitation), it took six shots (two groups of three) to dial it in. Turrets are zero-reset for ease in returning the scope to your initial zeroing distance.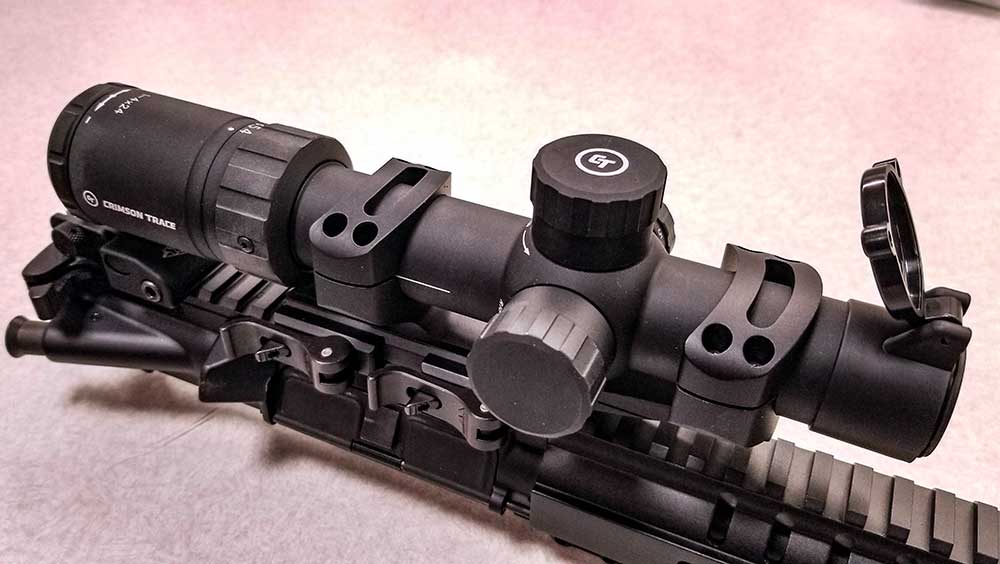 Because we're curious, too, we checked the 1X zero at 50 yards (spoiler alert: it was the same, just less-precise due to operator variability…) and then at 25 yards. For those who are also curious, the drop at 25 yards with a 50-yard zero is about an inch. For defensive purposes (even if all you're defending against is 6-inch steel plates), a center-mass hold will still result in a solid hit. Using the reticle as a circle/dot at 25 yards proved quite easy, as the "circle" part bracketed the outer ring of the B-16 target while the "dot" was easy to center.

MSRP on the CTA-2104 is $549, which puts it squarely in line with other low-magnification, first-focal-plane offerings of similar quality. If you're in the market for a scope that covers a variety of tasks, Crimson Trace's new scope line is definitely up for consideration. The CTA-2104 is also warrantied for life, and is covered by Crimson Trace's Free Batteries for Life program.

CTA-2014 Specifications

Manufacturer: Crimson Trace; (800) 442-2406, crimsontrace.com
Magnification: 1-4X
Objective Lens Diameter: 24 mm
Tube Diameter: 30 mm
Eye Relief: 3.7 inches
Reticle: SR4-MOA
Adjustability: 80 MOA windage and elevation in ½ MOA increments
Field of view: 112 feet at 100 yards (at 1X)
Length: 9 inches
Weight: 17.8 ounces
Accessories: Lens caps, CR2032 battery, cleaning cloth, turret wrench