by
Shooting Illustrated Staff
posted on October 16, 2018
Support NRA Shooting Illustrated
DONATE
Crimson Trace
 expanded its all-new optics lineup further in 2018, building on the company's earlier introduction of a collection of red-dot optics built for use on today's modern sporting rifles and optics-ready handgun slides. Now, a line of 11 precision riflescopes joined the Crimson Trace product lineup, offering everything from MSR-specific scopes to long-range precision optics designed for today's tactical precision rifles.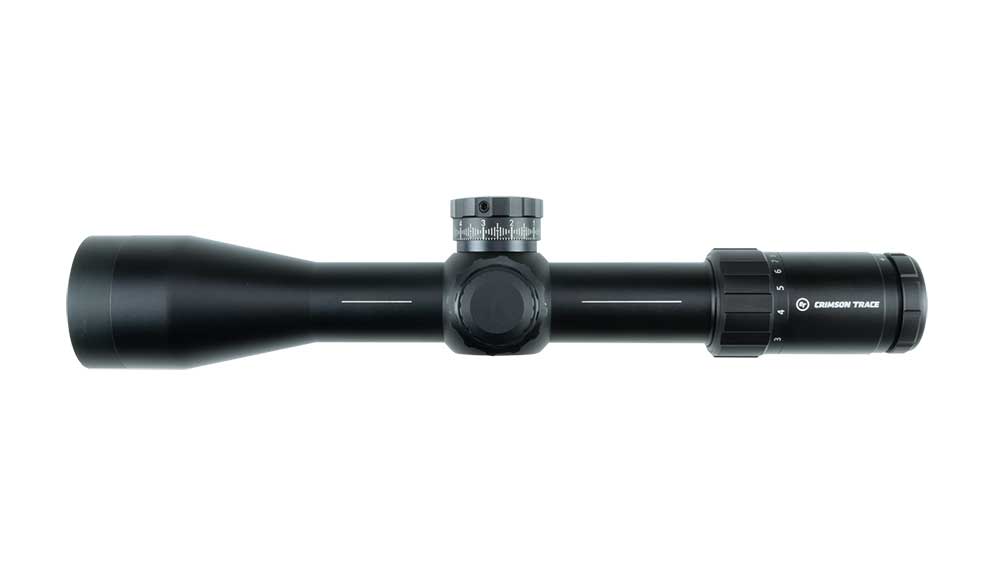 "We're extremely excited to enter the large and diverse riflescope market with these feature-packed products," said Lane Tobiassen, President of Crimson Trace and American Outdoor Brands Corporation's Electro-Optics Division. "Consumers can expect the same high-quality engineering and design that Crimson Trace has been providing for nearly 25 years."

In the new Crimson Trace riflescope line, consumers will find three series, each with a custom design put together by company engineers in Oregon. Options are built on either 30 mm or 34 mm single-piece tubes, and the internals of each scope are loaded with multi-coated Japanese glass complete with custom reticles located in the first focal plane. This allows hash marks to remain accurate at all magnification levels, unlike reticles located in the second focal plane, which are accurate at only one magnification factor, usually the highest magnification possible on the scope.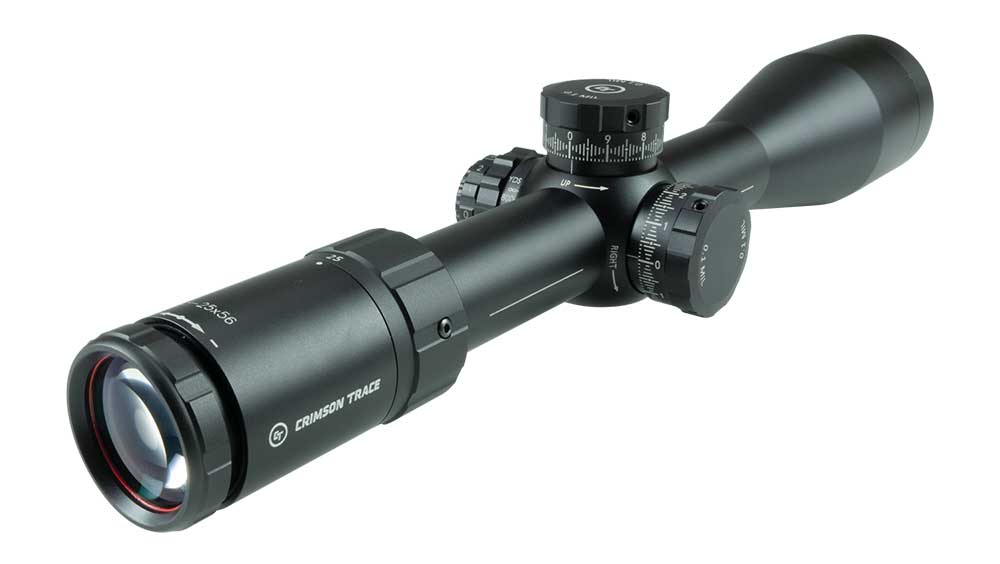 Check out the specification of each of the 11 models found in the Crimson Trace riflescope lineup below:
CSA-2309 2-Series Sport Riflescope
Magnification: 3-9X
Objective Lens: 40 mm
Tube Diameter: 30 mm
Focal Plane: FFP
Reticle: MR1-MOA
Adjustment: 0.25 MOA per click
Elevation Range: 60 MOA
Windage Range: 60 MOA
Weight: 19.9 ounces
MSRP: $499
CTA-2104 2-Series Tactical Riflescope
Magnification: 1-4X
Objective Lens: 24 mm
Tube Diameter: 30 mm
Focal Plane: FFP
Reticle: SR4-MOA
Adjustment: 0.25 MOA per click
Elevation Range: 60 MOA
Windage Range: 60 MOA
Weight: 17.8 ounces
MSRP: $549
CSA-2416 2-Series Sport Riflescope
Magnification: 4-16X
Objective Lens: 50 mm
Tube Diameter: 30 mm
Focal Plane: FFP
Reticle: MR1-MOA
Adjustment: 0.25 MOA per click
Elevation Range: 100 MOA
Windage Range: 60 MOA
Weight: 28.2 ounces
MSRP: $749
CSA-2624 2-Series Sport Riflescope
Magnification: 6-24X
Objective Lens: 56 mm
Tube Diameter: 34 mm
Focal Plane: FFP
Reticle: MR1-MOA
Adjustment: 0.25 MOA per click
Elevation Range: 80 MOA
Windage Range: 60 MOA
Weight: 35.6 ounces
MSRP: $849
CTL-3105 3-Series Tactical Riflescope
Magnification: 1-5X
Objective Lens: 24 mm
Tube Diameter: 30 mm
Focal Plane: FFP
Reticle: SR3-MIL
Adjustment: 0.2 MILs per click
Elevation Range: 140 MILs
Windage Range: 140 MILs
Weight: 19.9 ounces
MSRP: $999
CSA-3108 3-Series Sport Riflescope
Magnification: 1-8X
Objective Lens: 24 mm
Tube Diameter: 34 mm
Focal Plane: FFP
Reticle: SR2-MOA
Adjustment: 0.25 MOA per click
Elevation Range: 80 MOA
Windage Range: 80 MOA
Weight: 22.4 ounces
MSRP: $999
CTL-3420 3-Series Tactical Riflescope
Magnification: 4-20X
Objective Lens: 50 mm
Tube Diameter: 30 mm
Focal Plane: FFP
Reticle: LR1-MIL
Adjustment: 0.1 MIL per click
Elevation Range: 100 MILs
Windage Range: 60 MILs
Weight: 30.2 ounces
MSRP: $1,099
CTL-3525 3-Series Tactical Riflescope
Magnification: 5-25X
Objective Lens: 56 mm
Tube Diameter: 34 mm
Focal Plane: FFP
Reticle: MR1-MIL
Adjustment: 0.1 MIL per click
Elevation Range: 80 MILs
Windage Range: 70 MILs
Weight: 35.1 ounces
MSRP: $1,199
CTL-5108 5-Series Tactical Riflescope
Magnification: 1-8X
Objective Lens: 28 mm
Tube Diameter: 34 mm
Focal Plane: FFP
Reticle: SR1-MIL
Adjustment: 0.2 MILs per click
Elevation Range: 140 MILs
Windage Range: 140 MILs
Weight: 22.4 ounces
MSRP: $1,499
CTL-5318 5-Series Tactical Riflescope
Magnification: 3-18X
Objective Lens: 50 mm
Tube Diameter: 34 mm
Focal Plane: FFP
Reticle: MR1-MIL
Adjustment: 0.1 MIL per click
Elevation Range: 140 MILs
Windage Range: 80 MILs
Weight: 30.3 ounces
MSRP: $1,799
CTL-5324 5-Series Tactical Riflescope
Magnification: 3-24X
Objective Lens: 56 mm
Tube Diameter: 34 mm
Focal Plane: FFP
Reticle: LR1-MIL
Adjustment: 0.1 MIL per click
Elevation Range: 40 MILs
Windage Range: 20 MILs
Weight: 34.9 ounces
MSRP: $1,999