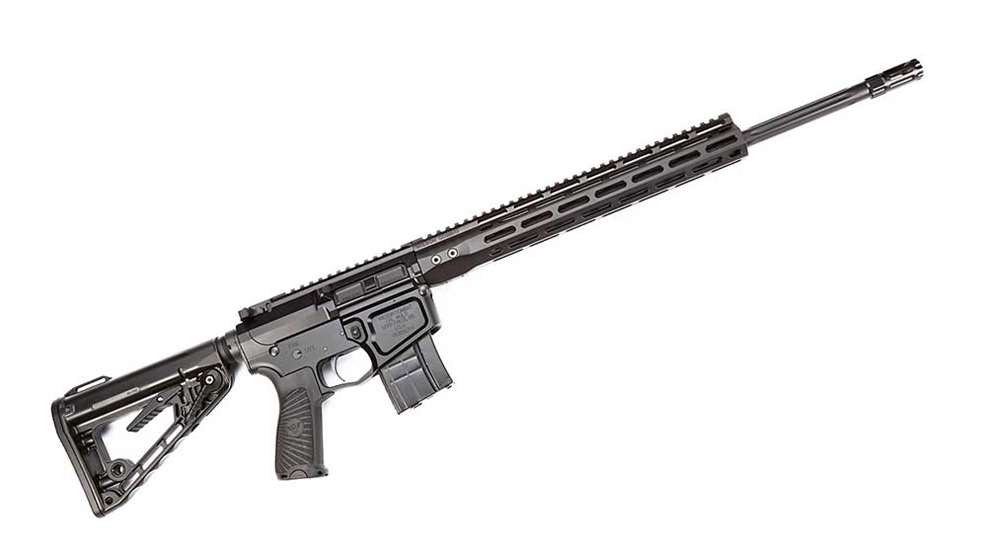 With the launch of
Federal Premium's innovative 224 Valkyrie
, AR-15 manufacturers across the industry jumped at the chance to enhance their rifle platforms with the long-range capabilities of this round. One of the latest to join the fray is
Wilson Combat
, and the company released its high-end Recon Tactical rifle chambered for the cartridge.
At the core of each Wilson Combat Recon Tactical AR-15 is the company's medium-weight barrel, machined from stainless steel and guaranteed to produce match-grade accuracy, even during extended strings of fire. To stabilize the range of bullet weights found in the 224 Valkyrie lineup, as well as get the most out of the round, the barrel measures 20 inches long and features a 1:6.5-inch twist rate. The external surface of the barrel is fluted, providing extra surface area for enhanced cooling and lightening the overall weight of the gun.
The Recon Tactical is built with a rifle-length gas system, pairing the barrel with the company's Lo-Profile gas block. The match-grade barrel is threaded at the muzzle and capped with the company's Q-Comp, designed to take the already-reduced recoil of the Valkyrie cartridge down even further. Each rifle is also equipped with the company's Tactical Trigger Unit, a single-stage design with a 4-pound trigger pull. Inside the receiver, consumers will find a mil-spec bolt-carrier group finished with a Robar NP3 coating that adds additional lubricity.
Furniture-wise, the gun is equipped with a Wilson Combat handguard complete with M-Lok accessory-attachment points.
Bravo Company
supplies the pistol grip and charging handle, and the rifle also comes with a Rogers/Wilson Combat Super-Stoc. The billet-aluminum upper and lower receivers are finished with a mil-spec hard-anodized coating and then coated with the company's Armor-Tuff finish. The overall length of the Wilson Combat Recon Tactical in 224 Valkyrie is 38 inches, and the gun weighs in at 7 pounds empty.
Based on the 6.8 SPC cartridge, the 224 Valkyrie is designed to enhance the range of the AR-15 platform, providing supersonic performance beyond 1,300 yards with a .22-caliber projectile. Other benefits of the round include a flatter trajectory, enhanced precision and reduced recoil. Each rifle chambered in the cartridge is equipped with a 6.8 SPC bolt head and feeds from 6.8 SPC magazines.
The suggested retail price on the Wilson Combat Recon Tactical in 224 Valkyrie is $2,600.