by
Shooting Illustrated Staff
posted on August 20, 2015
Support NRA Shooting Illustrated
DONATE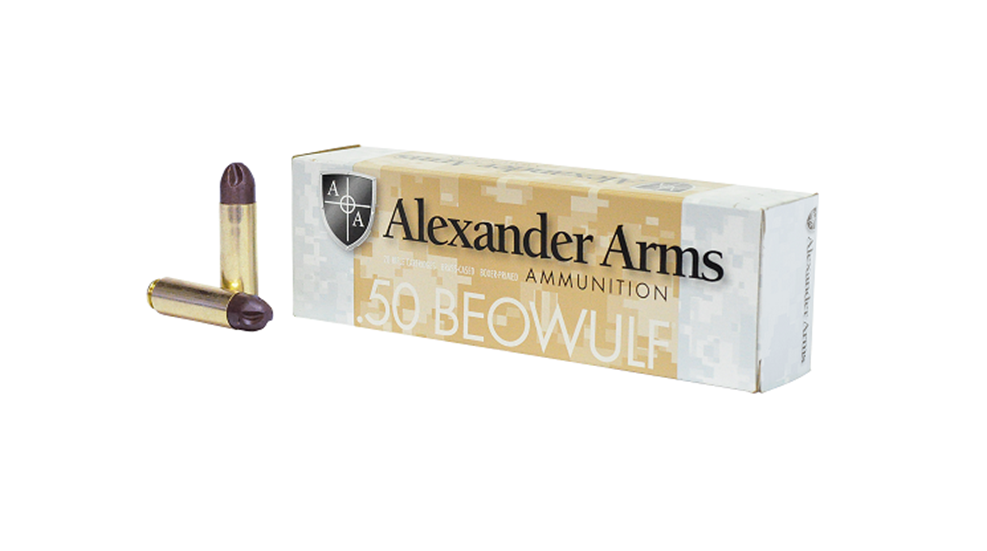 PolyCase Ammunition, LLC, and Alexander Arms announced this week that they have teamed up to offer PolyCase's ARX projectile in a .50 Beowulf variant. The .50 Beowulf, developed and produced by Alexander Arms, for the AR-15 platform, is designed to deliver exceptional stopping power at short to moderate range. PolyCase's ARX projectile is an advanced, injection-molded copper polymer bullet which transfers maximum energy to targets without expanding like a hollow-point.
"We are thrilled to be working with Alexander Arms to offer the ARX projectile in the .50 Beowulf caliber," says Paul Lemke, founder and CEO of PolyCase Ammunition. "This caliber is the ultimate big-bore semi-auto rifle cartridge. When you combine the massive energy of the .50 Beowulf with the patent-pending stopping power of the ARX, you have a defensive and hunting rifle cartridge that is second to none."
Alexander Arms released the .50 Beowulf in 2003 and it now dominates the big-bore AR-15 market. Since its inception, the .50 Beowulf continues to gain adherents in the civilian market as a self-defense and big-game hunting cartridge. In addition it is recognized in law-enforcement as an effective barrier breaching and vehicle interdiction round. The introduction of the PolyCase's ARX projectile, represents another milestone in the development of the .50 Beowulf cartridge.
Says Bill Alexander, founder of Alexander Arms, "This projectile [the ARX] is going to push the limits of what the .50 Beowulf can do. In our testing we found that the ARX transfers a maximum amount of energy with minimal over-penetration, resulting in one of the most effective defensive and short- to medium-range hunting cartridges on the market"