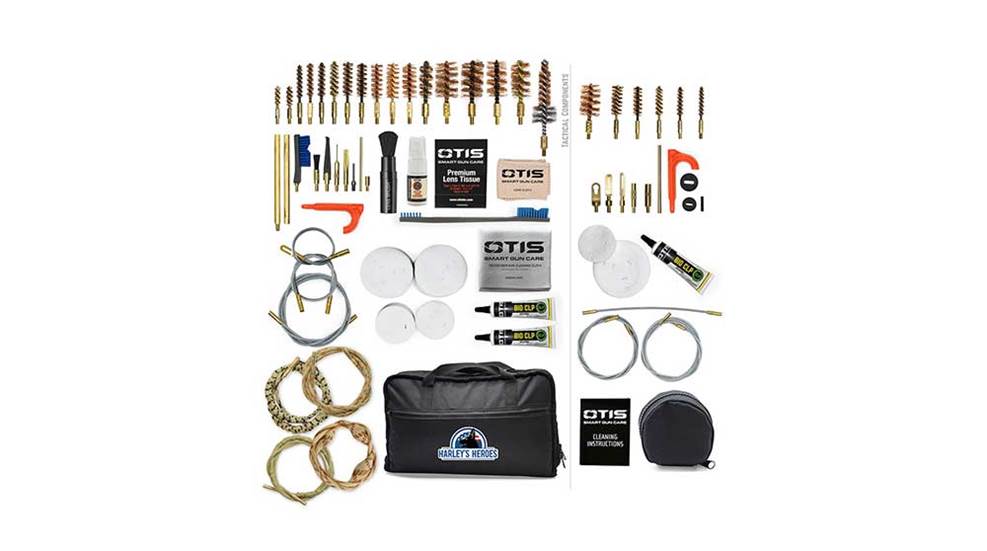 Otis Technology has launched a partnership with Clear Path for Veterans, a community-based resource center based in Chittenango, NY, that connects service members and their families to the resources they need. The sale of each special-edition Otis Elite Cleaning Kit will act as a donation to the organization's Dogs2Vets program, which helps provide service or emotional-support animal training for veterans with a PTS/MST-related disability.
Only 250 of the Dogs2Vets Otis Elite kits will be produced. Each carries the program's logo and comes with four Ripcords (9 mm, .223 Rem., .30-cal. and 12-gauge), 16 caliber-specific bore brushes, 12- and 36-inch aircraft-grade Memory-Flex cables and thread connector, small and large obstruction removers, .223 Rem./5.56 NATO chamber brush, pin punch, straight pick, and more.  Despite a retail value in excess of $200, the price is $149.99 and they are only being offered this month.  
Those who purchase a kit will also be entered to win a grand prize package with gear from top brands including Nine Line Apparel, Gerber, Condition 1, Trijicon, Alex Pro and EoTech, among others. The winner will be announced Dec. 4.
"We are a defense contractor that supplies the warfighter. But that aside, we are Americans and supporting those who have put their lives on the line to protect our freedoms is ingrained in us," said Heather Pleskach, director of marketing for Otis Technology. "Clear Path for Veterans is one way we show that support. We are excited to see this puppy's journey to service dog, matching a veteran to the dog and documenting the incredible journey along the way."
Otis' support of the Dogs2Vets program includes extensive training for a full year, along with all the food, shelter and veterinary appointments for a puppy. After the puppy has completed its training, it will be matched with a veteran in need and training will continue between owner and puppy. Otis will be sharing the puppy's journey on its social channels, along with sharing stories of veterans that Clear Path for Veterans has assisted over the years.