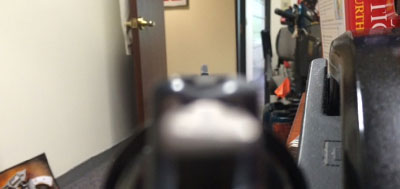 One of the essential things a self-defense pistol needs is high-visibility sights, which happens to be what my Smith & Wesson, Model 36-3 was sorely lacking given its  OEM black-on-black plain front post and rear notch. To remedy this, I selected an XS Sight Systems Big Dot with a tritium ampule. While there are several equally popular brands from which to chose, the simple design and generous size of the front post seemed like the natural choice to ensure easy—and fast—sight acquisition for my fiancee in normal as well as low-light conditions. My gunsmith and  I also discussed the possibility of deepening the rear-sight notch (similar to the a treatment found on my Smith & Wesson Performance Center Model 625-10) which would permit more daylight to gather around the front sight to further foster faster front-sight acquisition.
We also discussed the possibility of Mag-na-porting the barrel as a second means of lessening the affects of recoil, but in the end I decided against it for two reasons: First, while cutting holes in the barrel makes recoil more manageable, it also makes the pistol a lot louder. Depending upon whether or not a shooter is sensitive to such things, and considering my fiancee probably won't have immediate access to hearing protection at the outbreak of a life-threatening encounter…strike one. Second, in addition to providing a greater sight radius, theoretically the extra barrel length should also play a key roll in providing velocities than from a standard 2-inch barrel, but that's only in its OEM configuration. I suspect the porting negate the potentially beneficial advancements.
Luckily, there are other minor improvements to this wheelgun that yield immediate and obvious advantages.