by
Shooting Illustrated Staff
posted on November 12, 2018
Support NRA Shooting Illustrated
DONATE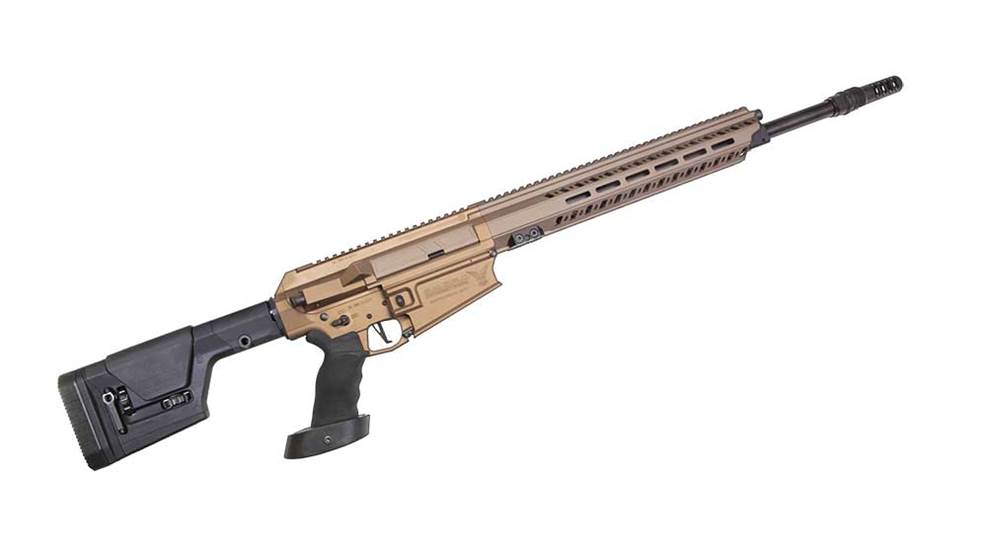 Available in hard-hitting calibers like .338 Lapua, .338 Norma Mag. and 300 Norma Mag., it's no wonder that the new MK-18 Mjölnir rifle from
SWORD International
is named after Thor's hammer, one of the great tools of Norse mythology. This rifle, previously available only to military units, takes the AR-style semi-automatic rifle to new levels, thanks to a special design.
Unlike many gas systems found in today's tactical semi-automatic precision rifles, the MK-18 is equipped with a unique, proprietary, patent-pending gas-piston system developed by the engineering team at SWORD International. Rather than relying on the user to fine-tune gas flow into the piston, the MK-18 is equipped with a self-regulating gas piston that strikes a balance between reliable, dependable operation and an overgassed system that produces excessive wear on internal components.
One of the benefits of this particular system is its ability to remove carbon fouling from the bolt-carrier group and upper receiver. Unlike direct-impingement systems, which can contribute to fouling inside the receiver, this gas-piston system continually works to ensure that major components are free of carbon build-up, leading to a more-reliable operating system. Contributing to the reliability of this unique operating system is the inclusion of a gas piston-rated heavy action spring combined with a tungsten-filled heavy buffer, both of which are tuned to the cycling rate of the MK-18 rifle.
In addition to the gas-piston operating system, the SWORD International MK-18 rifle is equipped with a single-point cut rifled barrel, which is nitride-treated for durability and corrosion resistance. With this barrel, the MK-18 has been tested by the company to provide 0.5-MOA accuracy. Surrounding the barrel and gas system is a free-float handguard complete with M-Lok attachment slots for accessories.
Other features of the SWORD International MK-18 include a specially tuned muzzle compensator, which is designed to eliminate muzzle rise and reduce felt recoil, as well as an ambidextrous magazine release and bolt-catch pad. In particular, the ambidextrous bolt-catch release allows shooters to lock the bolt to the rear or release a locked bolt without having to use their support hand or move their strong hand from a firing position.
The overall length of the rifle is 45 inches, and the gun weighs 13.25 pounds with an unloaded magazine installed. Consumers can choose between three hardcoat-anodized finishes for the gun: black, coyote brown or regnar green. Each rifle ships with a 10-round aluminum magazine, and the suggested retail price on the MK-18 is $6,995.