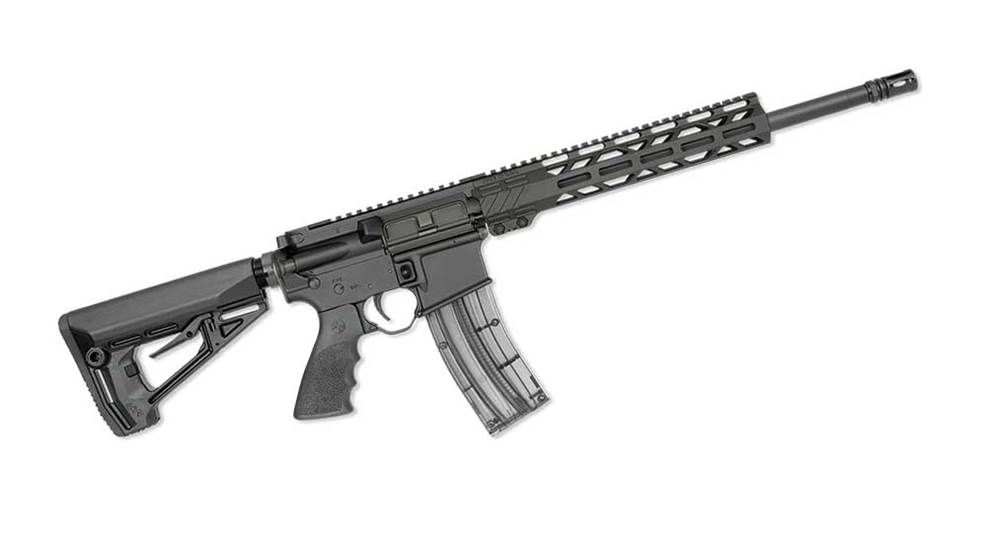 An entirely new line of AR-style rifles launched from
Rock River Arms
in 2019, giving today's modern shooter a number of training options that pair well with popular centerfire models of the AR-15. The LAR-22 collection, in particular, includes the Rock River Arms LAR-22 Tactical Carbine, which is purpose-built to be a go-to training option similar to many of today's defensive AR-15s. The carbine also makes for a great plinking and competition option for today's rimfire fans.
Two models of the Rock River Arms LAR-22 Tactical Carbine are available, one made with traditional forged-aluminum upper and lower receivers and another constructed with a polymer receiver set. Due to the reduced recoil and stress from a .22 LR rifle, the polymer option is strong enough to provide a lifetime of dependable service while reducing the cost of the gun for budget-minded shooters. Both guns are built with a free-floated, chrome-moly barrel, surrounded by a lightweight, M-Lok-compatible handguard that allows users to attach the same accessories on their centerfire guns for training purposes. The guns are outfitted with standard, strong-side fire controls and a standard magazine-release button, which are compatible with aftermarket AR-15 components.
The 16-inch barrel features a 1:16-inch twist rate and is topped by a 1/2-28 TPI threaded muzzle and A2 flash hider. The guns are outfitted with the company's two-stage, mil-spec trigger and feature an oversized "winter" trigger guard compatible with gloved hands. A continuous Picatinny rail running along the top of the gun allows users to easily install optics. Other features found on the gun include a standard CAR-style, six-position, collapsible stock and a
Hogue
overmolded rugger grip. With the stock extended, the overall length of the Rock River Arms LAR-22 Tactical Carbine is 37.25 inches. Each rifle ships with a single magazine, and the suggested retail price on the aluminum-framed model is $630, while the polymer model retails for $550.