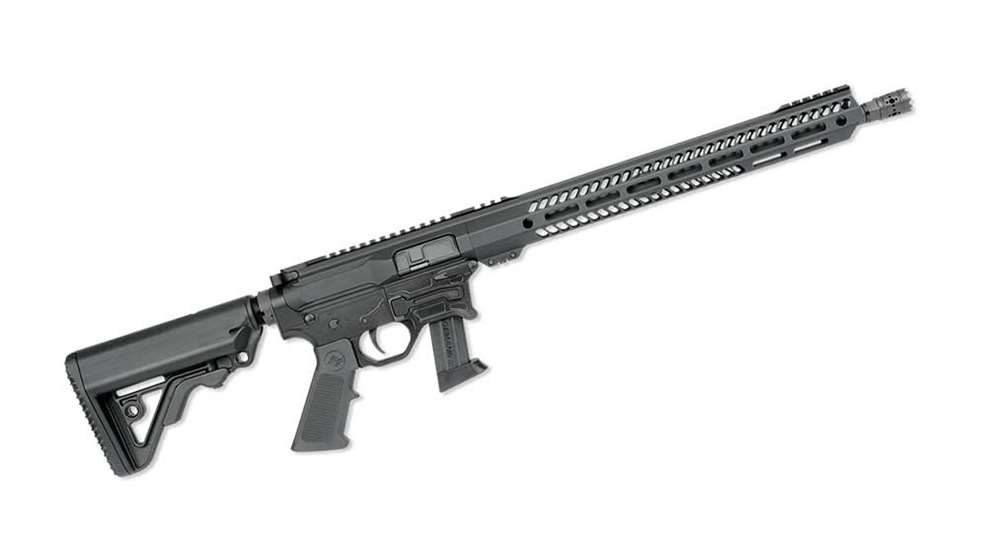 The pistol-caliber AR-style firearm revolution continues with the introduction of a new series of pistols from Rock River Arms. The company's new BT-9 series, chambered in 9 mm, is designed to work with commonly-available Glock magazines, letting you carry one style of magazine for both your primary and your secondary firearms. Compact, accurate and powerful, the BT-9 series takes Rock River Arms' experience and history in AR-15 manufacturing further into the world of pistol-caliber AR pistols and carbines.

The BT-9 models are built on RRA's billet-aluminum lower receiver, with a flared magazine well for faster reloads. Built into the the lower receiver is an enlarged winter-style trigger guard which offers plenty of room for your trigger finger when you're wearing tactical or cold-weather gloves. Also included on all BT-9 models is an RRA's extruded aluminum upper receiver, topped with a section of industry-standard Picatinny rail for the easy mounting of sights, optics and accessories. In addition to this, all pistols are equipped from the factory with RRA lightweight, free-floating M-Lok-compatible handguards. The BT-9 series includes three models: Two pistol style guns, and one rifle.

BT92133 Pistol

Featuring a 7-inch moly barrel with 1/2-36 TPI threads, the BT92133 pistol includes an SB Tactical SBA3 pistol brace with a five-position LOP adjustment, along with RRA's overmolded A2 pistol grip and a two-stage trigger. These features make the BT92133 an ultra-compact and highly portable AR-platform 9mm pistol ideally suited as a home or personal-defense firearm. MSRP: $1,250

BT92142 Pistol

The BT92142 pistol is built to the same configuration as the BT92133, but has a chrome-lined 10.5-inch barrel for added durability and easier cleaning, along with a 7.25-inch lightweight free-float handguard. MSRP: $1,250

BT91700 Carbine

Perfect for competition, self-defense or a fun day at the range, the BT91700 carbine is also chambered in 9 mm. The rifle includes a two-stage trigger, a 16-inch chrome-moly barrel and RRAGE 3G handguard. The BT91700 also comes equipped with RRA's six-position Operator CAR buttstock and a Hogue overmolded pistol grip. MSRP: $1,540

Specifications and parts are subject to change. For more information on the BT-9 series of guns, please visit rockriverarms.com.