by
Shooting Illustrated Staff
posted on October 9, 2019
Support NRA Shooting Illustrated
DONATE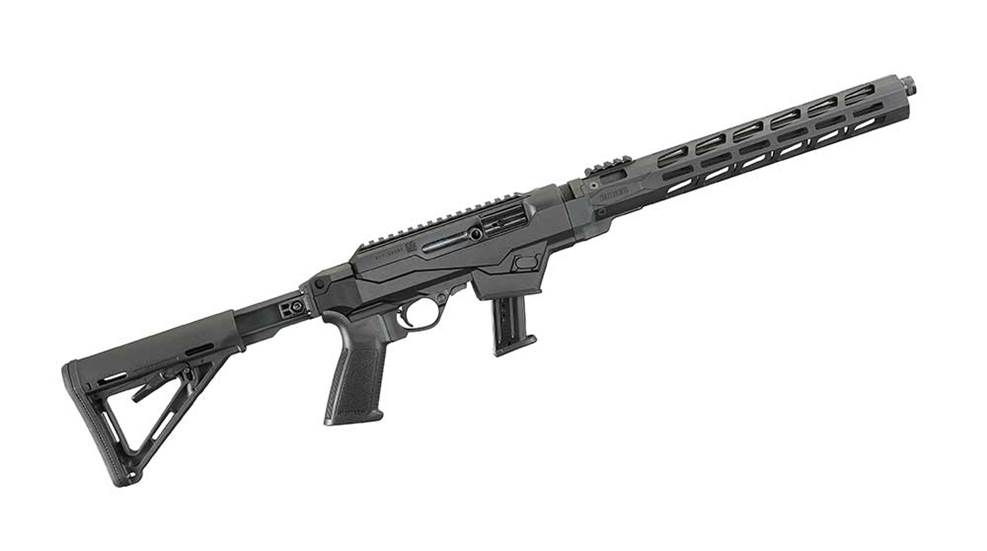 Following the gun's Golden Bullseye win for Rifle of the Year 2019, Ruger announced the extension of its popular PC Carbine lineup in 2019 with three models of its its new Pistol Caliber Carbine (PC Carbine) Chassis model.

The standard model of this enhanced PC Carbine features several new elements, including a glass-filled polymer chassis system; six-position, telescoping, Magpul MOE buttstock; flared magwell for faster, smoother reloads; ergonomic pistol grip with extended trigger reach; and a factory-installed, barrel-mounted Picatinny rail. Additionally, two 10-round state compliant models are available. One of these state-compliant models comes equipped with an adjustable stock and threaded barrel, while the other is built with a fixed stock and non-threaded barrel.
The new, glass-filled polymer chassis system allows for the use of standard AR pistol grips and collapsible buttstocks. The adjustable ghost ring rear sight of the original PC Carbine has been replaced with a factory-installed, barrel-mounted Picatinny rail, a feature that allows for the forward mounting of optics. These new models are built with a CNC-machined, hard-coat anodized aluminum handguard with Magpul M-Lok accessory-attachment slots on all four sides for easy mounting of compatible accessories and Picatinny-rail segments.
These models also maintain several features of the original PC Carbine. The first is an easily interchangeable magazine-well system that allows the rifle to accept common Ruger and newer Glock magazines. Second, the carbines feature a dead-blow action with a custom tungsten weight that shortens bolt travel and reduces felt recoil and muzzle rise, as well as a reversible magazine release and charging handle to accommodate right- or left-handed shooters. Finally, a simple takedown mechanism allows for quick separation of the barrel/fore-end assembly from the action.

Every Ruger PC Carbine is built with a heat-treated, chrome-moly steel bolt and a cold hammer-forged, chrome-moly steel barrel with precision rifling. Models equipped with a threaded barrel feature muzzle threads complete with a standard 1/2-28 TPI thread pitch.
The PC Carbine Chassis model ships with Ruger's SR-Series magazine well installed, as well as additional magazine well that accepts newer Glock magazines. A 9 mm Ruger American Pistol magazine well is available separately at the company's website. For more information on the new Ruger PC Carbine Chassis model, visit ruger.com.