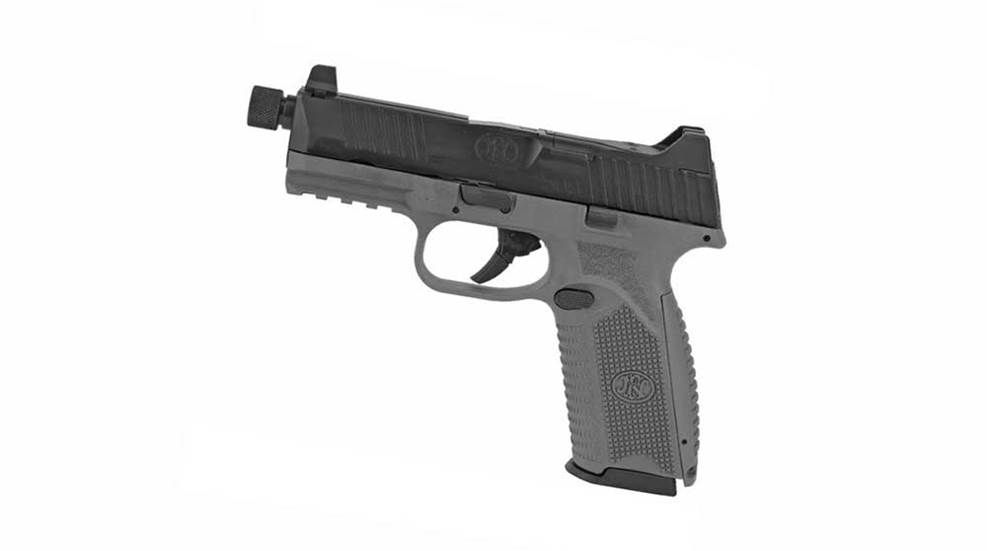 FN America introduced its FN 509 series to participate in the U.S. Military's Modular Handgun System contract. Striker-fired, with interchangeable backstraps and a terrific trigger, it was a strong contender and is now a popular gun in the civilian concealed-carry market. Now, the new, limited-edition, battle-gray FN 509 Tactical with battle-gray slide and black frame, available exclusively through RSR Group, Inc. retailers nationwide.

The FN 509 Tactical features a Low-Profile Optics Mounting System which enables the pistol to accept over ten commercially-available miniature red-dot (MRD) optics which co-witness with the suppressor-height night sights and yet is still adaptable to future optics releases with no need to directly milling the slide. A stippled frame and a Picatinny frame rail are two more features of this excellent defensive pistol.

The FN 509 Tactical features a 4.5-inch threaded barrel with a 4-inch slide and suppressor-height night sights which co-witness with most miniature red dot optical sights. There are two models available, one with one 17-round standard and one 24-round extended magazine, and one with 10-round magazines for states with magazine capacity restrictions.

In reviewing the original FN 509 Tactical, Handgun Editor Tamara Keel noted the following:

"The texture is grippy, the trigger on the test gun broke at an extremely usable and consistent 6 pounds and it shot Speer 147-grain Lawman right to the top of the front-sight blade at 15 yards, with 115- and 124-grain ammunition impacting a little lower. The only malfunctions in slightly fewer than 900 rounds of varying ammo were a couple failures to extract with some weak ammo and the aforementioned prototype aftermarket compensator while using the heavy spring, so that's on me and not the gun.

If you're looking for a turn-key suppressor/MRDS-host pistol, it's hard to ignore the 509 Tactical."

The MSRP for both models of the FN 509 Tactical Grey/Black Limited Edition is $1,049, and more information is available either online or at your local FN America retailer.