So, what's a recreational shooter to do? Some manufacturers responded by offering their more popular tactical-style, semi-automatic rifles in rimfire variants. These were marketed as training aids thanks to nearly identical ergonomics and manuals of arms to their larger-caliber siblings. The other end of the spectrum contains near-perfect cosmetic replicas of historically significant firearms.
Made in Italy by Pietta and imported by Mitchell's Mausers, the PPS50/22 offers the latter form of relief with a carbine styled like the iconic Soviet Pistolet-Pulemyot Shpagina 41 (PPSh-41)—nicknamed the Papasha—a submachine gun that saw extensive combat with the Red Army in World War II and later saw use by communist forces in the Korean War. In spite of this similarity, however, there are two large distinctions that set this contemporary clone apart from its iconic inspiration.
First, the PPS50/22 is chambered in .22 LR, so fodder is relatively inexpensive and much more plentiful than the obscure, bottlenecked 7.62x25 mm Tokarev.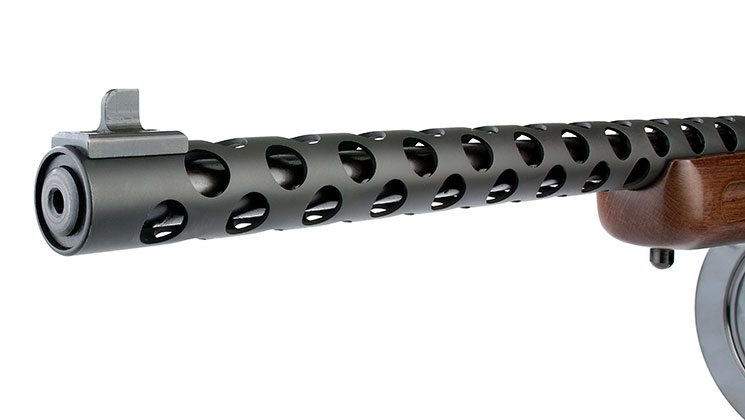 Second, while the PPS50/22 subtly mimics the aesthetics of the famous submachine gun, it lacks the capability of full-automatic fire. While some purists may scoff at that difference, as the owner of several such firearms restricted by the National Firearms Act, I view these slight departures more as advantageous allowances than deal-breakers. It removes the cost-prohibitive aspects of owning such highly regulated firearms, namely the financial burdens associated with their purchase and ownership. The process is complicated and includes submitting duplicate applications, fingerprints, photographs and obtaining approval from chief law enforcement officials, as well as a $200 tax—in addition to the average machine gun's five-figure price tag.
Then there's the added challenge of keeping it fed: the PPSh-41 could empty its 72-round drum magazine in seconds thanks to its cyclic rate of 900 rounds per minute, nearly twice that of other submachine guns in Allied and Axis arsenals. In contrast, for less than $500 the PPS50/22 allows fans of the famous, drum-fed defender of Stalingrad to own a rimfire replica that is affordable to both own and shoot.
Disassembling the .22 LR, for the first time, I was surprised to discover the PPS50/22's cylindrical-shaped bolt contained a pair of horizontally opposing recoil springs, complete with guide rods. This configuration struck me as overkill, because when it comes to reliability—a word rarely used to describe a semi-automatic chambered for the diminutive, 126-year-old rimfire cartridge—an overengineered platform could prove equally problematic as a simplified version. Similarly, its cylindrical receiver spans virtually the entire front portion of the firearm from where the bolt stops during rearward travel to the end of the muzzle, an intriguing feature I suspected might contribute to decent accuracy. The receiver is topped with a short tip-off base for a red-dot sight.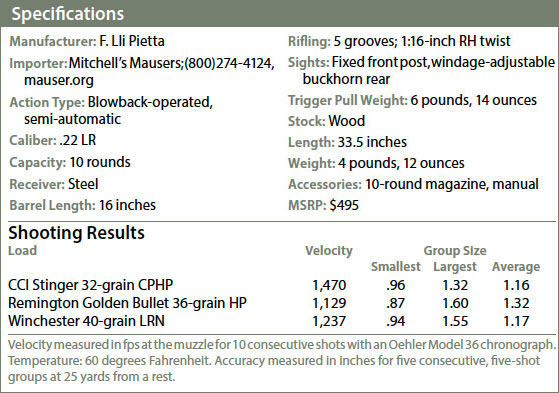 Yet, in spite of such features, from an aesthetic standpoint the carbine's upper receiver is an area in need of a cosmetic face-lift, especially its half-inch diameter ventilated barrel shroud, which more closely resembles a Yugoslavian M49 residing in the Boyd bunker than its patriarch, the PPSh-41.
Modifying the PPS50/22's barrel shroud to reflect the angular, highly recognizable geometry of the famous Soviet submachine gun would amp up the product's wow factor, making it an even more eye-catching replica and possibly enhance its popularity among fans of World War II-era
small arms.
In keeping with the Spartan exterior of its inspiration, the PPS50/22 features a one-piece hardwood stock with a semi-pistol grip which, when compared with the furniture of an actual battle-proven Papasha, is a fine-grained work of art. The wood extends past the magazine well to form a generous forearm. Grooves span its full length on each side and provide enhanced purchase. QD sling-swivel studs located along the underside of the forearm and at the bottom of the stock's toe make the PPS50/22 a welcome companion while hiking or during extended periods afield.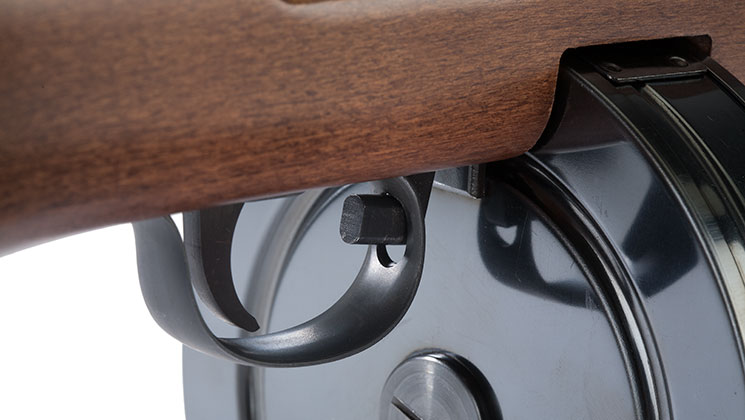 Other than copious amounts of ammo, another facet that adds to the fun associated with a .22 LR rifle is lots of accessories, and the PPS50/22 is no exception. Choices include an original Soviet World War II-era sling, along with a wide variety of magazines (sold separately), including 10- and 30-round curved magazines or a 50-round drum for  a touch of iconic flair. Offering the ability to carry an entire box of ammo on board—and weighing less than 5 pounds empty—makes the PPS50/22 capable of double duty as a plinker and a survival rifle.
An examination of its wide front sight and the narrow notch of the carbine's rear buckhorn resulted in my shooting the PPS50/22 at 25 yards, rather than mounting a red-dot to try my luck at double the distance per standard protocol. Despite a relatively heavy trigger pull and the bolt not locking rearward on the last round, the PPS50/22 was accurate at 25 yards and otherwise functioned flawlessly­. While some rimfires take the modern track, the PPS50/22 gives us the means of owning a replica of an iconic gun from World War II, making history fun.