Gunlights are nearly synonymous with all manner of practical long arms these days. Where legal, hunters use them to spot predators or help track game. Law enforcement, military personnel and home defenders illuminate things that either do or do not need to be shot, and competitors light up darkened targets during limited-visibility shooting stages. The traditional use of fore-end rails as light mounting surfaces moves lights far enough off the fore-end that they stick out, hence the current trend toward trimmer, lighter and lower profile lights and mounts. One problem with this approach is many of these skimpier mounts have the nasty habit of failing or breaking when the rifle is subjected to rough use. I have even seen a very stout light mount strip off a section of Picatinny rail that was machined into a free-float tube after one particularly rough accident.
If you don't believe a light mount can be broken, try sliding down a fast rope with an extra 80 pounds of gear on your body as your gun light catches on something along the way. You will be lucky just to find your light when you hit the ground. Not all lightweight mounts are weak, but most of their rail interfaces are. The problem is worse now that customizable fore-ends with add-on rails are the popular way to go. The more pieces used to attach something, the more points of failure exist.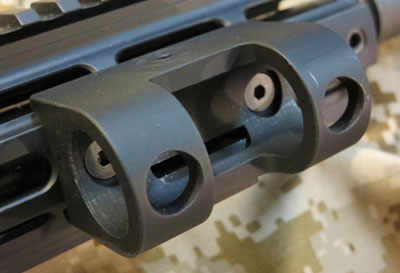 A North Carolina company has come up with an interesting solution to the above problems. MHA Custom LLC's Brightshot Flashlight Mount is the toughest I have ever seen. MHA has designed it for specific free-float fore-ends and light sizes so that a perfect fit is achieved with a minimum of extra hardware needed. In fact no Picatinny rail is used to attach the MHA mount. Instead they're machined to match the contour, hole spacings and thread patterns of their intended fore-ends. The mount either thread directly to the fore-end or an included "T-Nut Bar" (backer plate) using beefy No. 10 screws. The result is a mounted gun light that is lower than many rail-mounted lights but with a great deal more shear strength.
I got my hands on several MHA light mounts and used them on free-float tubes from Geissele Automatics, Yankee Hill Machine and Midwest Industries. I mounted different size gun lights (the mounts are specific) and found them all to fit perfectly. They stayed in place throughout regular and rough use—at least as rough as a has-been like me can manage. I like knowing my lights will still be present if my rifle and I take a hard fall or get caught on a barricade or car door frame. The unique design of the Brightshot places the mounting screws in a captive position under the flashlight body, so even if they wanted to come loose, they could not back out. The mount is not coming off until you are ready to remove it.
MHA has done a masterful job of engineering these mounts. They attach easily through top access holes and tighten down on lights securely by way of an adjustable lock bar that sits in the base of the mount. If I had one complaint it would be that they are noticeably heavy when held in hand. I guess this is the trade-off for a bomb-proof design but I am told by MHA Custom's proprietor Mike Allen that a lighter version is already in the works.
Allen is a school-trained gunsmith with decades of custom firearms experience. I've seen several of his guns and they are masterpieces. His craftsman's eyes and hands are evident in the design and execution of the MHA Custom Flashlight Mount. KeyMod fans will be happy to know that a KeyMod-compatible Brightshot mount is on the way too. If you have the right free-float tube and want a light mount that will not fail, this is the one for you.
Specifications:
Main Body: Extruded 6061 aluminum
Weight: 2.5 to 3 ounces, depending on model
Compatibility: Geissele Automatics MKI, II and III Super Modular Rails, Midwest Industries' Gen II SS series freefloat tubes, Yankee Hill Machine customizable freefloat tubes, JP Enterprises Slotted Modular Handguard, Daniel Defense MFR, Troy Industries V-Tac Battle Rail, Barnes Precision Ultralight Handguard
MSRP: $75