by
Shooting Illustrated Staff
posted on March 16, 2012
Support NRA Shooting Illustrated
DONATE
AR platform rifles are much different in basic design than your typical bolt-action rifle. The comb height of the stock, the eye relief allowed by the stock length, the necessary access to the charging handle, typical shooting distances and other characteristics must be considered when choosing the mount.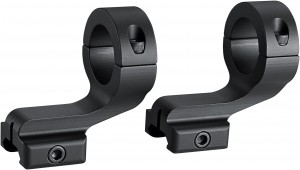 Nikon has a full range of AR scope mounts that offer shooters exactly what they need for a particular optic and for their particular AR. All built of strong, lightweight alloy, the mounts securely attach your preferred optic to your AR platform's Picatinny rail.
P-Series Mount
This two-piece design allows proper mounting height and proper fore-aft positioning for ideal shooting technique and comfortable eye relief. It also provides necessary, easy access to the charging handle. The P-Series mounts are perfect for standard size scopes and are also reversible for ultra compact scopes. MSRP is $49.95.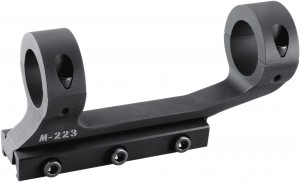 M-223 Mount
This one-piece mount was developed specifically for the Nikon M-223 riflescope series. Strong, one-piece construction with multiple crossbolts fits the Picatinny rails securely and makes your scope one with your AR. MSRP is $79.95.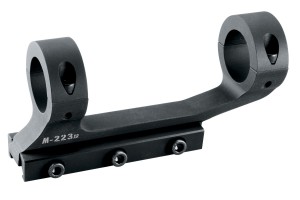 M-223XR Mount
An extreme range variation of the standard M-223 mount, the M-223XR features a built-in 20 MOA slope, which provides extreme long-range capability to your AR and optic combination. In essence, it adds 20 minutes of angle to the elevation adjustment of your riflescope - a natural choice for the new Nikon M-223 4-16x42 optic. MSRP is $99.95.