The AR rifle platform is no longer viewed as just a short range proposition. With AR rifles now available in a variety of chamberings suitable for long range shooting, there is a greater than ever need for optics mounts that allow the shooter to completely utilize the full range of adjustments in today's precision long range optics. The new LR-SKEL Mount from Warne Scope Mounts offers shooters a solid mounting option for their long range AR optics.
The new Warne LR-SKEL Mount has a built in 20-MOA slope and is designed for use on AR platform rifles with flat-top receiver rails. The 20-MOA forward cant of the mount allows the scope to be zeroed in a manner that makes maximum use of the available elevation adjustments in the optic. The 20-MOA slope also allows the scope to be optically centered when dialed for shots at longer ranges, which is an aid to precision where it counts most. Mounting a scope on an AR platform rifle with regular mounts/rings often leads to frustration when the set-up is tried at ranges beyond 500 yards or so as the scope, when zeroed near the center of its adjustment range, simply runs out of elevation adjustment. Actually the adjustment is there, it just can't be utilized; hence the 20-MOA mount.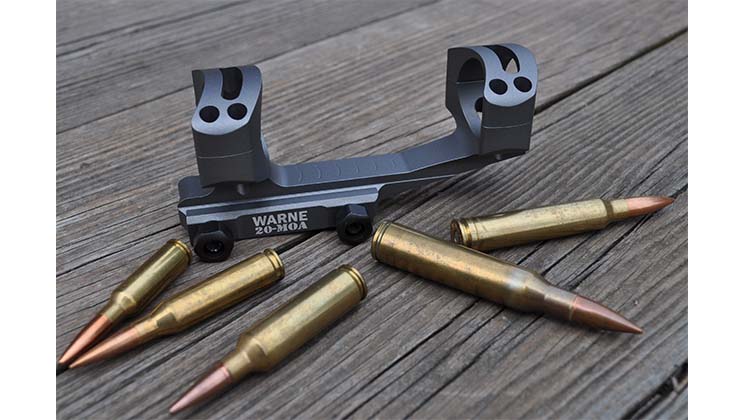 The LR-SKEL Mount is a lightweight, one piece design with integral scope rings and is available for optics with one inch, 30 mm and 34 mm tube diameters. Essentially a modification of Warne's R.A.M.P. mount, the LR-SKEL provides a 30 percent weight reduction by using a skeletonized body and ring caps. The ring caps are attached to the mount body with #8 Torx style screws and the holes for these screws have threaded steel inserts to avoid stripping. Available only in a durable tactical grey cerakote finish, this long range mount is cantilevered forward by two inches for additional eye relief. Attachment to the rifle's rail is by a one piece side clamp (secured by .5-inch nuts) which provides additional strength and insures the famous Warne return to zero.
Using the LR-SKEL Mount, we attached a Leupold 3.5-10 Mark4 riflescope to our FN America SCAR 16 in 5.56 NATO for testing. The hex nuts clamping the mount to the rail were tightened to 65 inch-per-pound and the ring cap screws to 25 inch-per-pound. When mounted in non-tapered rings this scope has usually had between 30- and 35-MOA of vertical adjustment available after zeroing in our rifles. We boresighted the scope at 50 yards using a SightMark laser chamber insert bringing the Mark4's elevation adjustment almost to the bottom of its range of elevation adjustment. The SCAR was then zeroed at 100 yards using 5.56 NATO MK 262 MOD 1 ammunition from Black Hills. When the turrets were re-set to the "0" mark on the dial we had 55 MOA of vertical adjustment. This is more elevation than we would ever need for shooting 5.56 NATO MK 262 ammo but for many of the modern cartridges for which the AR platform is now chambered it can be a big plus.  
For shooters planning on stretching the range limits of the modern AR platform, the Warne LR-SKEL Mount offers a solid mounting solution which will maximize the effectiveness of today's long range optics. With a street price of around $125 the LR-SKEL 20 MOA mount is a solid piece of gear that should serve for many years, and it is covered by Warne's lifetime warranty.