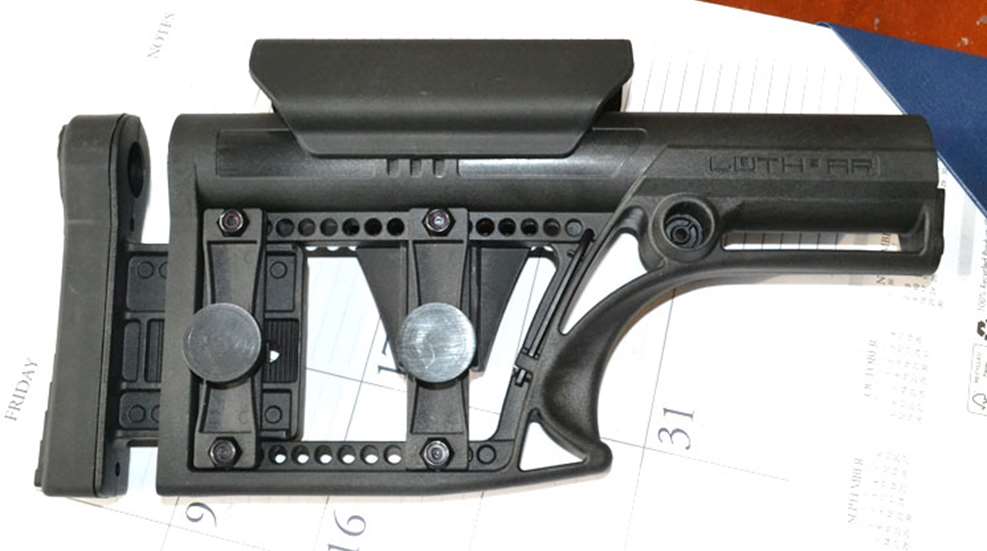 When it comes to custom stocks for the AR-15, options are pretty much wide open. You can add on a collapsible stock that will allow you to fit the rifle to shooters of different sizes (or different clothing configurations based on location and temperature), there are options for fixed stocks, and there are even stocks that are adjustable for precision shooting. There are even devices that allow you to fold the stock on your gas-impingement-driven AR-15.

In this last group, options are less-plentiful than in the collapsible arena. A handful of manufacturers make fully-adjustable buttstocks for the AR-15, so when there was a new player in town, it piqued our interest here at HQ. Luth-AR is a new company started by the founder of DPMS Arms, and the Modular Buttstock Assembly (MBA) is one of its first products.
The unit is solid, with adjustments made without tools using a simple thumbscrew and captured-nut. The stock can be set up for shooters of either hand, with the default set for right-handed shooters. It installs like any fixed stock and cannot be used on collapsible stock assemblies.
Two features set the MBA apart from competitors. The first is the weight—the MBA tips the scales at a featherweight 1.26 pounds. Shooters looking to save some weight on their precision rifle might be interested in the MBA. The second, more surprising feature is the MSRP of $139.95.