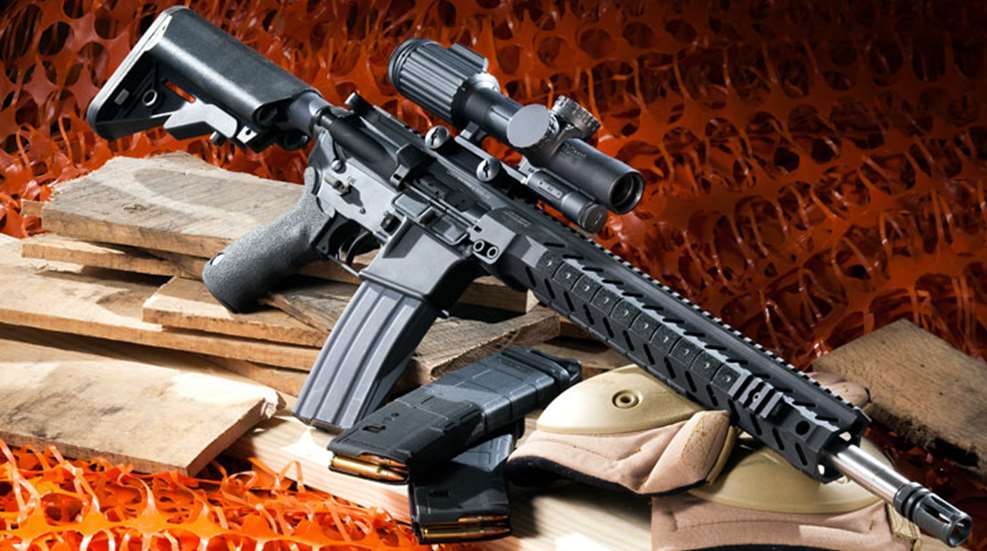 Urban legend has it 3-gun match directors sprouted from Genghis Khan's branch of Attila the Hun's family tree. It's a sadistic breed that takes pleasure in pain. They pray for rain, and then insist on seeing video from the stage that required engaging steel at 200 yards—from the prone position in knee-deep mud. Long hours are invested in finding barricades more prickly than the desert Southwest's jumping cactus, and they have a direct hotline to Kentucky's Kevlar clays company for the shotgun stages.
It makes for a great storyline, but the tongue-in-cheek scuttlebutt is wrong. New shooters receive more help than they thought possible, and nearly all describe their first experience as an addictive adrenaline rush. The only grain of truth to the rumor is how much delight match directors take in designing safe stages that test guns, gear and shooter in every manner possible. Add the fact there's often more than one way to shoot each course of fire, and that imaginative marksman's version of a chess game has made 3-gun the fastest-growing shooting sport.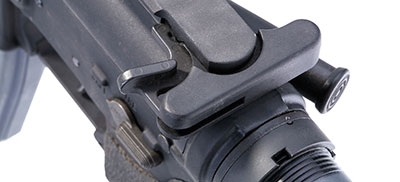 In 3-Gun Nation's club series, "Run what you brung" is an oft-heard phrase, one validated by the number of people who have fought their way onto the organization's professional tour with stock guns from their safe. But, once a shooter gets serious about shaving seconds off his or her time, gear takes on an all-new meaning. Springs fail, magazine feed lips bend, scope mounts break and sights disappear. The worst I witnessed, first hand, was last year when a shooter's AR-15 upper receiver suffered a catastrophic failure. Cartridges, springs, flames and various metal parts screamed from the hole once occupied by a magazine. Guns are run hard, but true competitors don't back off in adverse conditions.
Out of Place?
When Lewis Machine & Tool (LMT) introduced its new SLK8 for 3-gun, some claimed it was a departure from the norm for the Milan, IL-based company. Established in 1980, it designs and manufactures small arms, accessories and tooling components for the military, law enforcement and civilian markets. In 2005, at a time when most shooters didn't recognize its name, the firm issued a press release labeling itself "The Quiet Gun Maker." Then, it landed a contract with the United Kingdom Ministry of Defence in 2009 to supply Britain's sharpshooters in Afghanistan with its 7.62 NATO-chambered LM308MWS, and people took notice. The gun first saw combat in April 2010.
While the U.S. retrofitted and reissued M14s for long-range, mountaintop engagements, the Brits purchased AR-10s built in the Colonies. Frontline deployments are not friendly to firearms—one of the main reasons the decision to stick with the time-proven M14 was a good one. Guns get dropped, barrels slammed against doors and optics banged. Add an occasional sandstorm, rain, snow, abuse, neglect, bugs, mud and blood, and the U.K.'s decision to purchase more than 3,000 LMT rifles for the Sandbox speaks volumes for the brand's quality and reliability. 
The sport of 3-gun isn't the same 24/7/365 stress-filled marathon as a deployment, but the guns and gear take a beating. With an established track record in the hands of those who go in harm's way, LMT's entry into the competition market seems a natural evolution, and the same virtues serve shooters well in regard to self-defense. 


Monolith
The SLK8 has a monolithic upper machined from a solid-aluminum forging. Handguards not integral with the receiver have been known to work their way loose or shift slightly. It might not result in a stoppage, but one bang on a door during an entry could alter point-of-aim on rail-mounted lasers or backup iron sights. Those hard knocks are reality in combat, inevitable in 3-gun and likely in self-defense—so LMT's stable upper is a welcome advantage. 
There are 18.5 inches of usable and unjointed rail space atop the receiver/handguard. Numbers on alternating grooves make it significantly easier to index and reposition optics anchored there.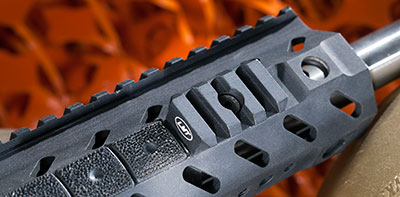 As shipped from the factory, the six- and nine-o'clock positions on the handguard are smooth and do not have Picatinny rails. However, low-profile and removable polymer covers protect threads underneath that can be used to install rails at desired positions, and there are 9.5 inches of fore-and-aft movement possible for anchoring on all sides. 
At the three-o'clock position a small, 1 3⁄8-inch rail (with three grooves) comes pre-installed at the front. Another textured-polymer cover protects those unused threads toward that side's receiver. LMT provides four other sections of its rail with the gun, which allows shooters to customize the setup the moment they bring it home. They measure 1.38, 2.13, 3 and 3.75 inches. Six different-size polymer inserts are also included, allowing the protection of unused handguard threads. 
Overall, the octagonal-shaped handguard is sleek and fast. Its outside diameter measures 1.52 inches (from three to nine o'clock), and the slight texturing on the polymer covers provides extra purchase, a welcome addition during sweaty range sessions. In testing, there was no perceptible heat except on the 4.25 inches of barrel and flash hider exposed up front. The configuration lends itself to a popular 3-gun technique in which the support hand is far forward, and when the only support available is an ancient barricade posing as a porcupine, you'll appreciate the increase in real estate. 
Quick-detach swivel-mounting points are found at the front of the handguard at the three-, six- and nine-o'clock positions. Another is located at the rear, above the barrel-locking bolts on the left side.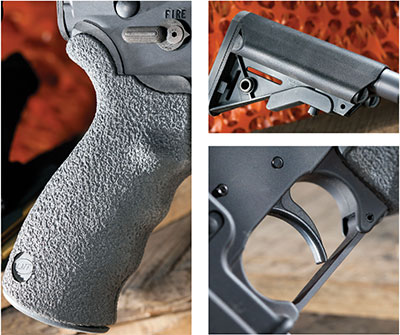 Floated
That, of course, leads to one of the carbine's most unusual features. LMT was among the first AR builders to develop fast barrel-swapping technology in its rifles—thanks in part to that massive MRP upper receiver—and it didn't abandon the feature in this direct-gas-impingement, 5.56 NATO-chambered SLK8. It starts with full free floating. 
Barrel removal is crazy easy. The company even provides one of its new torque wrenches with the gun. Let the rifle cool before you begin, make it safe and remove the bolt-carrier group. Loosen and remove the forward barrel-locking nut using the included T-30 Torx wrench. Then turn the second bolt—the one closest to the receiver—at least three full, counterclockwise rotations. Full removal of the bolt is not necessary. The barrel and pinned gas block can then be slid out the front of the handguard, slowly. The gas tube comes out as well, so be careful not to bang things around.    
To reinstall, first make sure the gas tube is at the 12-o'clock position, then insert the barrel and attached gas block. Ensure it is solid in the receiver and the gas assembly is correct. Tighten the front bolt to 140 inch-pounds and do the same to the second bolt. The ease of this operation makes compatible chambering swaps simple and extremely quick—6.8 Rem. SPC barrels, for example, are available from LMT in and 12.5-, 16- and 18-inch versions. 
The SLK8's stock barrel has 5R rifling, a design that features slightly angular lands. Obermeyer Barrels developed this particular type of rifling, and lists its chief advantage as reduced powder fouling in the grooves. In addition, jacketed bullets exiting tubes with this type of rifling engrave more accurately. The match-grade barrel has five grooves, with a right-hand twist of one rotation every 7.5 inches, which, according to the company, is ideal for 3-gun. The tested rifle's version had a stainless finish, but a flat-black option is also available from LMT.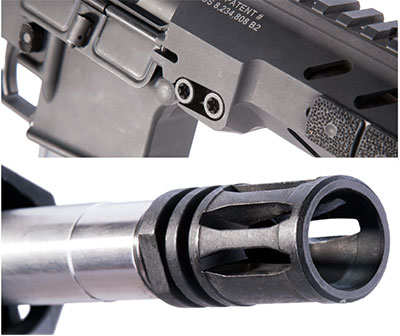 Low Down
At the bottom end, the company's battle-proven LM308MWS Defender lower receiver completes the carbine. Fire controls are ambidextrous, but the mag release is not. Other features are standard as on most AR-15s, such as the forward assist, dustcover and bolt-release lever.
Things work loose when guns are subjected to the rigors of competition, which makes the decision to go with the company's LMP2400 trigger—a match-grade, nonadjustable, two-stage version—a wise move. In testing, resets were palpable and audible. Let-off weight averaged 7 pounds with slight stacking. It's great for competition or home-defense, but will take some time to get accustomed to if ringing steel at 350 yards is your thing. 
At the rear is LMT's SOPMOD buttstock. The company is the sole provider of these to the more commonly known SOCOM, as well as the Marine Corps, Army, Navy and Air Force. Both side of the rifle's six-position adjustable stock have quick-detach swivel mounts. Dual, watertight front-facing battery compartments can hold up to four CR123s each. The recoil pad made me scratch my head for a while, until I realized it was probably standard equipment on the 7.62 NATO version dispatched to the Sandbox. It's not tacky enough to hang up on gear, though. 
The pistol grip is exclusive to LMT and is manufactured by Ergo Grips. It's sticky, grooved at the front to anchor your fingers, and works well.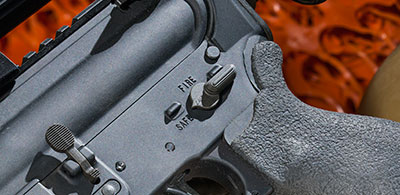 Leftovers
The SLK8 comes with the company's LMP103T charging handle, and it was a welcome addition after mounting a Leupold VX2 3-9x40 mm riflescope for testing. I couldn't get a good grip on the right side once the optic was aboard, but the tactical latch to the left was easy to grasp by simply rolling my finger down.  
A fairly standard A2 flash hider rides the barrel up front. On the test gun, its flat-black finish provided nice contrast with the barrel's stainless color. It's probably not very functional for 3-gun shooters or home defense, but it does protect those threads nicely until you upgrade to a brake or a sound suppressor.  
LMT also includes spare gear for the end user, and that's always a nice touch. The sling that ships with the SLK8, well, let's just say it might not hang around too long. 
Give Me Three, Please
I chronographed each of the loads the first day with a metal magazine I grabbed off my desk. There were no failures to feed or stoppages of any kind. The bolt always held open on an empty chamber and mag drops were effortlessly free and clear.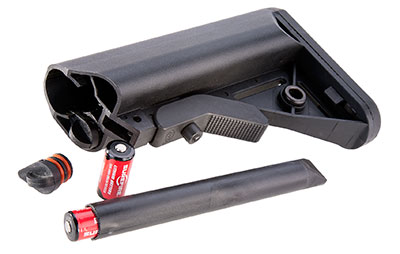 Accuracy testing the next day was a different story. I opened and used the company-provided magazine (also metal). The bolt held open when empty and drops were clean, but the third round in every subsequent loading of the magazine stovepiped—always the third. I tapped, shook and cast an ancient juju spell, but the results were always the same with each load, twice. So, I reverted to the first magazine to finish testing. The problems didn't recur. Magazines fail, but not usually one just removed from its packaging.  
There is some really good news: I had so many four-shot groups touching or going through pretty much the same hole it was hard to put the gun down. Unfortunately, there's always that one wayward shot. The rifle preferred American Eagle's 55-grain, .223 Rem. jacketed-hollow-point. Average group size would trim down to slightly larger than .6 inch if the editors allowed me a golfing "gimme" every five shots. This SLK8 is capable of much more than I wrung out of it that day, and I'm confident precision shooters who take one home will quickly scoff at my group averages.
The handguard did a great job protecting my hands from the heat generated by putting a bunch of rounds downrange, and despite my not cleaning the carbine during testing, groups did not widen appreciably. I ran through a few CQB drills, and discovered this rifle is as nimble as expected. And all I can say is, "what recoil?" Follow-up shots were intuitive and fast. 
Summing it Up
There was a time in 3-gun when long barrels were thought requisite to connect with steel at distance. However, most matches don't have access to ranges with 300- or 400-yard bays, and even when they do, they're rarely used. As a result, many shooters are gravitating toward shorter barrels—the U.S. Army Marksmanship Unit and a few others now routinely use SBRs.   
The same kind of logic lends itself to self-defense situations. Long barrels are hard to swing around corners—they're slow, easy to spot and even grab. Nimble, light and reliable carbines are the answer. You're not going to be engaging bad guys a football field away, but you may be stopping an armed robber at 10 yards, while on the move. 
The LMT SLK8 is pricey, but it's got the kind of martial heritage you can trust. It performed extremely well in my testing. Whether you find yourself knee-deep in muck on a muddy stage at your local 3-gun match, or defending your home against criminal attack, it's a rifle upon which you can rely. Ultimately, that's the most important attribute of any self-defense gun. Buy an extra PMag, though, just in case.