by
posted on October 9, 2020
Support NRA Shooting Illustrated
DONATE
IWI
 has built an impressive reputation in the firearms world with guns like the
Masada 
and
Jericho
pistols, UZI, and
Tavor
, each of which features unique, ground-breaking designs. New for 2020, the company expanded its reach into the American market with
the Zion-15
, an AR-15-style rifle built in Middletown, PA. 
While it's hardly as sexy as previous firearms from IWI, the Zion-15 makes good, practical sense for the company. First, since the Zion-15 is produced stateside — and is very unsurprisingly chambered in 5.56 NATO — IWI is able to avoid complications arising from import restrictions, thus giving the company a sure footing in the American market for years to come. Second, the introduction of a base-model AR-15-type rifle allows the company to expand its offerings in the future.
It's great news for consumers, who get a budget-friendly rifle with IWI quality. The Zion-15 carries an MSRP of $899 and, like Henry Ford's Model T, comes in any color so long as it's black. In terms of other features, the Zion-15 runs off the standard direct-gas-impingement system, has a 16-inch barrel with 1:8-inch twist and 15-inch free-floated handguard with M-Lok attachment points.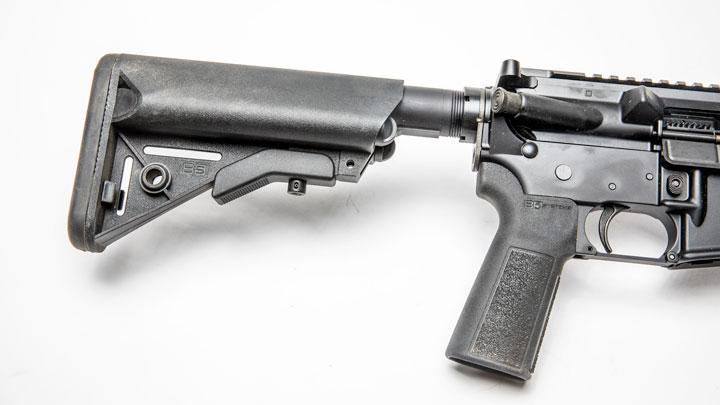 The upper receiver features a full-length Picatinny top rail, the rifle does not ship with iron sights, and has a pretty standard Mil-Spec trigger for an M4-variant rifle. The Zion-15 comes equipped with a B5 adjustable stock and B5 grip; it also ships with one 30-round
Magpul
PMAG. 
The Zion-15 comes with standard righthand controls, including safety selector, mag release, and forward assist. The rifle ships with an A2 flash hider. 
Weighing in at 6.5 pounds without optic, magazine, or accessories, the Zion-15 is sort of like a blank canvass awaiting each shooter's personalized touch. Speaking of accessorizing, this review paired the Zion-15 with
Leupold's VX-Freedom 1.5-4x20 mm scope
, an ideal option for close- to mid-range shooting and, like IWI's newest firearm, is built like a tank.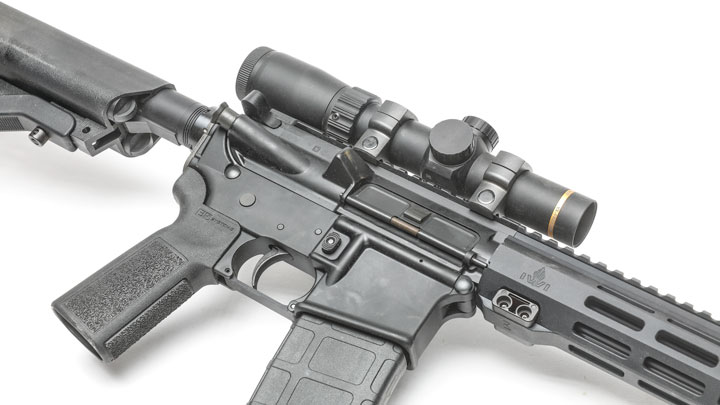 Lightweight (9.6 ounces) and versatile (1.5-4x zoom), the VX-Freedom has crystal clear glass, giving you a sharp sight picture and allowing for both-eyes-open shooting. The VX-Freedom featured in this review came with a FireDot MOA-ring reticle and is built on a 30 mm main tube, giving more range in adjustment with windage and elevation. The FireDot illumination system runs on a single CR2032 battery and can be adjusted for brightness with a push of a button. 
At the Range 
Paired with the VX-Freedom, the Zion-15 is great for banging steel at close ranges in close-quarters defensive training scenarios or at longer ranges, from 100 yards and out. The power selector features high ridges that make it easy to turn, making it quick and easy to switch from close to long ranges.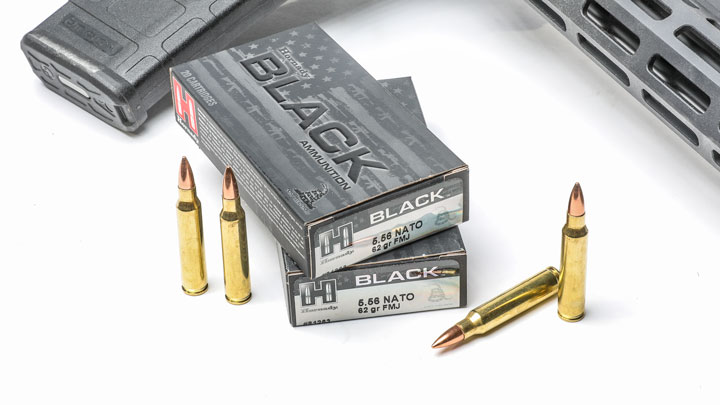 Utilizing
Federal Premium
's American Eagle 55-grain FMJ and
Hornady
Black 62-grain FMJ, the Zion-15 chewed through round after round without any problem, slapping steel with repeatable accuracy at 25 and 50 yards. Accuracy testing for this review was conducted at 100 yards from a bench and based on five-round groups with both loads. The best group of the day measured 1.03 inches (Hornady Black), with average groups coming in at 1.24 (Hornady Black) and 1.36 inches (American Eagle).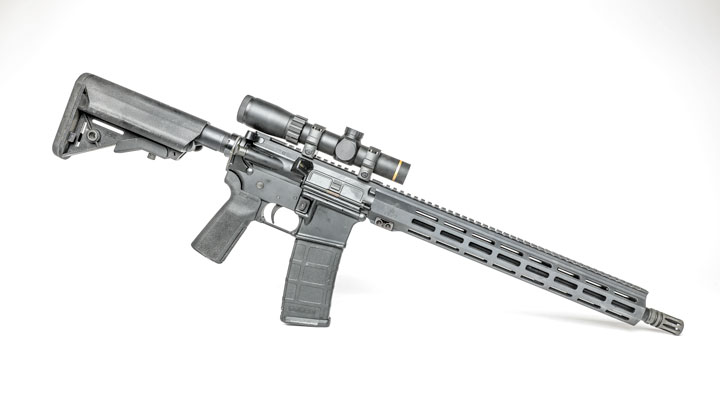 The Zion-15 is well priced (MSRP: $899), ready to accessorize, and built like a tank. When paired with a quality optic like Leupold's VX-Freedom 1.5-4x20 mm, the rifle is fully capable of slapping steel at the range or defending your abode with accuracy and reliability.
Zion 15 Features
Caliber: 5.56 NATO 
Action: Semi-auto; direct gas impingement 
Magazine: One 30-round PMAG 
Barrel Length: 16 inches 
Overall Length: 33 inches (collapsed), 36.25 inches (extended) 
Weight: 6 pounds, 8 ounces
Gas Length: Mid-Length 
Rifling: 6 grooves; 1:8-inch RH twist 
Stock: B5 adjustable 
MSRP: $899 
Manufacturer: IWI.us