A typical rifle review for any magazine follows a rather worn pathway. The writer mounts a scope and heads to the range, where he tests the gun for accuracy. The protocol at Shooting Illustrated is pretty rigid compared to a lot of the competition because we use five, five-shot groups, generally at 100 yards, with at least three different brands of ammunition. Other magazines often cut accuracy testing back to three, three-shot groups. Then the writer will usually shoot the rifle a bit more, perhaps from some field positions. If it's a tactical rifle, he may even use it to shoot a few drills. In the end, a writer with a good work ethic will put a few hundred rounds through the rifle during his test.
The reality is it's almost impossible to do much more with the gun. Time and the expense of ammo puts further testing outside the realm of "making a living" in the gunwriting business. But, all in all, this is a fair approach and gives a good look at the rifle's potential.
Like poet and fellow Vermonter Robert Frost, I took the road "less traveled" when testing the JP-15 rifle from JP Enterprises, "and that has made all the difference." Before I sat down to shoot the formal accuracy test, I had more than 5,000 rounds through the gun. Now, as I write this, the number of bullets down its bore is somewhere past 15,000.
At least I think so. To be honest, I am being conservative here. I am not precise enough to keep detailed records of each round fired in every rifle I have, so this is an estimate. I put together more than 20,000 handloads while I've had the rifle, and they are now gone. About half that many factory loads, or around 10,000, have been through Camp Towsley during the same period. While I have shot a lot of .223 Rem. rifles in that time, the JP-15 is my primary 3-gun rifle, and it's responsible for at least half of the empty cases in my garage—probably more.
This rifle has been with me through more than two years of serious 3-gun shooting and a lot of practice sessions. Regardless of the actual numbers, it's safe to say I know the JP-15 well.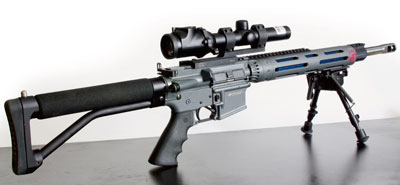 It's not very objective for a gunwriter to say there is magic in a rifle, but any hardcore gun guy will read that line and know exactly what I mean. We have all seen guns that just seem to be magic. If we are lucky, we own one or two in a lifetime. The pragmatist will say it's simply because the rifle is a good shooter and it fits its owner well. He will point out confidence in the gun helps with the mental aspect of shooting. But that approach not only sucks the romance out of shooting, it falls short. There's more to it than that—some guns do have magic.
I am a technical guy, but I also believe there is soul in shooting and art in doing it well. These are intangible concepts many people think have no place in a gun review, but I disagree. I have another, almost identical rifle I built myself using JP parts. It's a good rifle—perhaps even a great one—and it shoots almost as well as the JP-15. But it lacks the magic I find in the JP gun. I can't explain it, but I'll bet a lot of you are nodding your heads in agreement right now.
Does the magic factor belong in a gun review? Yes, I believe it does, and here's why.
A speed drill I often practice calls for three targets set at 5 yards and spaced 3 feet apart. The shooter starts with the rifle on his shoulder and the barrel pointing at the ground. At the buzzer, he fires two shots at each target. My best time is 1.3 seconds with the JP-15. Though I have tried, I have never been able to beat it with any other rifle.
That's one aspect of a good competition rifle; here is another. During last year's MGM Ironman 3-gun match in Parma, ID, one stage had a set of three bonus targets at 550, 650 and 799 yards. Shooters were allowed up to five hits on each target. Most competitors brought a long-range precision rifle for this stage, but I used the JP-15 and cleaned up by making all 15 hits. I think I was the only competitor to do that with the same .223 Rem. that served as his primary match rifle. How can anybody question the magic in this gun?
My feelings aside, editors and other task masters demand facts. So here are a few. John Paul Gangl, the "JP" in JP Enterprises, is an avid competitive shooter. He is one of the top-ranked senior shooters in 3-gun and is a serious precision-rifle competitor. He shoots in the toughest matches in the country, and he knows what works and what doesn't when it comes to rifles.
The JP-15 is his company's "entry-level" rifle, but that's like referring to an entry-level Ferrari. With rifles from JP Enterprises, the entry level picks up where a lot of other gunmakers leave off.
As with any accurate rifle, the heart of the system is the barrel. The JP-15's button-rifled JP Supermatch barrel is made from 416R stainless steel. Engineered for use in precision, match-grade rifle barrels, 416R is a pre-hardened, chromium stainless steel designed to work well with button rifling. Air-gauged and cryogenically treated, the 18-inch barrel measures .88 inch in diameter at the muzzle where it meets the brake.
The company gives the JP-15 a .223 Wylde chamber, a hybrid of .223 Rem. and 5.56 NATO that works with both rounds but typically produces better accuracy than a 5.56 NATO chamber. At the muzzle, the JP Compensator is timed and blended to the barrel so well, I can't see the line where it begins.
The barrel has a thinner, wasp-waist section that starts just ahead of the receiver and runs almost to the gas block. A sleeve of anodized aluminum fins hidden beneath the handguard surrounds this area and acts as a heat sink to aid in cooling. Resulting in a 700 percent increase in surface area under the handguard, the JP Thermal Dissipator prevents heat from building up during sustained fire.
The Thermal Dissipator keeps the shooter's hand cooler, but more importantly, it enhances barrel life. My rifle has not been babied, and it's seen a lot of rapid fire. Yet I recently looked in with a borescope and was shocked at how little throat erosion was apparent, particularly considering the high round count through the barrel. The proof is that the rifle still shoots as well as it did when I conducted the accuracy test 10,000 rounds ago. If there is a change, it's statistically unnoticeable.
My rifle has the JP Low Mass Operating System, which includes a reduced-weight bolt carrier and a lightweight buffer with a matched buffer spring. The components work together to speed up the cycle rate and make the rifle run smoother, which is an asset when the game calls for rapid, aimed fire. It wasn't an option when I got my rifle, but if I were ordering a new gun, I would consider the new Silent Captured Spring. The combination buffer spring assembly reduces that annoying noise in your ear from the spring doing its thing in the buffer tube.
To ease felt recoil and make the rifle feel even better, the JP Adjustable Gas Block allows me to tune the gun to my choice of loads, controlling bolt velocity. Combine that with the ACE ARFX Skeleton buttstock and the Hogue grip, and the JP-15 is a 3-gun rifle that's very comfortable to shoot during a long match.
The long, tubular, vented JP Modular Hand Guard is as well suited for competition as the rest of the rifle's components. Free-floating and uncluttered, it has a rail on top and two swivel studs. The side swivel takes a sling, while the bottom accepts a bipod. At the other end of the upper receiver, the charging handle has an extended latch.
Like the upper, the mil-spec lower receiver is forged from 7075 aluminum. Inside, the lower has a single-stage JP Fire Control trigger with the company's low-mass Speed Hammer for a faster lock time. The trigger on my JP-15 breaks clean at 2 pounds, 15 ounces.
One very important quality of any competition rifle is that it's reliable. When photographing other shooters during some of the biggest matches in the country, I am amazed at how many of them have trouble keeping their rifles running. I am puzzled over why they don't get the kinks out before a match, but even more confused about why shooters have them in the first place. Most ARs are pretty reliable if you don't start trying to "improve" them by messing with the parts.
I shoot Federal Premium ammo in competition, mainly the loads that use the 69-grain Sierra MatchKing or 55-grain Ballistic Tip bullet. I've also shot a lot of American Eagle ammo with most of the available bullet weights and styles in the JP-15, along with just about every other quality .223 Rem. factory load on the market. For practice, I mostly burn through handloads I crank out with a Dillon XL 650 press. Point being, I have fed this gun a wide range of ammo, and it hiccupped only once.
The only problem I ever had was with some imported 5.56 NATO (Israeli as I recall) that a shooting instructor gave me during a class after I ran out of ammo. The one cartridge I tried was loaded too hot, and it failed to extract. No other ammo product—including other 5.56 NATO rounds—has failed to work in this gun.
If I keep it clean and check the ammo for defects, the gun never falters. That is a very important aspect to scoring high in a match. Clearing jams on the clock is not something winners do often. Reliability is perhaps the most important thing for competition and self-defense rifles, and the JP-15 is one of the most reliable AR-style rifles I have shot.
Accuracy is another important trait. For most gun tests, I use three brands of ammo. For this one, I picked seven, including my mild practice handload. No attempt was made to cherry pick—I just grabbed seven different loads off the shelf, attempting only to create some diversity in my testing.
The best of the best averaged .56 inch for five, five-shot groups at 100 yards. All but one averaged less than 1 inch, and the seven combined for an overall average of .79 inch. That's an average of 35, five-shot groups with seven loads picked at random, and all after the gun already had 5,000 rounds through it. It's hard to argue with that level of accuracy.
I know I am gushing a bit here and it's probably unprofessional, but in three decades of writing about firearms I can't recall testing a gun that performed better across the entire spectrum. As you can plainly see, the reason I don't win all those 3-gun matches is not because of my rifle.
Specifications:
Manufacturer: JP Enterprises; (651) 426-9196, jprifles.com
Action Type: Gas-operated, semi-automatic
Caliber: .223 Wylde
Capacity: 30 rounds
Upper Receiver: Forged, hard-coat anodized 7075 aluminum
Barrel: Button-rifled, 416R stainless steel; 18 inches
Rifling: 6 grooves; 1:8-inch RH twist
Fore-End: Free-floating, rifle-length JP Modular Hand Guard
Lower Receiver: Forged, hard-coat anodized 7075 aluminum
Trigger: JP Fire Control Package; 2-pound, 15-ounce pull weight
Sights: None; Picatinny rail for mounting optics
Stock: ACE ARFX Skeleton
Length: 38 inches
Weight: 7 pounds, 8 ounces
Accessories: One magazine, manual, "GasGunBasics" DVD
MSRP: $1,999
Shooting Results
| | | | | |
| --- | --- | --- | --- | --- |
| Load | Velocity |   | Group Size |   |
|   |   | Smallest | Largest | Average |
| Black Hills 52-grain Match HP | 2,924 | .65 | 1.20 | 1.10 |
| Handload: 26.5 grains Hodgdon CFE 223 55-grain Hornady V-Max | 2,852 | .65 | .90 | .73 |
| Federal Premium V-Shok 55-grain Nosler Ballistic Tip | 3,004 | .50 | .75 | .64 |
| Black Hills 68-grain Heavy Match HP | 2,617 | .80 | 1.40 | .93 |
| Federal Premium Gold Medal Match 69-grain Sierra MatchKing BTHP | 2,756 | .30 | .80 | .56 |
| Hornady Superformance Match 75-grain BTHP | 2,692 | .60 | 1.70 | .97 |
| Federal Premium Gold Medal Match 77-grain Sierra MatchKing BTHP | 2,597 | .50 | .75 | .63 |

Velocity measured in fps 10 feet from the muzzle using an Oehler Model 35P chronograph. Temperature: 55 degrees Fahrenheit. Accuracy measured in inches for five consecutive, five-shot groups from a sandbag rest at 100 yards.