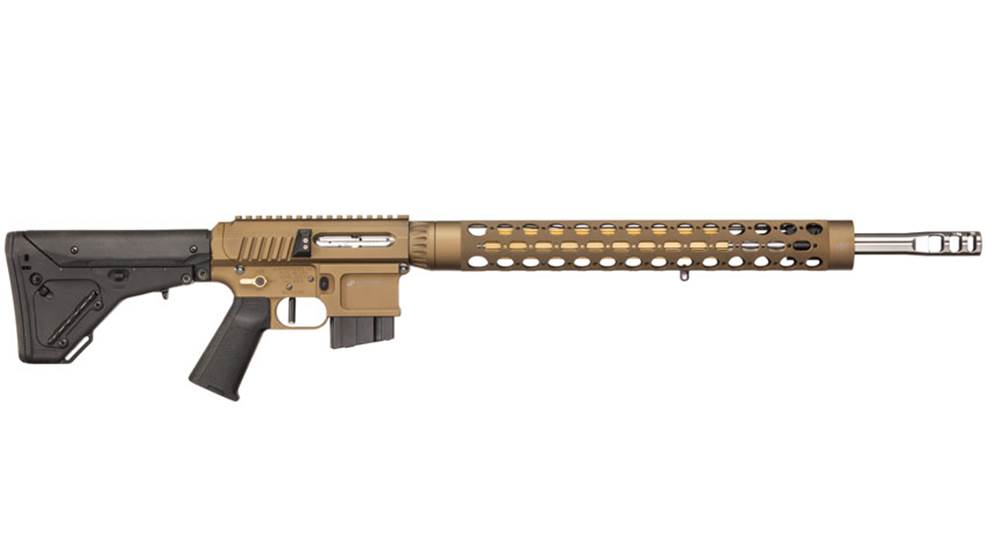 Many shooters think of the AR as only a general-purpose utility rifle, or as an end of days—the Russians, face-eating monkeys and/or zombies are coming—survival tool. It definitely fits well into both categories, and I too am sometimes guilty of forgetting it can also be a very specialized firearm. I was reminded of this fact when I recently tested a new rifle chambered for the 224 Valkyrie: the JP Enterprises SCR-11.
JP Enterprises—JP Rifles—is located in Hugo, MN, and is headed up by John Paul, a fellow with an impressive record in competitive shooting. He is also a relentless innovator. Paul has a unique, old-school approach to customer service; one my grandfather would have appreciated. He says, "If you're not happy, I'm not happy. I only guarantee one thing, your satisfaction." This mantra, and the quality of JP's guns, has earned the manufacturer a loyal customer base.
JP Rifles has a catalog of standard rifles it offers, but the rifle I tested was custom-assembled to help with my review of the new 224 Valkyrie. I was so impressed with this rifle, I felt it deserved its own recognition. It's based on JP's SCR-11, a small-frame competition rifle built using billeted upper and lower receivers, with a side-charging handle. It has a burnt-bronze finish, a 17.5-inch, freefloat, Rapid Configuration handguard; an XL-length gas system; and a 20-inch, medium- contour, 1-in-7-inch twist SuperMatch barrel wrapped in an extra-long, gold-colored thermal dissipator. The barrel is threaded and tipped with JP's three-port compensator, and is also fitted their novel, two-piece, adjustable, low-profile gas block.
Other features include a Magpul UBR stock and MOE grip; ambidextrous safety lever; handguard-installed, push-button, sling-swivel mount; low-mass bolt carrier and a Competition Roller Trigger that, while it might not look like a trigger, feels like one of the best I've ever pulled.
I test and review a lot of guns, and generally with each I find one or two things that are, if not impressive, at least interesting. With this JP Enterprises SCR-11, five things really impressed me. The first was the side-charging feature. I've always thought the charging handle on the AR-15 was its weakest link, because charging the rifle is most-easily accomplished with your shooting hand, and you have to take the rifle from your shoulder to do it. The JP side-charging handle is a folding lever you operate with your support hand. Once you've run a rifle so equipped, you'll never want to go back to the Stoner design.


Second was the smoothness with which the action operated. When you cycle the action on most AR-15s, you sometimes feel like you're making parts work together that were not really designed to do so. Yes, I've cycled some custom AR-15s that were smooth. But, I've never cycled one this pudding smooth. I'm sure this is part of the reason the rifle ran through 200 rounds of ammunition—with bullet weights from 60 to 90 grains—without a single hiccup.
The third surprise was the trigger. The JP roller trigger is a straight cylinder that spins on a shaft. When you place your finger on it, it rolls to a comfort point. But most importantly, when you pull it, there's no—I mean zero—take-up or creep and only an infinitesimal amount of over-travel. You simply apply 3 pounds of pressure and the JP Enterprises SCR-11 goes bang.


JP's adjustable, low-profile gas block was fourth on the list of notable features. It is adjusted via a non-migrating hex screw that's accessible through the handguard. It has a tactile detent for each setting, and is a system that's as simple and effective as you'll find. Surprisingly, it did not need adjustment for the JP Enterprises SCR-11 to deliver trouble-free operation with all four tested loads.
Speaking of the four loads, that's all Federal currently offers for the 224 Valkyrie. I tested them by firing five, five-shot groups, from a sandbag rest, at 100 yards. And, it was at the bench where I found the most-impressive feature of this rifle—precision. Of those 20 groups, the smallest measured .39-inch and the largest 1.64-inches. The average—and keep in mind this is for 20, five-shot groups, with four different loads—was .94-inch. To add a bit more to this rather impressive performance, the five, five-shot groups with each load were fired in a timespan of less than 15 minutes, allowing little time for the barrel to cool.


Though I immensely enjoy it, I'm not that much of a long-range practitioner, mostly because most of my shooting just doesn't afford a lot of distance opportunity. Even though I mostly view it as a game for rifles of the bolt-action persuasion, if I was going to get serious about shooting at serious distances, I'd seriously consider saving my money and getting a JP Enterprises SCR-11. They're indeed a bit expensive, but based on what I've seen you'll get your money's worth for every single penny you save and spend, and for every single round you fire. The trigger alone might even be worth a grand. (Yes, it's that good.)