With Sig Sauer's LIMA5 and LIMA7 Laser Sights, your frame is no longer just a frame. The new LIMA5 laser grip module has been designed to fit perfectly on the SIG P320 and P250 pistol platforms, and the LIMA7 mounts directly to any Keymod tail or 1913 rails with an adapter.
The LIMA5 is constructed with the same materials as the standard polymer frames of the SIG P320 and P250 lines. Once attached, the LIMA5 seamlessly integrates both a red or direct green high-quality and high-efficiency laser module. It is powered by a lithium 1/3n battery, connected with a flex circuit through the trigger guard to an activation button on the leading edge of the grip, and has a laser targeting module incorporated into the dust cover area of the firearm. The LIMA5 is 7.1 inches long, 4.2 inches in height and 1.32 inches wide and weighs four ounces. It can run up to five hours when using the red laser sight, or up to three hours with the direct green. It's manufactured to allow users to adjust windage and elevation.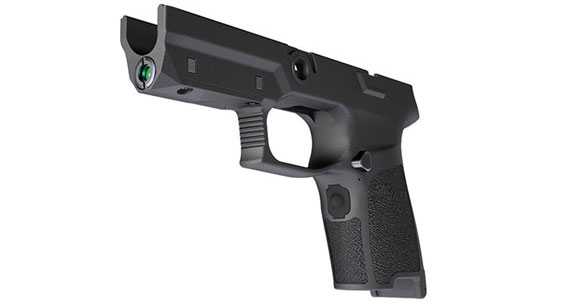 Sig LIMA5
After mounting Sig's ambidextrous LIMA7, it can be operated by a finger-actuated switch. The CR123 lithium battery powers red or direct green laser sights, and the forward portion of the LIMA7's grip doubles as a hand stop. The laser sight is 3.37 inches long, 2.65 inches in height and .93 inch wide, and it weighs just over two ounces. The runtime for the red laser lasts an impressive 50 hours, whereas the direct green laser sight will run up to 30 hours.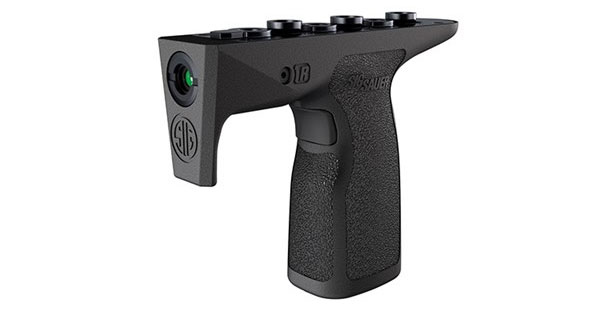 Sig LIMA7
MSRP for red laser sights for both the LIMA5 and LIMA7 is $249.99, the direct green laser sights have an MSRP of $374.99.