by
Shooting Illustrated Staff
posted on September 1, 2012
Support NRA Shooting Illustrated
DONATE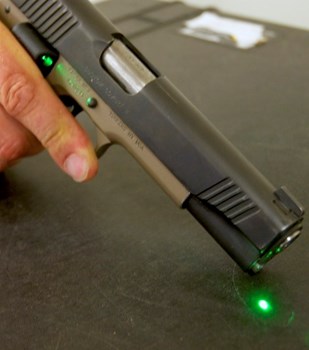 Shooting Illustrated has just learned Crimson Trace will introduce Lasergrips having a green laser at the 2013 SHOT Show. New technology enables the company to shrink the size of the green laser module so that it can be effectively incorporated into the design of the Lasergrips. Green lasers typically require a larger module than red lasers, and until now, their size made them impractical for the sleek Lasergrips. The module on the new Crimson Trace Compact Green is about 50 percent shorter and thinner than most others producing a green beam. The design also addresses the issue of increased heat produced by green lasers to ensure the Lasergrips are reliable.
During a quick trial run with a prototype unit, we noticed the green laser was extremely visible to about 40 yards in bright sunlight outdoors. The human eye perceives the color green better than red, making a green laser appear brighter and easier to see.
Compact Green Lasergrips will begin shipping in mid 2013, a company insider said, and the first models will fit 1911 and Glock pistols. The green Lasergrips follow on the heels of the green Laserguard, MVF-515 vertical foregrip and Rail Master announced earlier this year.