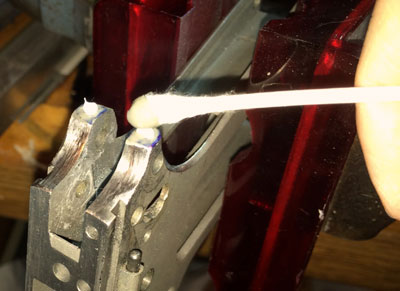 To mate the bearing surfaces of the tangs to the inside of the beavertail, the first step involves removing the pivot and grip safety and applying a lapping mixture to the tangs. (Authors Kuleck and Oldham recommend a 50/50 blend of JB Bore Paste and either oil or valve-grinding compound, neither of which I could locate.) However, the setback helped me to finally discover a use for my container of fine-grit lapping compound, which, until this point had remained unopened. (I blended it with the with the Mil-Comm TW25B Synthetic Grease to form a makeshift mixture of my own.)
To begin the process, chuck the frame in a padded vise with the frame facing up. Using a magic marker, evenly apply ink to the tangs, and allow a few minutes for it to dry. Then, apply the lapping mixture to the tangs (Q-Tips make ideal applicators,) before replacing the beavertail and pivot. Now, rock the beavertail back and forth with your thumbs. (Feel free to use your dead-blow hammer if the part is stubborn at first.) Continue moving the part approximately 20 to 30 times to and fro. There is no such thing as too much in this instance. The movement causes potential protrusions (or high spots) on one surface to abrade—and become abraded by—protrusions on the other.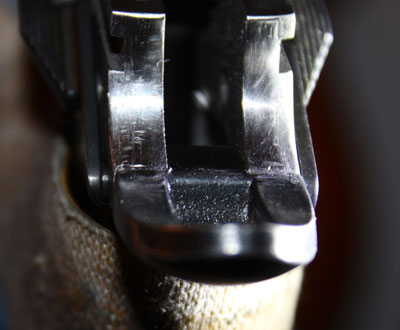 Now, remove the beavertail and pivot. Clean any mixture from the tangs and inspect the surface you initially coated in magic marker. You'll notice where the lapping wore away the ink. Re-ink, reapply the mixture and replace the grip safety and see if can insert the pivot that is the same diameter as your thumb-safety pin. If you can, you're done. If not, reapply the magic marker (remembering to allow it to dry) before replacing the hardware and continuing the lapping process as required until your thumb-safety pin will fit freely into the frame.
The presence of shiny tangs and being able to finally use your thumb safety instead of a pivot must mark the end of the line, right? Not quite. In the next installment, we'll discuss how to blend the edges—giving your work that extra professional-looking touch—commonly seen on most high-end "custom" 1911s.